Jeg fulgte i sidste uge kommentarsporene på to artikler her på Bureaubiz med tiltagende forundring. Iblandet et element af forstemthed for det virkede ikke, som om debatterne udsprang af, at nogen havde læst artiklerne – eller overhovedet lyttede til hinanden.
Som iagttager efterlod det indtryk af en kreativ verden, der har mistet fornemmelsen for, hvor kunderne bevæger sig hen. Samt mistet troen på, hvad deres kreative evner kan bruges til i nye tider.
Og det er synd, for selvom efterspørgslen efter kreativitet måske har skiftet karakter, så er der formentlig mere brug for kreativ tænkning end nogensinde.
Grundlæggende kom artiklerne til at handle om for eller imod kreativitet – med for eller imod awards som sidevinkel. Dette kom ud gennem en diskussion, om hvorvidt mediabureauer kan være kreative.
Mediabureauerne og lead-rollen
Det besynderlige var, at denne vinkel handlede ingen af artiklerne sådan set om.
Den første handlede om, at mediabureauerne trænger sig på i lead-rollen, og rummede interview med to store markedsførere. De konstaterede begge, at udviklingen retter større fokus mod bl.a. data, og at markedet følgelig bevæger sig imod andre behov for annoncørerne, hvor det klassiske kreative reklamebureau bliver presset på sin historiske lead-rolle.
Dette blev til en debat om, at Mindshare laver kreativt arbejde eller ej.
Om de gør det, må andre diskutere – pointen er, at det ikke havde nogen som helst relevans for diskussionen om brancheglidning. Ingen af de to annoncører talte om, at mediabureauerne var mere kreative – deres budskab var, at de i mange situationer startede et andet sted end hos det kreative bureau.
Der er også dem, der var irriterede over igen at høre på mediabureauernes fremmarch. Men så er det fordi, man ikke forholder sig til udviklingen på markedet.
Reklamebureauer taber markedsandele
Det klassiske kreative bureau er den klart mest pressede bureautype. Når vi opgør udviklingen i den årlige Bureaurapport, så har Reklamebureauerne tabt markedsandele år efter år, i otte år – på nær et enkelt. Sådan ser billedet ud: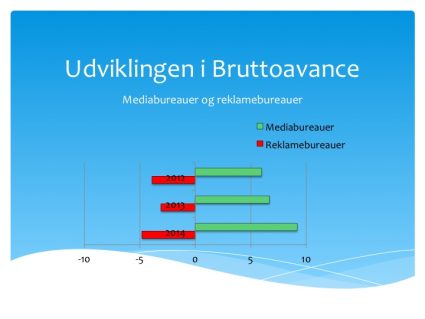 I de seneste tre år har reklamebureauernes udvikling i bruttoavance heddet: -4,8 pct., -3,1 pct. og -3,9 pct.
De tilsvarende tal for mediabureauerne lyder: +9,2 pct., +6,7 pct. og +6,0 pct.
Derfor beskæftiger vi os løbende med den brancheglidning.
Den anden historie handlede om den problemstilling, der diskuteres mere og mere i takt med, at adblocking vinder frem. (Opråb: Annoncørerne nødt til at investere mere i kvalitet)
Historien blev inspireret af en annonce fra Mindshare, hvor man viste to kurver:
udviklingen i irritationen over reklamer
udviklingen i opmærksomhed.
Sidstnævnte er på et historiskt lavt niveau, og irritationen er på et tilsvarende højt niveau.
Da analysen er lavet af Mindshare, var det naturligt at tale med adm. dir. Martin O. Rasmussen, som konstaterede, at paid advertising har et problem, fordi effekten er faldende som følge af for dårlig kvalitet.
Annoncørerne har været for fedtede i at investere i godt indhold.
Det blev til endn en lang diskussion, om Mindshare er kreative eller ikke kreative. Samt for eller imod awards.
Det mærkelige var, at Martin O. Rasmussen ikke et eneste sted i artiklen talte specifikt om Mindshare. Han talte generelt og om, at det er en fælles problemstilling, som alle må være med til at løse.
Gode argumenter til kreative
De kurver, som Mindshare har bragt i annoncen, burde være guf for et hvilket som helst bureau i forhold til at argumentere for, at investering i mere kvalitet giver effekt – og at det er nødvendigt, hvis ikke man vil ødelægge vigtige kanaler ud til forbrugerne med alt, hvad det vil give af problemer.
Jeg har fulgt den her branche siden 1987 og oplevet et hav af både kreative diskussioner og kreative priser.
Det gør mig langt fra til ekspert i kreativitet – men jeg mener dog at have lært en ting: Der er ingen facitliste – og der behøver ingen sammenhæng være mellem awards og effektfuld kvalitet.
Lad os tage et eksempel: For mange år siden var Bonbon en lille og ubetydelige slikfabrik. Så lancerede man Hundeprutter, og virksomheden blev en kæmpe succes.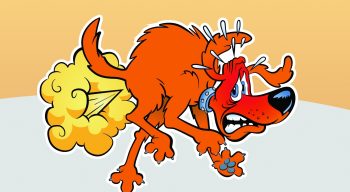 Hundeprutter blev lanceret med en lille tegnefilm med en hund, der pruttede. Jeg tror ikke, den vandt nogen award – men at lancere et bolsche under navnet Hundeprutter var en kreativ ide, der skulle vise sig særdeles effektfuld. Igennem årene har der været mange tilsvarende eksempler.
Men selvfølgelig skal man ikke undlade de modsatte eksempler, hvor det hele går op i en større enhed. De er en ledetråd, og dem elsker vi – helt aktuelt f.eks. Robert/Boisens arbejde for Spies.
Annoncørerne og awards
Jeg har også gennem årene oplevet mange diskussioner om annoncørers forhold til awards – og ja de nyder skam, når deres kampagner vinder en pris.
Man skal bare ikke tro, at de vælger bureau ud fra priser.
Cases er nok den mest effektive kommunikation over for annoncører – og hvis en case, de kender, og som de syntes om, så også vinder – så kan den sikkert få en effekt for bureauet.
Men det er formentlig ret få kampagner ud af den store mængde prisvindere, der i løbet af et år, evner at skille sig så meget ud.
Det betyder ikke, at der er noget galt med awards – man skal bare passe på med at overvurdere betydningen af dem som new bizz.
Efterspørgslen har skiftet karakter
Problemstillingen i dag er, at den kreative efterspørgsel har skiftet karakter, så den traditionelle kreative branche ikke mere har monopol på kreativitet.
Kommentar-sporene på de to artikler efterlod ikke det indtryk, at alle kreative har opdaget det.
Måske har man i dag meget mere brug for en Hunderprutter-ide, hvor udfordringen ikke så meget handler om den efterfølgende kommunikation.
Men det var altså Bonbon-ejeren selv, der kom med den ide.
Så de gode ideer i fremtidens markedsføring kan komme mange steder fra, og det kommer til at virke meget altmodisch og mavesurt at gå ind i en diskussion om de fremtidige udfordringer ved at nedgøre Mindshares arbejde.
Dette ikke sagt som et forsvar for arbejdet – det vil jeg slet ikke forholde mig til – men det er ret irrelevant for diskussionen, om det er topkreativt medium eller blot middelmådigt. Desuden kan det ikke diskuteres uden at sætte sig ind i forudsætningerne for de valgte løsninger.
Problemstillingen handler ikke om at pege fingre af hinanden, men om at placere god kommunikation solidt hos annoncørerne. Og hvis man er et traditionelt kreativt bureau, så skal man have redefineret sin rolle i en verden, hvor data spiller en stadigt større rolle, og hvor efterspørgslen efter kreativitet forandrer sig.
Det var i min optik essensen af de to artikler.