Det er formodentlig gået op for de fleste allerede, at sygeplejerskene mener, at de skal have mere i løn. Men måske er det også gået lidt i glemmekøen – der har i hvertfald været tilstrækkelige med begivenheder i både den nære (politiske) verden og globalt, så man har fået andet at tænke på.
En af de begivenheder var sagen – og dokumentaren – om Region Midtjyllands sager med amputerede ben, der måske ikke skulle have været amputeret. I hvert fald
erkendte
regionsrådsformanden Anders Kühnau til DR-nyheder, at man havde haft for lav kapacitet.
Sagen med de amputerede lemmer har Mensch brugt i en ny kampagne for Foreningen af Danske Sygeplejersker, som startede i går og som primært kører i de store danske dagblade samt på SoMe, og som fortsætter til efteråret.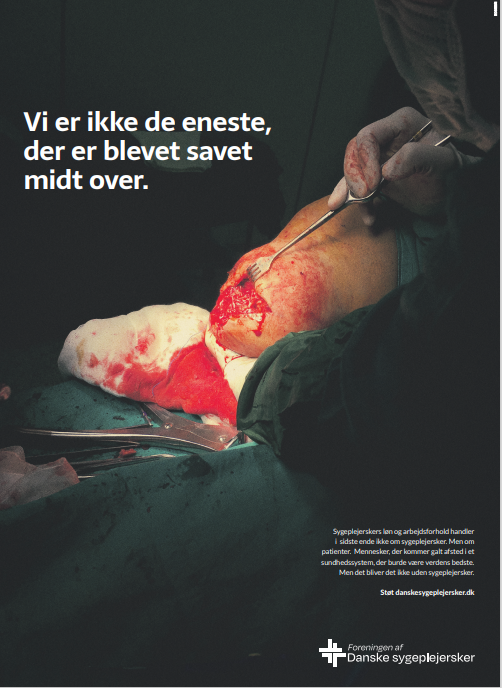 Annonce i Jyllands-Posten onsdag
"Eksekveringen med amputation er kun den første i en serie. Men den er et aktuelt eksempel på, at et dårligt sundhedssystem ikke blot går ud over sygeplejerskerne," siger partner i Mensch, Frederik Preisler. Han fortsætter:
"Formålet er det enkle, at gøre sygeplejerskernes løn- og arbejdsforhold relevante for den enkelte. Bliver man forarget over at se dette, må man spørge sig selv, hvorfor man ikke er forarget over løn- og arbejdsforhold for dem, der ser på det hver dag."
Målgruppen er både opinionsdannere og almindelige danskere, og Foreningen af Danske sygeplejersker har slået en lang tekst op på deres Facebook-side efterfulgt at et billede fra kampagnen, der dog er blevet 'lukket' af Facebook.