Selvom corona nok fylder mest hos danskerne i denne tid, fylder klima og miljø mere i danskernes bevidsthed end nogensinde før ligesom det ligger højt på den politiske dagsorden. Det er dog så som så med miljøbevidstheden i handling, når det kommer til overvejelser om køb af ny bil.
Samlet set siger 74 pct. af potentielle bilkøbere, at de er interesseret i en hybrid- eller el-bil, hvis de skal købe en ny bil. (Summen er større end 100 pct. da man kan svare i mere end et felt. Den danske husstand har i gennemsnit 1,3-1,4 biler, red.)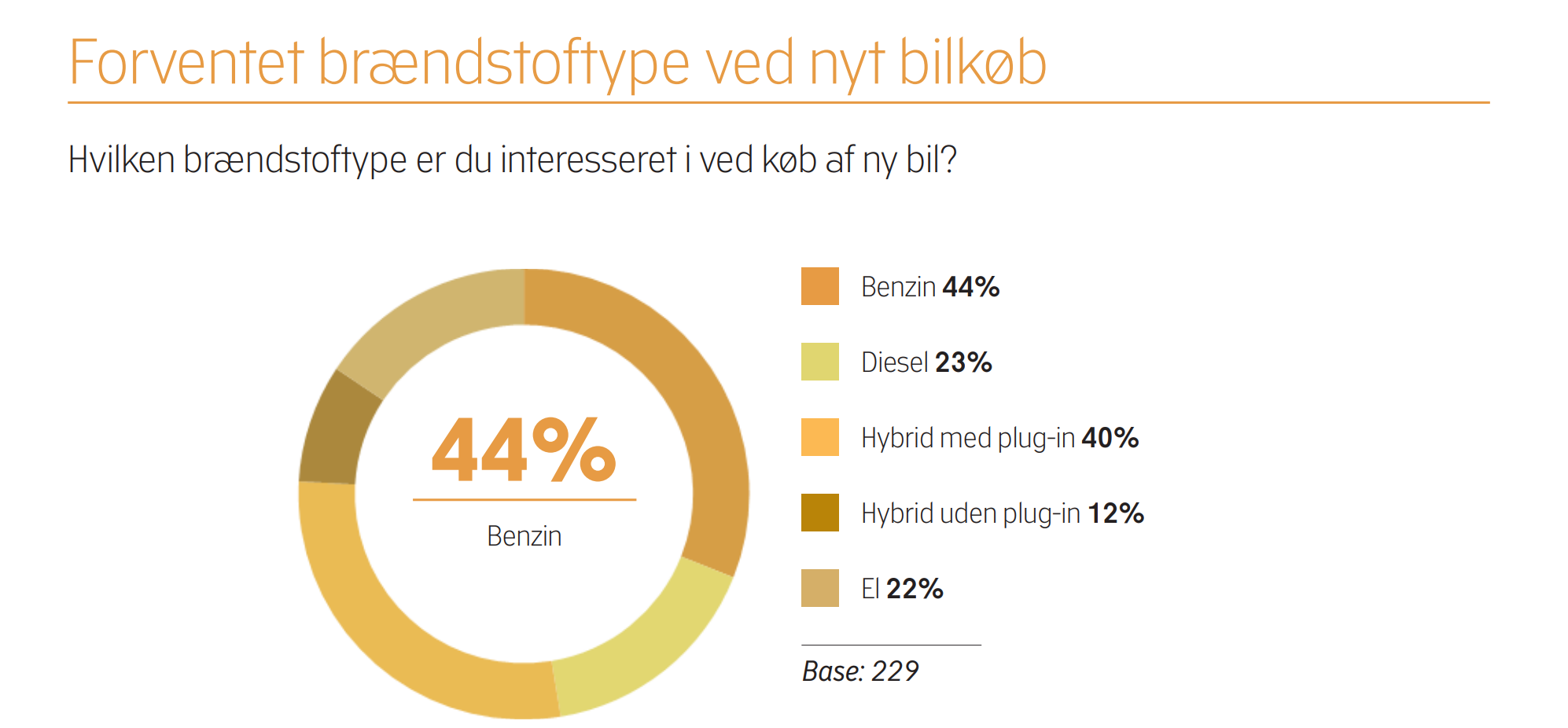 Går man længere ned i undersøgelsen viser det sig dog, at det 'kun' er 67 pct. af dem, der er interesseret i miljøvenlig brændstof, der er det, fordi de gerne vil have en mere miljøvenlig bil. Resten er interesseret i en hybrid- eller elbil af andre – og ikke miljørelevante – grunde. Se nedenfor: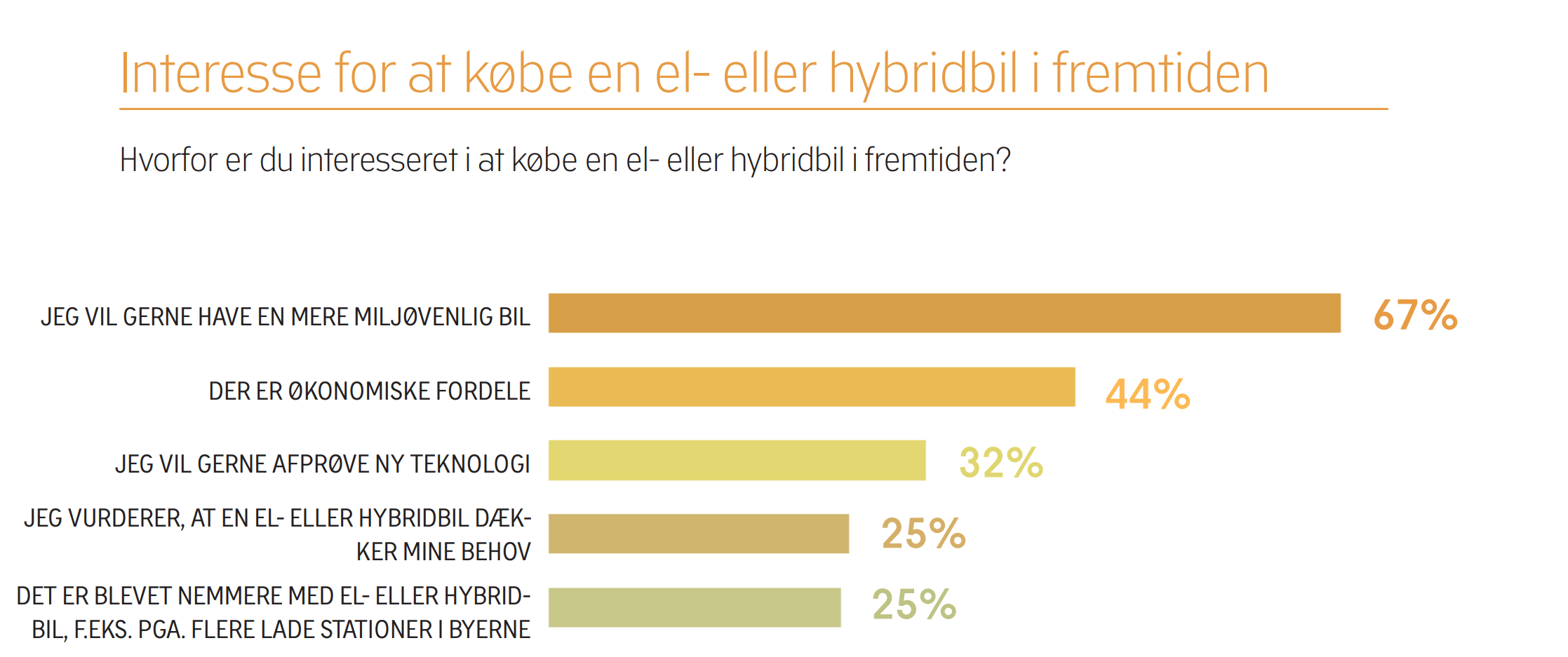 Ovenstående er fra en ny undersøgelse fra GetRoots, der i tre år har lavet analyser inden for en række forskellige brancher. Bureaubiz bringer her uddrag fra bilbranchen og vil fremadrettet belyse flere undersøgelser om andre brancher fra GetRoots.
Måske er det derfor mere ønsketænkning end realiteter, hvis danskerne giver udtryk for at være bekymrede om miljøet. For spørger man de danskere, der er i markedet for en ny bil, om de vigtigste egenskaber ved købet, kommer miljøvenlighed først på en 7. plads.
CEO i GetRoots, Casper Claudius Gregersen, siger, at den observation understøttes fra en rejsebrancheanalyse fra GetGoots, der blev lanceret tidligere på året:
"Danskernes betalingsvillighed i forbindelse med at købe klimavenlige rejser er faldet med 5 pct. sammenlignet med 2020. Det kan selvfølgelig være corona-relateret, men det drop på 5 pct. er dog ganske mærkbart."
Casper Claudius Gregersen tilføjer:
Mange danskerne har i den forgange feriesæson skiftet flyet ud til fordel for bilferier, og det hænger givetvis sammen med behovet for større biler, som man også kan se ud af undersøgelsen. Vi ser derfor ind i, at danskerne for en stund tilsidesætter miljøvenlige hensyn".
Spørger man danskerne om de vigtigste egenskaber ved køb af ny bil, kommer miljøvenlighed først på en 7. plads.
Foran ligger pris, brændstofforbrug, sikkerhed, værdi for pengene, plads og kørefornøjelse.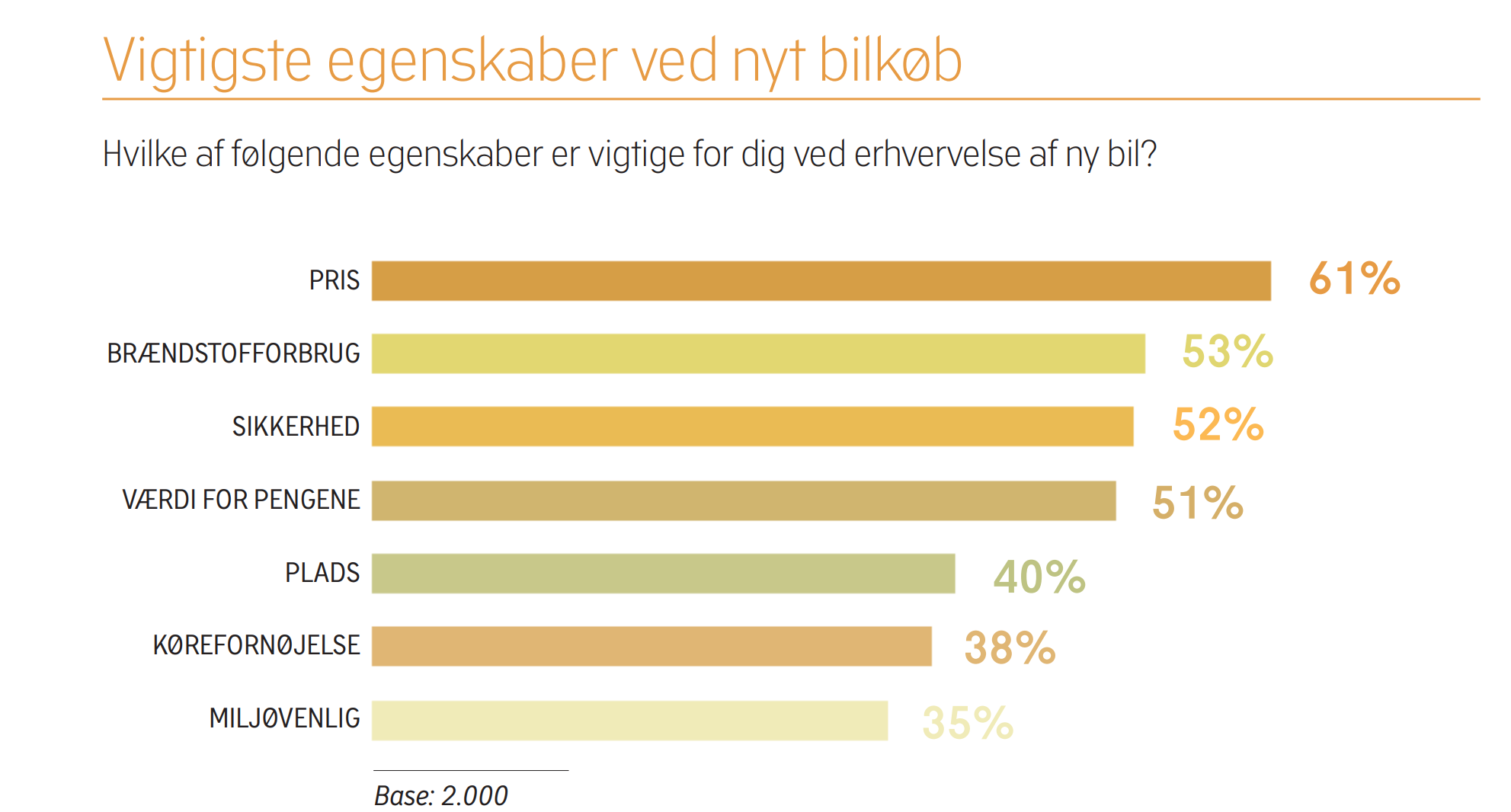 Som man kan se af figuren i toppen af artiklen, er der fortsat 44 pct., der er i markedet for benzinbiler. Men andelen af ejere af benzindrevne biler er faktisk faldet fra 95 pct. i 2019 til 72 pct. i 2021.
Økonomiske og praktiske barrierer
Der bliver i undersøgelsen påpeget en række barrierer for ikke at købe miljøvenlige biler, og de er enten økonomiske eller af praktisk karakter. 76 pct. af alle danskere mener at el-bilerne skal være billigere, og 61 pct. mener henholdsvis, at de skal have længere rækkevidde og at der skal være flere ladestationer.
Delebilsordninger er praktisk, når man ikke har brug for bil
At bruge delebilsordninger opfattes formodentlig som mere miljøvenligt end selv at købe og eje en bil. Men her er det stadig kun 12 pct. – som dog er en pæn stigning i forhold til i 2018, hvor det kun var 7 pct. – der har anvendt en delebilsordning. Og af dem, der har brugt en deletidsbilsordning, svarer næsten halvdelen (42 pct), at årsagen er, at de kun bruger en bil lejlighedsvist. Der er ingen årsag – med mindre den ligger under de 19 pct. – angivet i forbindelse med miljøvenlighed.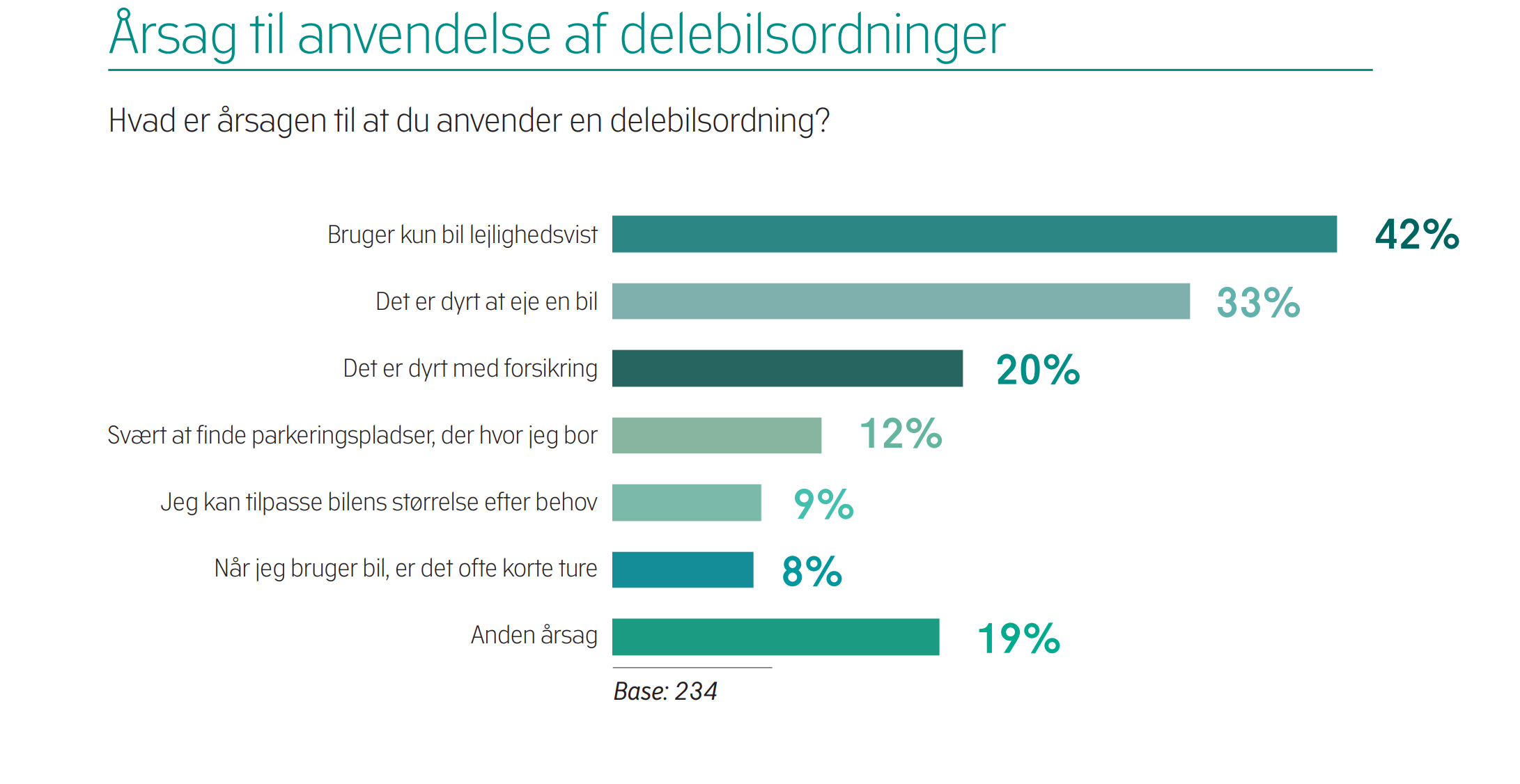 Se mere om undersøgelsen fra bilbranchen her.
Fakta om undersøgelsen
Undersøgelsen fra Roots er baseret på en kvantitativ spørgeskemaundersøgelse, foretaget blandt den danske befolkning mellem 18-75 år. Besvarelserne er blevet indsamlet via Bilendis onlinepanel: M3 Panel, i perioden fra den 4. marts til og med den 11. marts 2021. Paneldeltagerne modtager belønning ved besvarelse af spørgeskemaer i form af point til indløsning i gaveshop. Rapporten er baseret på i alt 2.000 besvarelser og indeholder detaljeret information om bilbranchen. Da der er en vis afvigelse i stikprøvens fordeling på køn, alder og region i forhold til populationen (den danske befolkning mellem 18-75 år), er det indsamlede data efterfølgende blevet vejet i henhold til populationens fordeling på disse forhold. Dette er gjort for at opnå mere repræsentative resultater, som afspejler den danske befolkning og dermed kan generaliseres. Resultaterne vil imidlertid fortsat være forbundet med en vis statistisk usikkerhed – som enhver anden stikprøveundersøgelse.