Fie Grønning blev for nylig ansat som kreativ chef hos STEP efter knap et år som selvstændig i sit eget lille skriveværksted, camoufleret under navnet Grønning Copywriting.
Men Fie Grønning har også været ny i branchen engang. I 13' startede hun sin karriere som nyansat tekstforfatterelev hos Nørgård Mikkelsen. Der lavede hun sin første rigtige reklame. Nemlig en TVC for Kohberg om produktet 'Krammer'.
Fie Grønning siger om sin reklame:
"Selve universet med Mester og Anton var skabt i forvejen af det kreative team, men jeg fik til opgave at byde ind på teksten til sangen. Jeg var helt ny, så jeg tror, at de tænkte, "lad os prøve at give opgaven til hende den nye elev – bare for sjov". Og så endte det så alligevel med, at mit bud på en sangtekst blev brugt stort set 1:1 i den færdige reklame."
Fie Grønnings sangtekst blev godkendt og røg direkte med på optagelse med Tommy Kenter og Lars Ranthe. Og kort tid efter kunne Fie se sangen rulle hen over TV-skærmen i bedste sendetid.
Hvad synes du om reklamen dengang?
"Jeg syntes, det var vildt!," griner Fie Grønning og uddyber:
"Jeg kan huske, at jeg syntes, det var en sjov opgave at skulle skrive en sangtekst. Jeg havde vist en teori om, at reklamer med sange var sådan nogle, folk kunne huske."
Hvad synes du om reklamen i dag?
"Når jeg ser den i dag, tænker jeg, at den er lidt røvballe," fortæller Fie Grønning med et smil på læben og tilføjer:
"Og den sangtekst er jo ikke ligefrem et fantastisk teksthåndværk, men egentligt bare en sammensætning af nogle meget basale rim."
Hvis Fie Grønning skulle have tekstforfattet reklamen i dag, indrømmer hun, at hun nok også havde bevæget sig i en lidt anden retning. Hun fortæller:
"Jeg ville nok have forsøgt mig med nogle lidt mere overraskende rim. Det tror jeg også ville have gjort reklamen mere underholdende."
Fie Grønning tilføjer, at havde hun fået opgaven i dag, var hun nok slet ikke havnet i et så fjollet univers. Hun fortæller:
"I dag går vi meget mere op i, hvordan vores madvarer er tilberedt, og hvad de indeholder. Det ville virke for useriøst med to dansende dukker i den sammenhæng. Og Kohberg er jo også gået væk fra det univers i dag og gået i en meget mere nøgtern retning. Det tror jeg, er helt rigtigt."
Fie Grønning er dog stadig stolt af reklamen i dag. Nok primært fordi, at den er årsagen til, at hun fik et arbejde på TV så tidligt i sin karriere og så endda for et stort dansk brand.
Selvom Kohberg var Fie Grønnings første reklame, betragter hun den ikke som hendes adgangsbillet ind i branchen. Derimod er hun overbevist om, at reklamen nok blev hendes adgangsbillet til at få lov at byde ind på flere opgaver, end hvad hun ellers havde været i betragtning til på reklamebureauet.
Hun uddyber:
"Og det var måske også lidt med til at definere, hvilken type tekstforfatter jeg var på det tidspunkt: Nemlig én, der godt kunne lide at lege med ordene. Det er jeg sådan set stadig, men i dag stiller jeg større krav. Der skal følge mere substans og idé med ordene."
Når Fie Grønning skal svare på, hvilken case, hun er særlig stolt af, fremhæver hun – måske atypisk – at det hverken er en award-case eller et værk, der er blevet sendt i bedste sendetid. Det er derimod noget så simpelt som en bordrytter-tekst, der står på samtlige borde i alle Jensens Bøfhus' restauranter.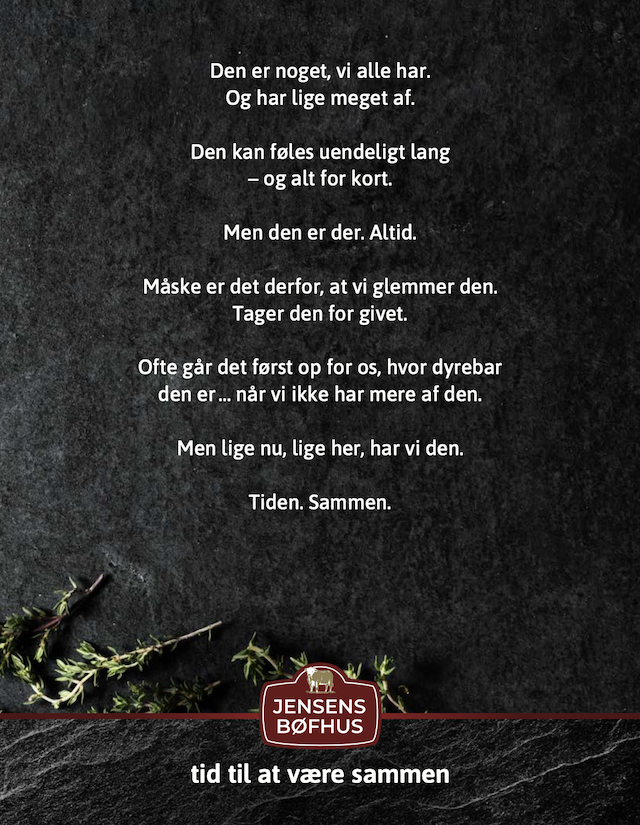 Fie Grønnings bordrytter-tekst, der står på samtlige borde i alle Jensens Bøfhus' restauranter.
"Jeg er stolt af den, da den rent faktisk har rørt noget hos dem, som den er lavet til: Nemlig forbrugerne – eller menneskene, som vi burde kalde dem. "


Bordrytteren fik en dag en kunde til helt uopfordret at sende en mail til Jensens Bøfhus.
Fie Grønning påpeger, at det ikke kun er det arbejde, som bliver fremhævet af branchefolk, man skal være stolt af som kreativ.
"Rugbrødsarbejde rører også helt almindelige mennesker, mere end vi regner med."