Afsættet for en samtale med Cathrine Understrup er hendes hverv som selvstændig, efterspurgt art director. Hun er en ung kvinde, der har arbejdet uden for den traditionelle bureaustruktur for at følge sin egen faglighed og talent.
Men før Cathrine nåede der, har hun været tekstforfatter, har uddannet sig på DMJX, arbejdet internationalt hos Snask, gæsteundervist på Kreativ Kommunikation, vundet priser i Creative Circle Award og endda siddet i juryen.
Nu arbejder hun selvstændig som art director – for store brands som Volvo, McDonald's og MobilePay. Vi har spurgt Cathrine, hvad hun har opnået som selvstændig i reklameverdenen, og hvorfor hun gik selvstændig på lige netop det tidspunkt – i en alder af 27 år.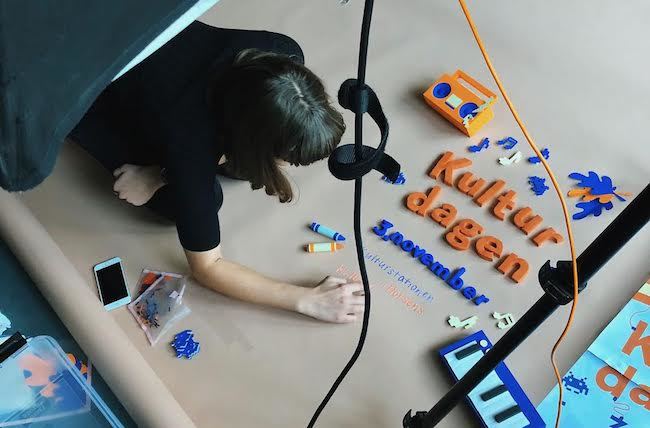 Catherine Understrup i hendes arbejde som art director. Foto: Sofie Hvitved
Med saks og papir
Ved man, hvem Cathrine Understrup er, ved man også, at hun har et særligt talent med saks og papir. Hun kan klippe, lime og modellere på en måde, man sjældent ser i reklameverdenen.
Hun har arbejdet for Snask, et svensk produktionsbureau, der er kendt for deres taktile, farverige univers, men hun har også arbejdet for CP+B, hvor der modsat blev skruet op for konceptudvikling og PR-tunge idéer.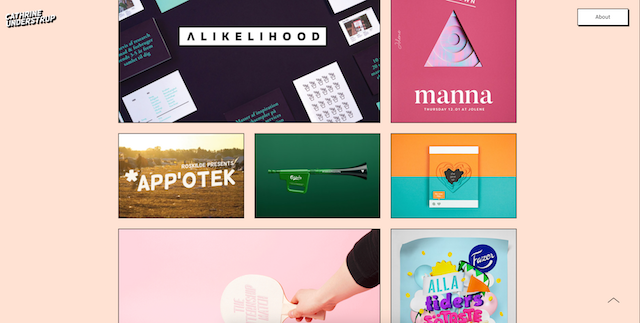 Besøg Cathrines hjemmeside og oplev hendes univers.
Cathrine Understrup fortæller til Bureaubiz, at hun er draget af begge dele: Konceptudvikling og art direction. Det er netop kombinationen af det, hun har eftersøgt i de danske bureauer. Cathrine uddyber: "Enten er man stærk konceptuelt eller også er man stærk visuelt. Man er sjældent begge dele." Og det er netop en stræben efter at få lov til at lave begge dele lige meget i sit daglige arbejde, der har gjort udslaget for Cathrines valg af at blive selvstændig.
"Muligheden for at være analog med papir, saks og lim – og så putte alt det ind i en digital kontekst – brænder jeg for. Og det er netop det, jeg får lov at lave som freelancer," fortæller Cathrine Understrup.
Nu som selvstændig
Cathrine Understrup har nu været selvstændig i tre år. Og modsat mange andre er planen ikke at, at det skal stoppe lige foreløbigt: "For mange er freelance en mellemstation, eller noget man gør i en kortere periode. Og derfor tænkte mange nok ikke, at det her var noget fast".
Catherine indrømmer, at hun da selv var nervøs og ikke vidste, om det overhovedet ville fungere for hende: "Jeg ville give det et halvt år, og hvis jeg var død af sult, måtte jeg finde på noget andet." Men det gik – og endda ret godt.
To dage inden, hun stoppede i CP+B, kontaktede en australsk fundraising-organisation hende. RCD Foundation hed de, og de ville have Cathrine til at skabe en identitet til et forskningsprojekt, som de havde gang i. Cathrine havde arbejdet sammen med dem før, men timingen her var spot on. Det var hendes første kunde som selvstændig.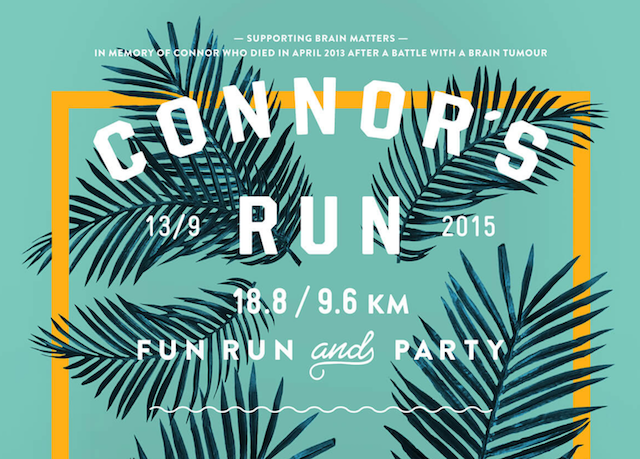 Her er et udsnit af en plakat, Cathrine lavede til RCD Foundation i 2015.
Da jeg spurgte Cathrine, hvor hun fandt sine kunder, var svaret, som på de fleste af livets problemer: kaffe – "Virkelig meget kaffe med virkelig mange mennesker".
Som ny selvstændig i reklamebranchen forsøgte Cathrine at aktivere sit netværk. Alt imens hun forsøgte at påføre sig de hatte, man ellers bærer som selvstændig: "Som selvstændig er man til tider det hele, lige fra projektleder til bogholder," fortæller Cathrine.
I starten sagde Cathrine ja til alle muligheder. "Hele baggrunden for at sige ja til det hele, var at jeg ikke helt vidste, hvad det var jeg ville. Derfor sagde jeg vitterligt ja til alt, der ikke var en åbenlys grund til at sige nej til, " fortæller Cathrine. Det ledte blandt andet til en udstilling i Schweiz og et hackathon i Amsterdam.
De sidste to år har Cathrine Understrup dog mere selektivt valgt, hvad hun gerne vil lave og ikke vil lave.
Sommerchancen med McDonald's og få gode vaner med MobilePay
Sammen med Nord DDB har Cathrine Understrup skabt en serie til McDonald's' sommerkampagne. Kampagnen bestod af ni SoMe-videoer, hvor dine fingre har fri mulighed for enten at slappe af eller give den fuld gas med vægtstang, stepbræt eller trampolin.
SoMe-videoerne taler for sig selv. De er kreative, spøjse og en god kombination af det analoge og digitale. De udstråler lige netop det, som Cathrine er god til og brænder for – og de udtrykker alle bevæggrundene for, hvorfor Cathrine valgte at gå freelance. Netop for at få mulighed for at kombinere noget analogt med noget digitalt.
Senere har Cathrine Understrup i samarbejde med Advice hjulpet MobilePay med at ændre folks betalingsvaner. Advice skriver på hjemmesiden om kampagnen, at de ikke skal lære folk at bruge MobilePay – men lære folk at huske at bruge MobilePay. Advice uddyber: "Derfor valgte vi et opsigtsvækkende, grafisk univers med små fortællinger, som målgruppen kan relatere til." Og det er netop her, Cathrine kommer ind i billedet – med sin opsigtsvækkende, grafiske faglighed.
I tre videoer viser Advice og Cathrine Understrup udsnit fra hverdagen. De viser kaffekøbet, internethandlen og den bundløse taske, og hvordan MobilePay kan bruges i de nævnte situationer.
De to andre videoer kan du se her.
Cathrine er begejstret for sit samarbejde med både MobilePay og McDonald's. "Det er store corporate-firmaer, der køber ind i det her papunivers. Det var mit mål som freelance at nå til dem. Og nu ved jeg, at det godt kan lade sig gøre."
Hun håber på en dominoeffekt, hvor flere brands tør følge trop og bevæge sig med på bølgen i et mere grafisk-analogt univers. Cathrine Understrup er i hvert fald ikke færdig – og er klar på flere år som selvstændig art director. Men hvad der præcist skal ske, må fremtiden vise.