Udsigten fra PeopleGroup-husets 7. og øverste etage er – med vue over City i København – flot. Og i øvrigt en del mere interessant end det, CosmicPeoples to stiftere, adm. dir. Pernille Simmelkiær og kreativ dir. Peter Stenbæk, indtil videre har nået at få gjort ved selve indretningen af bureauet; langborde og stole til en håndfuld personer samt et par macs.
Men det er heller ikke indretningen, der kalder i denne omgang, derimod den vare, som CosmicPeople tilbyder sine kunder. En vare, som har været to år undervejs og testet det seneste år. Og en vare som ikke umiddelbart er oplagt for et reklamebureau.
Det handler nemlig om crowdsourcing, og Cosmic People har nu etableret baser med crowds svingende i størrelse fra 300.000 op til 1.000.000 kreatører, som bureauet henter input fra på vegne af kunder.
Tilgangen kan lyde kættersk, for hvordan er det lige med honoreringen, med juridiske aspekter og dét, at annoncører bare grovhøster ideer.
Pernille Simmelkiær og Peter Stenbæk kender til den klassiske bureauverden, for ikke nok med at de selv – indtil i sidste uge – var hhv. adm. dir. og kreativ dir. i We Love People – de er fortsat medejere af selvsamme reklamebureau.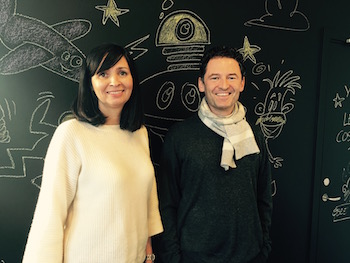 "For fem år siden tænkte vi 'crowdsourcing'? I to år har vi været nysgerrige og ment, at der er et kreativt potentiale i crowds. Og det seneste år har vi udviklet systemer og software, fået styr på rettigheder og honorarer – vi bruger kun dét, vi køber ind, og det sker til global markedspris – og vi har testet det sammen med kunder," siger Pernille Simmelkiær.
Hun suppleres af Peter Stenbæk:
"Vi ser det som begyndelsen på en ny epoke. At kunne skalere kreativitet er et fundamentalt skift. Vi har tre gange besøgt Disney Institute i Florida. Alene her sidder 60.000 Disney-medarbejdere, og Disney har om nogen forstået at håndtere kreativitet i stor målestok."
På besøg hos Disney
Forberedelserne til CosmicPeople omfatter også et af USAs mest anerkendte universiteter:
"Vi har fulgt MIT's forskning inden for kollektiv intelligens. Det handler bl.a. om, hvordan man analyserer, håndterer og kortlægger store crowds," siger Pernille Simmelkiær.
Peter Stenbæk har denne tilføjelse:
"Kollektiv intelligens handler også om, hvad der er sjovt. Og hvorfor det er sjovt. Med kreativitet skal det kilde."
En af de første kunder var særdeles glad og tilfreds med – og sågar awardnomineret – før end omverdenen begyndte at høre om CosmicPeople.
Jeep fik via en crowd ca. 300 forslag og honorerede de 30, som man endte med at bruge på forskellig vis. Og "salgsafdelingen var bestemt meget tilfreds", hed det, da Bureaubiz i forrige måned beskrev crowdsourcing-tilgangen hos CosmicPeople.
En anden kunde er Novozymes, der ønskede input til deres globale employer branding. Tre døgns crowdsourcing udløste ikke færre end 105 ideer og indsigter, som CosmicPeople og Novozymes' interne bureau har fordelt på 9 linjer.
"En crowd er ikke Frankensteins monster – den består af mennesker, og dem skal man behandle ordentligt. Der er kreatører i den anden ende, og de kræver motivation og feedback. Det skal vi kunne levere," siger Peter Stenbæk og tilføjer:
"Udgangspunktet for at deltage i en crowd kan være vidt forskellig: Det kan være fullblown kreative, der på fem min. kan levere et oplæg, eller en debutant, der har 100 konkurrencer kørende ad gangen."
Alsidigheden ses ikke kun blandt bidragyderne, men også dét, crowds kan bruges til:
"Employer branding er normalt ikke et felt, hvortil et reklamebureau bliver hyret. Men også her kan vi sætte det kreative stik ind," siger Pernille Simmelkiær og tilføjer:
"Vi har været ude hos kunder og fortælle, hvordan crowds kan bruges – og hvordan de ikke kan bruges. Et fortroligt projekt – det kunne være to banker, der fusionerer – egner sig ikke til crowds. Det samme gælder opgaver, hvor 10 års kundehistorie, -indsigt og fortrolighed vægter tungt."
6 ansatte
CosmicPeople har seks medarbejdere – eller rettere kommer op på dette antal i løbet af denne måned.
Udover Pernille Simmelkiær og Peter Stenbæk drejer det sig om kontaktdirektør Andreas Lange, der også har fået et ansvar på tværs af CosmicPeople og We Love People, og Gunnvør Dalsgaard, der er Crowdplanner og står for indkøb og den sociale, daglige dialog med crowden. Dertil er to kandidater på vej; en Crowd-specialist og en kreativ kraft.
Men når crowden står for det kreative – ja, sågar for det strategiske og konceptuelle – hvad skal bureauet så selv lave?
"Det kræver kreatører, som kan lide at arbejde sammen med andre kreatører. Det kræver en social og relationistisk tilgang til kreativitet – samt mange års erfaring til bl.a. at spotte de gode ideer," siger Peter Stenbæk.
Også andre funktioner skal føjes til:
"Vi er ved at opbygge et korps af specialister, der sidder rundt omkring. Nogle er dygtige til at briefe, andre er dygtige til at kuratere. Det være sig antropologer, semiotikere – vi har brug for forskellige øjne til at kigge på arbejdet," siger Pernille Simmelkiær.
De to direktører har meldt CosmicPeople ind i Dansk Crowdsourcing Association og har netop været i Finland til crowdsourcing-konference.
Heller ikke dette tegner billedet af et klassisk reklamebureau:
"Vi konkurrerer ikke med andre bureauer herhjemme – mig bekendt heller ikke med andre bureauer i verden. Men vi samarbejder bestemt med bureauer," siger Pernille Simmelkiær og tilføjer:
"Med CosmicPeople oplever vi virkelig The Speed of Culture, for når vi spørger crowds, eliminerer vi typiske tvivlsspørgsmål om, hvorvidt det nu er aktuelt og rammer tidsånden."
Sporene er lagt for det danske crowd-bureau, men hvor de i længden fører hen, er endnu for tidligt at sige:
"Det er et nyt og kæmpe værktøj, og vi oplever en transformation gennem den kollektive intelligens. Vi bruger det lige nu til at hente kreative input og indsigter, men der sker hele tiden nye ting, så jeg kan ikke udelukke, at vi måske ender et helt andet sted," siger Peter Stenbæk.