Frederik Bisbjerg er en dansk dialog-mand, der er rejst meget langt væk. Ikke bare i kilometer – også mentalt og fagligt.
Han sælger nu forsikringer i Qatar.
Inspireret af en Linkedin-opdatering tog Lars Gardan fat i ham for at høre, hvordan det er at arbejde med dialog i den arabiske verden.
Lars Gardan to Frederik Bisbjerg:
LinkedIn er fantastisk i mange sammenhænge. Også når de vil skabe trafik og stiller mig spørgsmål om Frederik Bisbjerg kan det og det. Det fik mig til at tænke, hvordan mon Frederik har det i Qatar? Hvad bragte dig til den arabiske verdens største forsikringsselskab?
Frederik Bisbjerg to Lars Gardan:
Jeg mødte QIC (Qatar Insurance Co) gennem SOS International, i forbindelse med et virksomhedsopkøb i Dubai og – lang historie kort – de endte med at give mig et "offer I couldn't refuse ☺"
I dag har jeg ansvaret for vores private linjer worldwide og fokus er i øjeblikket på Qatar og Emiraterne.
Lars Gardan to Frederik Bisbjerg:
Du må da arbejde en del med direkte kommunikation?
Frederik Bisbjerg to Lars Gardan:
Ja, det skulle man tro… men…
Direkte kommunikation i Mellemøsten er at hænge sedler på døren og tælle hvor mange der afleverer sedlerne i forretningen. Direkte kommunikation er at sende en SMS eller e-mail, lukke øjnene og håbe at man rammer.
Lars Gardan to Frederik Bisbjerg:
Der må være mere i det end det. Direct Mail, e-mails og CRM programmer er vigtige i danske forsikringsselskaber. Er det så meget anderledes i Mellemøsten?
Frederik Bisbjerg to Lars Gardan:
Ja, her har du ikke en privat post adresse, men en postboks hvilket betyder at de fleste modtager deres (sparsomme) post på arbejdet – der er simpelt hen ikke en kultur for at modtage post.
Breve mellem firmaer sendes fortsat individuelt med bud, så masse-udsendelser er ikke rigtigt gangbare.
CRM er fortsat på begynderstadiet også – vi kan lige drive det til at sikre genkøb gennem SMS- og telemarketing.
Det er super-cool, fordi her er så mange muligheder for at udvikle markedet og vi er allerede godt på vej – hestehoveder foran konkurrenterne 😉
Lars Gardan to Frederik Bisbjerg:
Det er virkelig MEGET anderledes. Fedt, at du med din erfaring er med til at løfte markedet.
Der er noget der længe har undret mig. Måske kender du svaret. Dengang vi kun flettede brevtekster og printede fysiske breve til kunderne kunne ALT lade sig gøre – og vi kunne spejle den enkelte kunde individuelt. Så begyndte virksomhederne at sende e-mails og pludselig kunne intet lade sig gøre. Og det er næsten sådan stadig. 4 segmenter i en e-mailudsendelse og man er stolt. Hvorfor var der ingen af de etablerede printbureauer, der udnyttede deres erfaringer i det nye medie?
Frederik Bisbjerg to Lars Gardan:
Jeg tror mange af barriererne dengang var mentale og mangel på forståelse for – ikke mediet – men teknikken bag. Du kendte dit A4 og din M65-kuvert, men HTML tags, browser kompatibilitet og clicks var ukendte begreber.
Det viste sig også hurtigt, at erfaringerne fra brevene var stort set værdiløse online, fordi vi alle har markant ændret adfærd online sammenlignet med off-line.
Lars Gardan to Frederik Bisbjerg:
Hm, her ser jeg nu flere ligheder end forskelle, Frederik. Altså mellem e-mailen og brevet. Segmenteringen af budskaber. Allerhelst individualisering. Dét burde have været let for de etablerede printfolk at trykke SEND i stedet for PRINT. Men sådan gik det ikke.
Jeg ved at forsikringer skal fornys i nogle lande, hvor danske forsikringer bare fortsætter til man siger dem op. Hvordan er det hos QIC? Og kommunikerer I her alene via sms eller telefon?
Frederik Bisbjerg to Lars Gardan:
Forsikringer skal MANUELT fornyes hvert år i GCC landene, hvilket betyder at vi har i hvert fald eet kritisk kontaktpunkt at håndtere – i mellemtiden skal vi så finde aktiviteter, der husker folk på os og vores navn.
Vi har en temmelig simpel metode for at sikre renewals; først sender vi SMS, dernæst e-mail og til sidst op til fire telemarketing kald – renewal rates er i den grad stigende på grund af dette.
Sidste år lancerede vi regionens første loyalitetsklub (som kan sammenlignes lidt med US' kuponkataloger) som har affødt fornuftig succes allerede.
Lars Gardan to Frederik Bisbjerg:
GCC landene?
Frederik Bisbjerg to Lars Gardan:
GCC er Golflandene Bahrain, Kuwait, Oman, Qatar, Saudi Arabien og UAE – De forenede Arabiske Emirater. Men hverken Iran, Iraq eller Yemen.
Lars Gardan to Frederik Bisbjerg:
Jeg ved, at du også er en yderst habil portrætfotograf. Og jeg kan læse mig til, at du har portrætteret mennesker fra hele verden. Hvordan går det i spænd med forsikringsjobbet?
Frederik Bisbjerg to Lars Gardan:
At arbejde med så mange forskellige kulturer har lært mig at respektere hvert individ for hans/hendes måde at være på. Som fotograf ser jeg mennesket bag og forstår de kulturelle forskelle bedre end før.
I praksis betyder det at a) jeg har det fantastisk sjovt og b) min kulturforståelse gør det lettere for mig at forhandle med de mange kulturer og ikke mindst religioner, her findes i Mellemøsten.
Lars Gardan to Frederik Bisbjerg:
Tør man spørge, om det er et problem at være dansk? Eller er du bare en vesterlænding i Mellemøsten?
Frederik Bisbjerg to Lars Gardan:
Problem at være dansk? Jeg ser mig ikke som dansker; jeg er en del af et multietnisk samfund, hvor mere end 80 % er sammensat fra hele verden – nationaliteter er temmelig udvandede her og kommer typisk kun frem når vi joker med hinanden (selvom ingen har nogen jokes om Danmark; vi er ganske enkelt for få her til at nogen kender os som nationalitet).
Lars Gardan to Frederik Bisbjerg:
Tak, fordi du gav os indblik i en meget anderledes marketingverden, Frederik.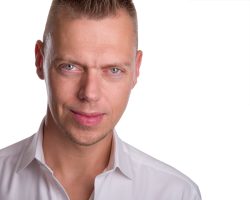 Frederik Bisbjerg
Head Of Group Retail & Executive Vice President, Qatar Insurance Company i Doha. Frederik er samtidig freelance portrætfotograf i sit atelier, redHORN Photography, samt forfatter til bøgerne "Praktisk Direct Marketing" (2004) og "I dialog med kunderne" (2007).