I en verden, hvor det nærmest virker som lang tid at have et job i 2-3 år, så er der en sjælden stabilitet over Advices adm. dir. Espen Højlund (37). Han begyndte i 2001, før han var færdiguddannet og er der stadig. Han mangler således fortsat at aflevere sit speciale for at blive helt færdig.
Men der er andre elementer af stabilitet – som f.eks. en gammel dansk værdi, der har vist sig velegnet i en moderne og meget foranderlig digital verden. Mere om det senere.
At Espen Højlund overhovedet er hos Advice er en tilfældighed.
"Jeg var lidt sent ude med at søge praktikplads, og samtidig var Advice også kommet lidt for sent i gang med at søge en praktikant, og det førte til, at de hyrede mig," siger Espen Højlund.
Men lige så tilfældigt det var, lige så hurtigt klikkede Espen Højlund og Advices stifter og direktør dengang, Jesper Højberg, med hinanden. Så allerede i 2002 var det blevet til et fast job.
"Vi svingede meget hurtigt sammen, og samtidig har Jesper en fantastisk evne og mod til at give folk plads, hvis han kan se noget i dem. Det betød, at jeg meget hurtigt blev involveret i ganske betydelige udfordringer," siger Espen Højlund.
Det var således en ganske ung mand, der blev sat over for tunge ledere, og Jesper Højberg har selv på et tidspunkt forklaret lidt humoristisk, at man var nødt til at iklæde Espen Højlund skæg, så han ikke så helt så ung ud.
Checker man hans Linkedin-profil, så ser hans cv således ud:
Advisor, Advice – 2002-2005
Chief Advisor, Advice – 2005-2006
Director, Advice – 2006-2008
CEO, Advice – 2008 – Present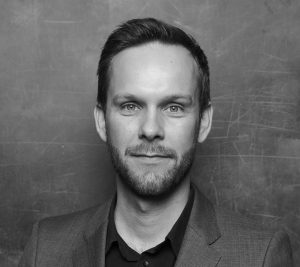 Nu er han ikke bare CEO, men har også en betydelig ejerandel, så Espen Højlund fandt sit arbejdsliv i første hug. Men var det held, at han fandt den rigtige hylde med det samme eller mangler han eventyrlyst?
"Det er der andre, der har spurgt mig om. Men jeg har været så heldig at have haft en modig ejer og formand, som hele tiden har været villig til at tilbyde mig nye udfordringer, så jeg synes egentlig, at jeg har udlevet rigtig meget eventyrlyst i mit job," siger Espen Højlund og fortsætter:
"Advice var i 2001 et noget barberet bureau som følge af dot.com boblen. Jeg tror, der var 15 mand. Siden har vi arbejdet målrettet på at udleve ambitionen om at skabe et bureau, der med faglig dybde på alle pladser kombineret med solide data og indsigt i markedet kan levere integrerede løsninger med brugeren i centrum. Samtidig er der sket en revolution i vores branche, hvor det DNA, Jesper i sin tid skabte, er blevet relevant for en bredere kreds af markedsførere. Så jeg har ikke manglet udfordringer i mit job."
Forud for sin tid
Espen Højlunds henvisning til Advices DNA rummer en historie om, at alt nyt i dag ikke er opfundet inden for de sidste 5 år.
"Jesper var i 1992 med til at definere begrebet netværkskommunikation. Dengang – og også i 2001 – var det noget langhåret noget, som jeg godt kunne tænke mig at opleve ham forsøge at sælge til en virksomhed. Men han har vist sig at være mindst 10 år forud for sin tid," siger Espen Højlund og fortsætter:
"Jesper talte om at arbejde kanaluafhængigt med dyb indsigt i modtagerne, og siger du sociale medier i stedet for netværks-kommunikation og omnichannel i stedet for kanaluafhængighed, så tror jeg, det er åbenbart, at han dengang skabte et DNA, som passer rigtig godt til tidens udfordringer for virksomheder. Det er vores opgave at bruge dette DNA til at få Advice til at vokse."
Hvis man er af lidt ældre dato, så kan man muligvis huske et debatprogram på TV 2, der hed Højlunds Forsamlingshus. Og ja – navnesammenfaldet er ikke tilfældigt. Niels Højlund er Espen Højlunds onkel.
Espen Højlund er således vokset op i et miljø, der måske netop gav ham gode forudsætninger for at begå sig i reklame- og kommunikationsverdenen.
"Jeg er rundet af en dansk højskole-tradition, og min familie består af præster, lærere og ja, kommunikationsfolk – alle arbejder med en eller anden form for forførelse. Der er blevet diskuteret og samtalet utroligt meget i min familie – men ikke propaganderet. Det har altid været essentielt, at man også lytter til hinanden og gør en indsats for at forstå," siger Espen Højlund og fortsætter:
"Vi lever i en tid, hvor kunderne og brugerne overtager magten. Du kan ikke pushe noget ud til dem. Du skal være relevant på en fundamentalt anden måde end tidligere. Det indebærer, at man selv som virksomhed skal kunne sætte sig ind i en større sammenhæng, og man skal være skarpe på at forstå konteksten og sig selv, hvis man skal kunne koble sig på samtalen. Det er det, vi arbejder med på Advice og ja – du kan godt have ret i, at højskole-traditionen godt kan bruges i denne sammenhæng."
Kan snart fejre 15 års jubilæum
Et stærkt fundament baseret på et stærkt DNA, stabilitet og kontinuitet er således nogle af ingredienserne i Espen Højlund. Alligevel kan man godt spørge om, hvordan han har det med at gå direkte ind på den rigtige hylde og snart kunne fejre 15 års jubilæum i en alder af 37 med udsigt til at blive der resten af livet?
"Jeg synes, jeg befinder mig i en ufattelig dynamisk virkelighed, hvor der hele tiden er noget nyt, jeg skal forholde mig til. Så jeg oplever det meget udfordrende og udviklende," siger Espen Højlund og tilføjer om det, at det nu er ham, der skal give plads lige som Jesper Højberg gav ham plads:
"Vi er en partnerdrevet virksomhed, og det lægger vi stor vægt på. Vi er blevet udstyret med et fantastisk DNA, og det skal vi holde fast i. Men fortolkningen skal udvikle sig hele tiden, og derfor er det vigtigt, at Advice til stadighed er et levende og foranderligt miljø. Det indebærer selvfølgelig, at vi er gode til at tiltrække og fastholde talentfulde folk."