Dansk bureau vinder to priser ved Global Search Award
Bureauet iProspect hev to priser med hjem fra Global Search Award, der løb af stablen i juli. Priserne er vundet i kategorierne 'Best global PPC Campaign' og 'Best Integrated Campaign' i forbindelse med kampagner for hhv. Elgiganten og GF Forsikring.
Løvens Hule-investor opkøber digitalt bureau
Serieiværksætter Christian Arnstedt, der er CEO i kapitalfonden Blazar og kendt fra Løvens Hule på DR, har købt en ejerandel i Algorize, der specialiserer sig i performance marketing. Det fremgår af en pressemeddelelse.
Bureauet varetager i forvejen dele af den digitale markedsføring for en række af Christian Arnstedt og Blazars e-commerce virksomheder.
"Jeg har arbejdet med flere forskellige digitale bureauer gennem min karriere, men Algorizes metodikker og tilgang til social media og e-mail markedsføring, skiller sig ud i sådan en grad at vi hurtigt var interesseret i et tættere samarbejde. Derudover bliver vækstambitionerne ikke sat med måde, hvilket er noget vi i Blazar kan spejle os i," siger Christian Arnstedt.
Bureauet blev stiftet af Mark Thom og David G. Nielsen i 2019, og har i dag bl.a. e-commerce-virksomhederne MessyWeekend, Copenhagen Cartel, O'Tay og Moonboon Kids som kunder.
Algorize består i dag af 5 digitale konsulenter. Ambitionen er at vokse til det dobbelte inden for de næste seks måneder, oplyser bureauet i en pressemeddelelse.
Dansk kampagne skal sikre corona-vacciner til frontpersonale i verdens fattigste lande
Unicef Danmark er afsenderen bag kampagnen 'Sammen heler vi en såret verden', der skal skabe opmærksomhed omkring behovet for finansiering af corona-vacciner til frontpersonale i verdens fattigste lande.
Kampagnen er udviklet med hjælp fra Advice og har et blåt plaster som omdrejningspunkt. Midlerne til vaccinerne samles gennem salg af blå plastre, der har QR-koder med et link til Unicefs kampagneside. Kampagnen består bl.a. af en kampagnefilm, der bl.a. har det danske fodboldlandshold, Astrid Haug og Mads Steffensen som frontpersoner med blå plastre på overarmene, samt forskellige aktiveringer af kampagnen på kendte seværdigheder. Henover sommeren er fx skulpturerne Mennesket ved Havet i Esbjerg og Thomas Dambos kæmpe trætrolde blevet udsmykket med plastre på overarmene.
Kampagnen balancerer ifølge Kristina Rasmussen Cook, kampagnechef hos Unicef Danmark, på en knivsæg:
"Selvom vi alle sidder i samme båd, og alle gerne vil tilbage til den verden, vi kender, skal vi alligevel balancere på en knivsæg med denne kampagne. Folk er trætte af dommedagskommunikation, og vi har bestræbt os på at skabe en kampagne, hvor folk i virkeligheden kan gøre en forskel og spille en aktiv rolle i at få verden tilbage," siger hun i en pressemeddelelse.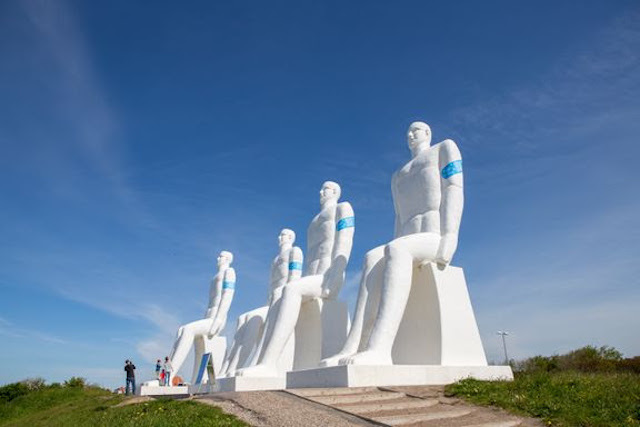 Skulpturen Mennesket ved Havet med blåt plaster på armene.