Digitalt bureau uddeler uddannelseslegat
Det digitale bureau Obsidian Digital har de seneste år uddelt et legat, der skal fremme udviklingen af digitale marketingtalenter. I år er ingen undtagelse.
Sasa Kovacevic, partner i Obsidian Digital, siger til Bureaubiz, at man har valgt at holde fast i både legatet, fordi der fortsat er et behov for at motivere talenter til at komme til den digitale marketingbranche:
"Vi holder fast i vores legat, fordi vi ser et større og større behov for at dygtige unge mennesker ser mod den digitale marketingbranche. Vi er i en branche lige nu, som vækster hurtigere end den arbejdskraft, der er til rådighed."
Legatet er på 10.000 kroner og uddeles til den bedste løsning af en case for én af bureauets egne kunder. Der er tale om take-away portalen Hungry og casen går ud på at give input til deres ekspansion på det tyske marked.
Her er link til legatansøgningen.
Royal Auping Scandinavia i udbud og genvælger Mindshare efter 10 års samarbejde
Mindshare er blevet genvalgt som bureau for sengeproducenten Royal Auping Scandinavia efter 10 år som samarbejdspartner.
Royal Auping Scandinavia ønskede at afsøge markedet og valgte derfor i november at udskrive en nordisk bureaukonkurrence.
I en pressemeddelelse lyder det, at "en række medie- og kreative bureauer blev inviteret til at byde på opgaven", hvor "hovedformålet var at ryste posen og se bureauernes medie- og brandingtilgang af Auping overfor de danske forbrugere."
Udbuddet er begrundet med, at Auping i 2021 står overfor "en større relancering af et nyt webunivers", hvorfor man vægtede teknisk og strategisk ekspertise samt digital markedsføring højt, men at den kreative approach også spillede ind på valget af bureau.
Lead Agency laver kampagne om samtykke
Det kreative bureau Lead Agency har lavet en kampagne for Ligestillingsafdelingen, der skal gøre samtalen om samtykke mere ligetil.
I kampagnen 'Sex? Kun med samtykke" ser man Malte Ebert (tidligere Gulddreng) hjælpe en række forvirrede kendisser med at forstå, hvor simpelt samtykke egentligt er.
Tre bureauer bliver til ét i Aarhus
Det Aarhus-baserede digitale reklamebureau Campfire & co samler alle sine virksomheder under ét brand. Videocontent-bureauet NVY Media House & det digitale marketingbureau SelvTak fusionerer med Campfire & co. Det nye selskab fortsætter under navnet Campfire & co.
I forbindelse med fusionen er lederne fra SelvTak og NVY Media House, Mikkel Pedersen & Valdemar Shin, blevet en del af partnerkredsen. Ind i ejerkredsen træder også bestyrelsesformand Karina Boldsen og teknisk lead Lars Pham.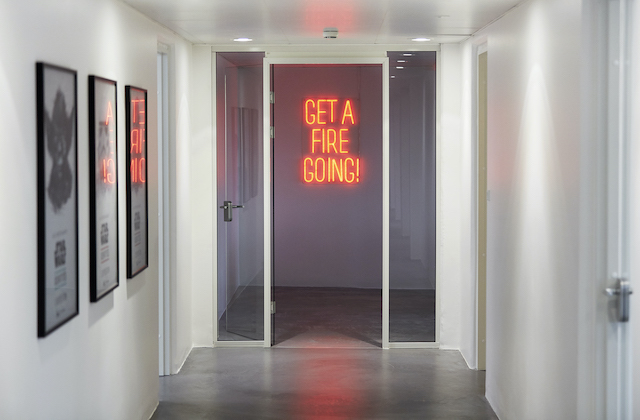 Foto: Campfire.
Matas vil rebrande Striberne med influencere
Matas' egen produktserie, Matas Striber, der så dagens lys i 1949, blev relanceret i 2019. Det følges nu op med et fornyet samarbejde med influencerne Emily Salomon og Cathrine Widunok Wichmand, der bl.a. skal være med til at formidle budskaber omkring ingredienser og miljømæssige tiltag. Samarbejdet blev indledt i 2020, og er del af en større kampagne, som Amaze Communications står bag.
"Matas ønskede i forbindelse med relanceringen at styrke Stribernes image, skabe fornyelse og synlighed omkring den nye generation af Matas Striber med personlige anbefalinger i en autentisk og nærværende kontekst. Den opgave understøttede vi ved nøje at udvælge to influencere, som gennem et længerevarende ambassadørskab har skabt user generated content. Content blev anvendt på influencernes såvel som Matas' egne kanaler," siger Maiken Lonka, stifter af Amaze Communications, i en pressemeddelelse.
Kirsten Johansen, brand marketing manager for Striberne, uddyber samarbejdet, der bl.a. har involveret, at Matas under kampagnen også inddrog deres egne platforme til at reposte content fra influencerne:
"Striberne har været en del af danskernes hverdag gennem flere generationer, og med relanceringen var det oplagt at inkludere influenter i markedsføringen for at skabe fornyelse og nå den yngre målgruppe via de kanaler, de anvender i deres medieforbrug."
Hun fortsætter:
"Vores ambition er altid at møde vores kunder i øjenhøjde og være på de platforme, hvor de søger inspiration. Og vi så en stor værdi i, at få skabt nogle personlige og autentiske fortællinger af de udvalgte influenter, som begge er vokset op med Striberne."
Another laver metakampagne for Simple Feast
Måltidskassevirksomheden Simple Feast har lavet en kampagne, der angiveligt bruger alle kneb til at få folk til at spise mere grønt. Det involverer bl.a. en flammegrillet plantebaseret burgerbøf, grøntsager der skæres i slow-motion og en influencer, der kæler for et salatblad, mens en speaker forklarer, at det netop er tricks til at få folk til at spise mere grønt.
Metatilgangen, hvor markedsføringstricksene nævnes i tillæg til billederne, skal således vise, at man netop ikke har noget at skjule, når man vil have folk til at spise mere grønt, oplyser Simple Feast til Bureaubiz.
Kampagnen er lavet i samarbejde med Another, der har været kreativ samarbejdspartner de seneste tre år. Forhåbningen er, at man med kampagnen kan gøre op med forestillingen om at vegetarisk mad er kønsløst, og noget mennesker for det meste spiser som led i en slankekur.
Erikha Harket, brand director i Simple Feast, siger i en pressemeddelelse:
"Det bedste vi som firma kan gøre for klimaet er at vækste. Hver gang vores kunder vælger en plantebaseret kost frem for kød kan de reducere mellem 14-44 % af CO2-udledningen, afhængig af om de vælger en vegetarisk eller vegansk kost. Derfor har vi i denne nye kampagne valgt at gå all-in på markedsføringstricks, for at få folk til at vælge det grønne måltid til."
Thorkild Bjerre, creative partner i Another, siger i pressemeddelelsen, at kampagnen skal motivere til at spise grønt i en måned, der er fyldt med gode intentioner, hvorfor man har valgt at vise, "at plantebaseret mad ikke behøver at ligne en kedelig slankekur, men sagtens kan få mundvandet til at løbe." Han tilføjer:
"Den er lavet med et glimt i øjet, men indsigten er ret seriøs: Nemlig at man først og fremmest spiser med øjnene, og derfor mener vi at det her er vejen frem for at få folk til at spise mere grønt."
Kampagnen kører på sociale medier frem til midten af februar.