Modebrandet Gant vælger Dept som digitalt bureau
Det internationale tøjmærke Gant, der har hovedsæde i Sverige, har valgt det danske digitale bureau Dept til at forny sine digitale platforme. Tidligere har Gant ikke haft et samlet bureau, men flere spredt ud i mange lande, men har nu valgt Dept for at konsolidere tech og brand.
Projektet bliver i første omgang skudt i gang med fornyelse af hjemmesiderne i Tyskland, Østrig og Schweiz. Her skal Dept bl.a. designe, opbygge og migrere den nye handelsplatform, der baseres på Salesforce Commerce Cloud.
"Ved at kombinere Gants viden om deres brand og kunder og det københavnske teams tech- og design-ekspertise inden for fashion og commerce, løfter vi virksomhedens platform til det næste niveau." siger Peter Risborg, managing director hos Dept, i en pressemeddelelse. Han fortsætter:
"Brugen af Page Designer giver kunden en mere personlig oplevelse og tilbyder en højere grad af tilpasning til Gants forskellige websites. Som nogen af de første i Europa, inkorporerer vi også Salesforce Order Management-systemet som gør integrationerne mere flydende og optimerer kundeservice. Vi har mange spændende ting i vente."
Dept-netværket har flere internationale kontorer med på opgaven, men kontoret i København kommer bl.a. til at arbejde med design/frontend for Gant, oplyser Dept til Bureaubiz. Dept i København har i forvejen erfaring med at arbejde med fashion- og livsstilsbrands som Ganni, Magasin, BoConcept og Muuto.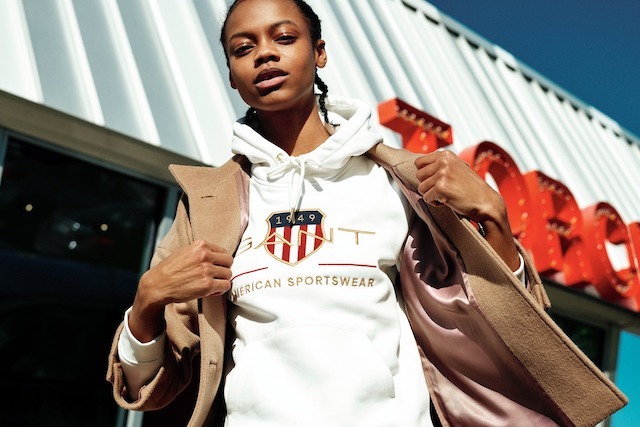 Foto: PR.
Dansk kreativt produktionshus åbner virtuelt produktionsstudio
Det kreative produktionshus Virsabi har slået dørene op for, hvad de kalder Danmarks første virtual production-studie: Virtual Production Studio Copenhagen. Gennem 3D-teknologi og store skærme vil virksomheden gøre det muligt at gengive lokationer fra hele verden – fra Holmen i København.
"Hvis du ikke kan komme ud i verden, må verden komme til skærmen bag dig. Jeg garanterer for, at seerne ikke kan se forskel på, om en video er filmet on location i Mallorca eller i studiet," siger Michael Harboe, CEO i Virsabi, i en pressemeddelelse.
En række møbelvirksomheder er de første, der har haft mulighed for at bruge studiet. Det gjorde de som en del af projektet Virtual Stage, hvor virksomhederne eksperimenterede med, hvordan teknologien kan hjælpe med at generobre de eksportindtægter, der er reducerede som følge af COVID-19.
"For møbelvirksomhederne har det været en ekstra fordel, at vi har 100 procent styr på, hvordan vejret skal være, og at solnedgangen kan vare hele dagen, hvis det er lige præcis det lys, de har brug for at optage i. Selv når COVID-19 er overstået, vil flere fortsætte med at benytte den her teknologi for at spare alle logistikomkostninger, samtidig med at de mindsker belastningen på miljøet," siger Michael Harboe i pressemeddelelsen.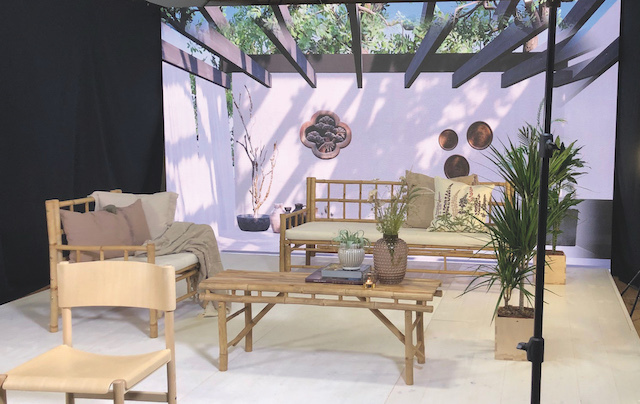 Foto fra shoot med møbelvirksomhed i Virtual Production Studio Copenhagen.
For første gang i 140 år bliver Niels Brocks åbent hus-arrangement digitalt med hjælp fra Eiffel
Normalt tiltrækker Niels Brocks årlige åbent hus events mere end 5000 folkeskoleelever og deres forældre. Men grundet Covid-19 omdannes det populære og traditionsrige åbent hus-arrangement for første gang i skolens 140-årige historie til et digitalt univers.
Der er lagt stor vægt på at overføre den energi og stemning, man oplever ved det fysiske åbent hus, til det digitale univers samtidig med, at man har villet udnytte de nye muligheder, et digitalt univers giver.
Til at løse den opgave valgte Niels Brock efter udbud det kreative bureau, Eiffel, som også har stået bag Niels Brocks brandplatform. Det nye digitale univers, Niels Brock Live, rummer bl.a. et TV-studie med journalist og tidligere DR-vært, Lotte Thor, videointroduktion til over 20 studieretninger, 360 graders rundvisning på Niels Brocks 6 gymnasier, samt en række Facebook Live events i januar.
"Det har været en spændende men også en udfordrende opgave. Med de mange aktører, der har været involveret, og alt det indhold, der skulle produceres, har det handlet om at holde tungen lige i munden og balancere kreativitet og logistik. Det synes vi heldigvis, at vi er lykkedes godt med," siger Tobias Høgsberg, direktør i Eiffel.
Niels Brock Live går i luften 3. december og kører frem til slutningen af starten af marts 2021.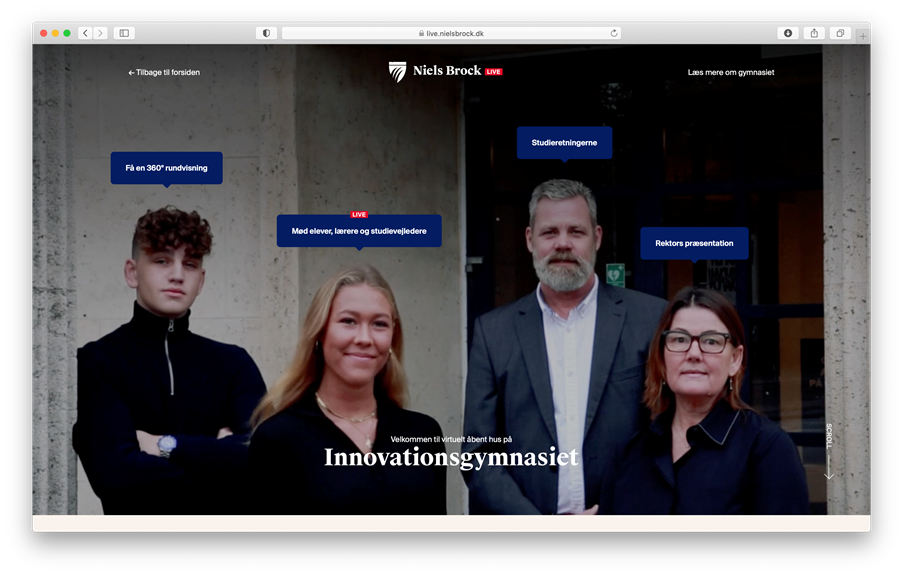 Tidligere Nordlid-folk starter tech-NGO – første kampagne er en julekalender
De to tidligere Nordlid-folk Simon Andersen og Alexander Stojanovic er gået sammen om at skabe, hvad de kalder et tech-power house til velgørenhedsorganisationer: Advension Foundation.
Med over 10 års erfaring med marketing automation og virksomheder som Mærsk, Coloplast, Danske Spil og McDonalds, vil Simon Andersen og Alexander Stojanovic hjælpe virksomheder og mennesker med at finde sammen om at støtte velgørenhedsformål. Deres første kampagne er en online julekalender, julehygge.nu, der gik i luften d. 1. december.
Virksomheder donerer præmier, som forbrugerne gratis kan spille med om at vinde, når de hver dag frem til jul kan åbne en låge i den online kalender. Håbet er, at spillerne vil blive 'inspireret til at donere' til velgørenhedsorganisationer gennem gameplayet: Spil, vind og giv.
Målet for kampagnen er at få indsamlet 150.000 kr i alt, til henholdsvis Red Barnet, Røde Kors og SMILfonden.

Digitalt bureau laver podcast-julekalender
Det digitale bureau Valtech lancerede d. 1. december en podcast-julekalender – en serie af 25 frit tilgængelige podcasts med kunder og forskellige eksperter, der deler ud af erfaringer med digitale transformationer.
Konceptet blev født på det danske kontor, men er i løbet af de sidste to måneder blevet udviklet til et globalt format, siger Valtech Danmarks marketing manager, Pernille Jacobsen, i en pressemeddelelse:
"Vi har ugentlige møder i vores samlede, globale marketingteam, hvor vi vender nye initiativer og ideer. Her præsenterede jeg vores lokale ide om en jule-podcast, til stor begejstring blandt mine kollegaer, som alle gerne ville være med og bidrage med deres lokale kunder. Vi holdt fast i at styre konceptet og tilrettelæggelsen her fra Danmark, men har nu en global julekalender, med kunder fra hele verden."
Af danske kunder og brancheeksperter, der medvirker i podcasten, nævnes bl.a. Grundfos og Telia. Podcastene kommer omkring emner som mobilitet, blind spots i den digitale transformation, pandemiens indvirkning på vores sundhedssystemer, tendenser inden for detailhandel efter Covid19 og indsigt i adskillige store digitale transformationer.
Der frigives en podcast hver morgen, og du kan finde dem på valtech.com/podcasts, eller på dine sædvanlige podcasttjenester, hvis du søger efter Valtech Café.
Adventskalender fra Creuna
Creuna har logså begået en adventskalender med små brancheironiske tegninger under temaet 'Hvad ville der ske, hvis julemanden hyrede et bureau?'.
Den første blev postet på de sociale medier i mandags og ser sådan ud: