Gyldendal laver kampagne for World Poetry Day
I anledning af World Poetry Day d. 21. marts afholder Gyldendal et digitalt event, der skal sætte fokus på lyrikken. I ugen op til World Poetry Day er der lyrik, rim og remser på AFA JCDecaux' reklamepaneler i Københavns og Aalborgs gader, på digitale skærme i Metroen og større S-togs-stationer samt på en lang række DSB-stationer rundt omkring i landet. På selve dagen vil der blive udsendt oplæsninger fra eventet på de digitale skærme, hvor kulturfolk som Paprika Steen, Søren Ulrik Thomsen og Casper Eric vil være blandt oplæserne.
Dept laver digital platform for Mødrehjælpen
Mødrehjælpen har lanceret en ny platform, engodstart.dk, der skal give viden, rådgivning, støtte og inspiration til gravide og småbørnsforældre. Det digitale bureau Dept står bag løsningen, og har været med til at definere det nye brand og bl.a. skabt logoet og den visuelle identitet.
Sitet er personaliseret, hvilket blandt andet kommer til udtryk ved at man kan oprette sin egen profil. Gennem den bliver man eksponeret for målrettet indhold på forsiden og viden og inspiration, der passer til ens barns alder. Man kan også gemme sine favoritartikler og få hjælp til at huske vigtige datoer, aftaler og mærkedage.
Jonas Therkildsen, managing director hos Dept, siger i en pressemeddelelse:
"Det er altid dejligt at bidrage til projekter, som virkelig skaber værdi for slutbrugeren. Når vi skaber en løsning, hvor vi kan mærke, at vi udfylder et tomrum, betyder det jo at vi sammen med kunden har ramt plet. Derudover er dette et virkelig spændende projekt, hvor vi har kunne bringe mange af vores services i spil. Vi har været med hele vejen – lige fra idé, koncept, strategi samt logo og visuel identitet frem til at definere struktur, bygge webdesignet og opbygge siderne på baggrund af SEO-hensyn. Vi har udviklet en løsning, som indeholder det bedste fra UX, hvor der virkelig er gået i dybden med at binde indholdet godt sammen på tvær."
Dept har tidligere arbejdet med Mødrehjælpen gennem et frivilligt projekt, hvor de udviklede en digital marketingstrategi for en digital kampagne.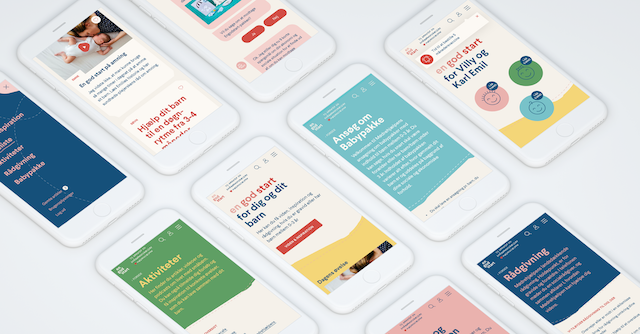 Foto: Kampagnemateriale
Step laver kampagne mod unuancerede nyheder for Jysk Fynske Medier
I samarbejde med Step har Jysk Fynske Medier, der bl.a. står bag Avisen Danmark, lavet en kampagne mod unuancerede nyheder. Kampagnen skal oplyse danskerne om vigtigheden af at søge nyheder væk fra sociale medier, hvor algoritmer bestemmer, hvad den enkelte ser. Kampagnen kører som annoncer i egne dagblade og som displayannoncering på forskellige platforme. Senere udfoldes kampagnen med en reklamefilm.
Sunrise laver kampagne for Kræftens Bekæmpelse
En ny kampagne fra Kræftens Bekæmpelse skal sætte fokus på hverdagens fælder og øge opmærksomheden omkring risikoen for cancer ved overvægt. Kampagnen 'Ufede fælder' er skabt i samarbejde med Sunrise, og er en videreførsel af kampagnekonceptet 'Et ufedt budskab', der kørte i 2020.
'Ufede fælder' består af to kampagnefilm til sociale medier og en kampagneside, der til sammen skal hjælpe danskerne med at genkende og forstå hverdagens fælder, der kan lede til usund vægtforøgelse.
Primetime vil hjælpe studerende i praktik hos andre
Primetime har sat gang i en kampagne, hvor man gerne vil hjælpe praktikanter, som bureauet ikke selv har plads til, videre hos andre bureauer eller virksomheder.
"Vi er et stort kommunikationshus sammensat af dygtige folk, og vi har arbejdet nogle af de bedste steder – både i medie- og bureaubranchen og på kundesiden. Desværre har vi som så mange andre selv kun tre praktikpladser, men så det er jo oplagt at hjælpe de unge videre med lidt insidertips og tricks, så de ikke ender i en dead end, når de sender deres ansøgning til os" siger Rasmus Frimand, head of creative i Primetime.
I et videoopslag på bl.a. LinkedIn, fremgår det, at ansatte i Primetime nu tilbyder at bringe deres eget netværk i spil. Medarbejderne har tidligere arbejdet steder som fx Danmarks Radio, TV2, Radius, Advice, Mensch, Mindshare og Brandhouse, og i Statsministeriet, Kulturministeriet, i lobbyvirksomheder og i nogle C20-virksomheder, så det altså her, man potentielt kan havne.
"Helt konkret, så giver vi de studerende et løfte om at gøre vores til at hjælpe dem ind i kommunikations- og marketingbranchen. Kan vi ikke tilbyde en plads hos os, så rækker vi ud til vores netværk og ser om vi ikke kan få en samtale, en kaffeaftale eller en uforpligtende snak i hus på de studerendes vegne. Simpelthen fordi vi kan og ved, hvor svært det kan være at få en plads, hvis ikke man har erfaringerne eller de gode referencer endnu," siger Rasmus Frimand.
Mediegruppen flytter ind på innovationslegeplads for digitalisering og kunstig intelligens
Mediegruppen, der bor i Vejle, flytter ind i det nyopførte AI Innovation House i samme by.
Om bagrrunden for flytningen siger, adm. direktør i Mediegruppe, Jacob Ejs:
"I AI Innovation House er vi på førsteholdet i forhold til digitalisering, erhvervsudvikling, innovation og vidensdeling. Det nye AI Innovation House er superambitiøst og et af landets allermest spændende klyngehuse for vidensvirksomheder og organisationer, som gerne vil se ind i fremtiden."
Mediegruppen har samtidig brugt flytningen til at kommunikere, at man gerne vil sætte fortællinger i spil hos sine kunder.
"Allerede inden huset slog dørene op, var vi i gang med en række SoMe film og blogindlæg for AI Innovation House. I filmene satte man det menneskelige perspektiv over for teknologien. Netop for at vise, at Mediegruppen kan noget med fortællinger," siger Jacob Ejs.
Han fortsætter:
"Vi bruger vores greb, verdensbillede og DNA til at sætte alting i et rigtigt og menneskeligt perspektiv. Og vi vil gerne udfordres på vores mindset. Det bliver vi nu, fordi vi får nye perspektiver på digitalisering og muligheder for at arbejde smartere og få meget mere rækkevidde. Det gør en forskel, når vi taler med kunderne om fortællinger og formidling."