Schweizisk firma vælger dansk marketingbureau
Det schweiziske brand for naturlægemidler og kosttilskud A. Vogel har valgt det danske digitale bureau Heyday som marketingsamarbejdspartner.
Heyday skal hjælpe A. Vogel med at revitalisere brandet og udbygge tilstedeværelsen på markedet, hvilket skal gøres gennem brandudvikling, onlineudvikling og styrkelse af kanaler.
"Det er altid ekstra positivt at udvikle løsninger til virksomheder og organisationer, hvis produkter og aktiviteter gør en positiv forskel. Vi ved, at vi med A. Vogel repræsenterer en kvalitetsvirksomhed, som markedsfører kvalitetsprodukter, og som gør en dyd ud af at holde sig inden for de regler og retningslinjer, der findes på dette marked," siger Anders Lorentz, partner i Heyday, i en pressemeddelelse.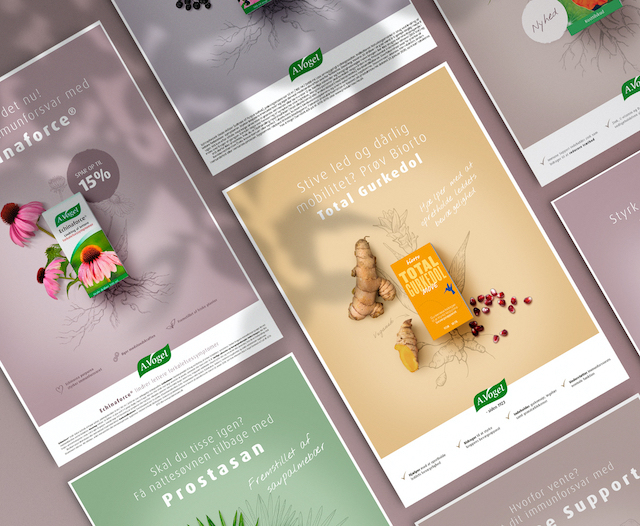 Grafisk materiale for A. Vogel lavet i samarbejde med Heyday
To bureauer fusionerer
Aktiverings- og kommunikationsbureauet Format Agency fusionerer med det kreative produktions- og designbureau 1080 Production. Det nye bureau får navnet 1080 Agency.
Format Agency var tidligere ejet af David Brandenhoff og Laust Christian Poulsen. Sidstnævnte var også medejer af 1080 Production, hvor Thomas Jung var den anden ejer.
1080 Agency bliver ejermæssigt et partnerskab mellem Laust Christian Poulsen, Thomas Jung og Kenni Fer-Halberg, der slutter sig til det nye bureau fra Wavemaker, hvor han hidtil har været content director.
1080 Agency kommer i første omgang til at have Kenni Fer-Halberg og Thomas Jung som eneste medarbejdere, men har fortsat ca. fem personer beskæftiget kontinuerligt på freelancebasis.
"Med 1080 Agency har vi realiseret en mangeårig drøm om at skabe en virksomhed, der forener det bedste fra et strategisk bureau med et kreativt produktionsfirma. Vi kan nu levere totalløsninger ud fra en fælles forståelse af, hvordan vi styrker vores kunders forretning ved at samle og engagere mennesker omkring brands og produkter ved store og små events, møder, konferencer og arrangementer, uanset om det er på fysiske lokationer eller, som i øjeblikket, digitalt," siger Thomas Jung i en pressemeddelelse.
Produktionsselskab deler sig i to
Produktionsselskabet Fern, der blev stiftet i maj 2020 af filminstruktør Jeppe Kolstrup og fotograf Kia Hartelius, fordeler sig nu i to, således at film og foto adskilles på to websites og med to forskellige visuelle udtryk.
Fern Film har samtidig fået tre nye instruktører i stald, nemlig Andreas Landgaard, Anna Sørrig og Nicklas Hemming.
Hos Fern Photo skal man fremover repræsentere fotograf Emilia Staugaard og dansk-argentinske Tomas Hein.
Fern er desuden netop blevet nordisk ambassadør for det internationale netværk Green The Bid, der arbejder for at ændre den måde, reklamebranchen skaber og producerer kreative produktioner.
Dwarf bliver gold partner hos Agillic
Det digitale bureau Dwarf er blevet første 'gold partner' af Agillics customer marketing platform. Det nye partnerprogram skal gøre det nemmere for kunder at identificere det bureau og de kompetencer, de har for brug. Samtidig skal det fungere som et kommercielt incitament for partnerne.
Emre Gürsoy, der er CEO i Agillic siger i en pressemeddelelse om den nye partner:
"Dwarf er et stærkt digitalt bureau, der forstår hele kunderejsen og betydningen af at skabe differentierede kundeoplevelser og de forstår, hvordan Agillic platformen understøtter kundernes forretningsmål på tværs af kanaler. De har en hurtig time-to-market og har været dygtige til at gøre brug af Agillic's tilbud om proof of concept, der speeder salgsprocessen op."
Hos Dwarf ser man særligt potentiale i Agillic hos mellemstore danske virksomheder, hvor det kan være et godt alternativ til fx. amerikanske omnichannel-systemer.
"Det er vigtigt, at man som virksomhed har ejerskab over sine data – og at man kan finde ud af at aktivere dem. Med Agillic kan kunderne skabe data-drevet og effektiv kommunikation på de forskellige kanaler, med eksempelvis nyhedsbreve og trigger-baseret markedsføring, og de kan optimere deres digitale annonceringsbudget," siger Thomas B. Schmidt, head of automation hos Dward, i pressemeddelelsen.
Creuna laver nyt website til Steff Houlberg
Den danske pølse- og fastfood-producent Steff Houlberg har lanceret et nyt brandwebsite, der er udviklet i samarbejde med Creuna.
Det nye website skal ifølge Creuna give Steff Houlberg-universet en online legeplads, hvor humor, konkurrencer og pølser fylder en del.
Københavnsk webbureau skifter navn
Webbureauet Kim Raufort skifter navn til SiliconValby.
Bureauets ejer, Kim Raufort, siger i en pressemeddelelse, at navneændringen bl.a. skyldes en kundetilgang i 2020, ansættelse af to nye medarbejdere og nye lokaler i Valby.
Samtidig håber han, at man med navneskiftet "på en positiv måde kan adskille sig fra de mange virksomheder i web- & marketingsbranchen, der er opkaldt efter deres ejere."
Idéen med navnet – der er et spinoff af navnet på verdens tech-navle, Silicon Valley – er at signalere bureauets vision om at være "centrum for godt webdesign i Danmark," og at man således "kan tiltrække nogle af de dygtigste og mest kreative talenter i hovedstadsområdet."