Nord DDB CPH er idebureauet bag en ny type reklamer – Chillboards – der i går blev lanceret med en kampagne for det amerikanske ølbrand Coors Light.
Ideen er at man med simple midler effektivt nedkøler bygninger i områder, der rammes hårdest af hedebølger. Selve mekanikken bag Chillboards er, at lyst materiale absorberer mindre varme end mørkt og derfor male man overskrifter på tage med en Mule-Hide Finish-reflekterende hvid tagmaling, som reflekterer 85 pct. af solens stråler og sænker tages temperatur med op til 10 grader.
Coors Light's pay off, Made to Chill, bliver med den nye kampagneide gjort mærkbar ikke blot for det enkelte menneske med en øl, men for hele bygninger og beboere. I stedet for billboards kaldes tagene for Chillboards og er "ads nobody can see, but everybody can feel".
Kampagnen er aktiveret i Miami, Florida, i et af de områder som oftest påvirkes af hedebølger.
"Ideen opstod, da vi læste om den sociale ulighed, der er i USA, når det kommer til varme. Rige områder har mere luft mellem bygningerne samt grønne områder, der gør det køligere. Omvendt betyder bygningstætheden og mangel på grønne områder andre steder, at der her nærmest bliver som en bageovn i varme perioder. Eftersom vi ikke kunne anlægge en park, kom vi med en ide, der skulle skabe opmærksomhed på værdien af hvide tage", siger creative director på Nord DDB CPH, Tim Fremmich Andresen.
Senior art director på Nord DDB CPH, Anders Kure, uddyber:
"Selvom formålet er at udbrede kendskabet til værdien af reflekterende hvide tage, var det vigtigt at det også havde en reel effekt for beboerne. Derfor valgte vi at skabe en funktionel font der kan dække op til 95 pct. af taget. På den måde minimerede vi negativ plads og bevarede læsbarheden.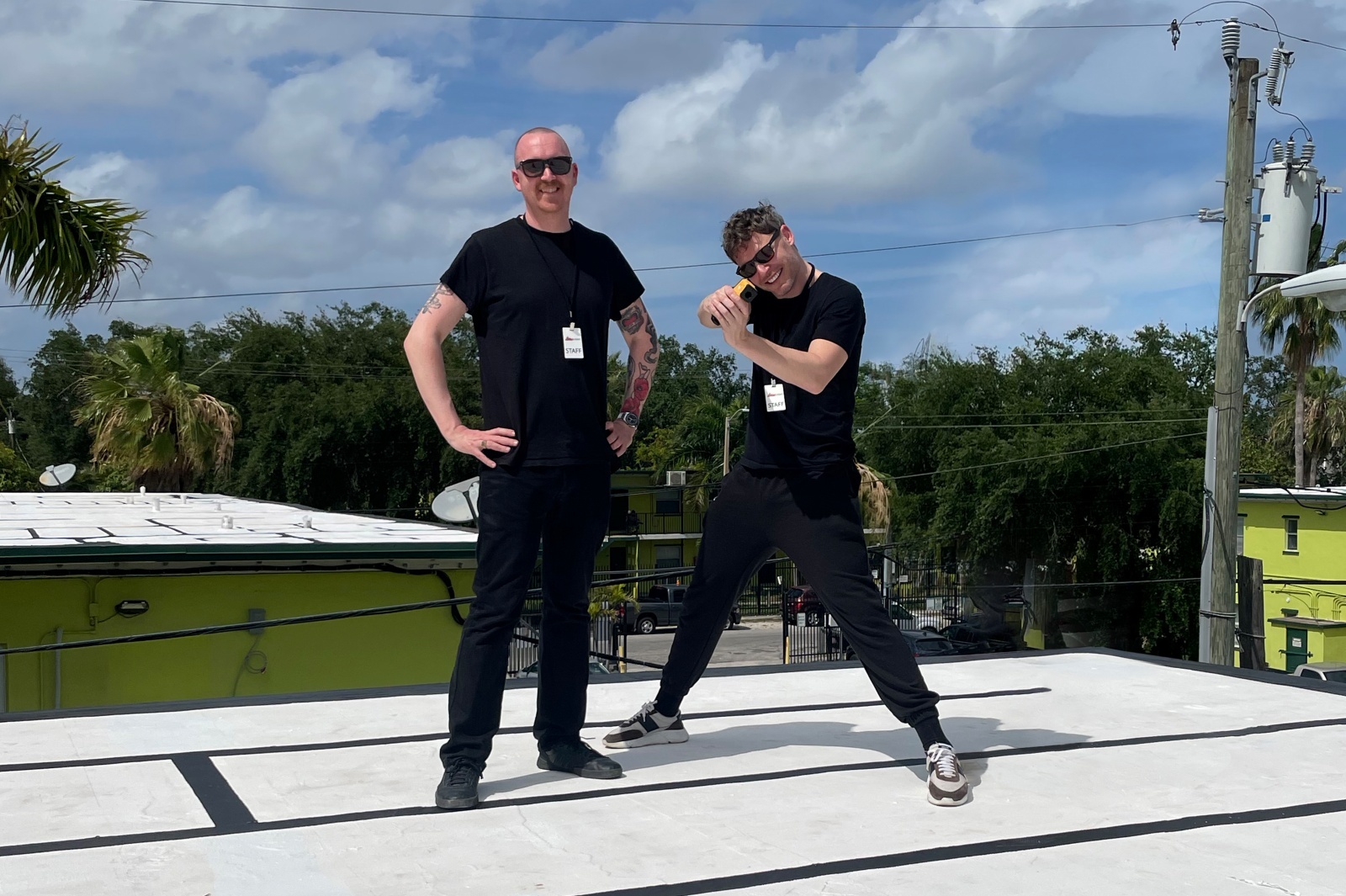 Tim Fremmich Andresen (til venstre) og Anders Kure på toppen af et af hustagene i Miami
Nord DDB CPHs ide blev valgt efter et internt globalt pitch i DDB-netværket, fordi ideen havde et perfekt brand-fit.
"Det vi elsker ved ideen er, at Chillboards hjælper ikke bare beboerne og området – de leverer også på vores Made to Chill platform på en unik og ukonventionel måde", siger Marcelo Pascoa, vice president of marketing på Coors.
Kampagnen er skabt i samarbejde med Adam&EveDDB og DDB Chicago. Se en film om projektet her, som kører på YouTube og på tværs af sociale medier: