Relationen mellem Rådet for Sikker Trafik og Bates Y&R er gammel, og i dag starter et nyt projekt, som de to har samarbejdet om.
Denne gang gælder det kampen mod spritkørsel, og det sker under temaet "er du klar til et pust."
Der er tale om en fortælling, der er taget fra en række interviews med folk, der er blevet taget for spritbilisme, med små promiller. En fortælling lyder f.eks.:
"Jeg brugte bilen i mit job, og da jeg mistede kortet i en periode mistede jeg også jobbet. Samtidig mistede jeg respekten fra både kolleger og mine nærmeste. Og selvrespekten forsvandt samtidig".
Afsættet for kampagnen er, at der er stadig for mange bilister, der sætter sig bag rattet efter at have drukket, viser ny undersøgelse, som Rådet for Sikker Trafik har fået lavet sammen med TrygFonden.
Dette til trods for at danskere rent faktisk tager afstand fra spritkørsel.
"En undersøgelse fra England viser faktisk, at mænd hellere vil indrømme at de ser porno på nettet end at fortælle, at de har kørt bil med promille i blodet," siger CEO Thomas Brandt fra Bates Y&R. Han fortsætter:
Ved at fortælle om almindelige familiemennesker i almindelige situationer, der bliver bedt om at puste, efter bare "et par genstande" kan vi forhåbentlig få folk til at undgå tvivlen om, hvornår de skal køre ved helt at lade være med enten med at køre eller med at drikke.
Kampagnen starter i dag og kører de næste tre uger på TV, radio og online. Derudover er der sat 5.000 vejkantplakater op i hele landet.
Der er også et Facebook-site. Det kan ses her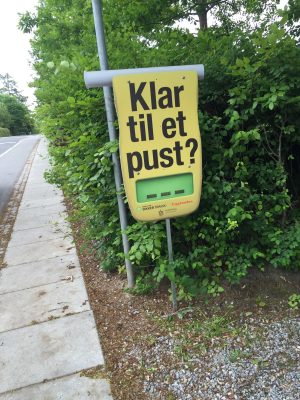 Holdet bag kampagnen er:
Bates Y&R:
Kreativt direktør Peter Strange
Produktionsselskabet er Bacon Cph
Karina Petersen, underdirektør og Michelle Laviolette, seniorprojektleder, begge fra Rådet for Sikker Trafik, er ansvarlige for kampagnen.