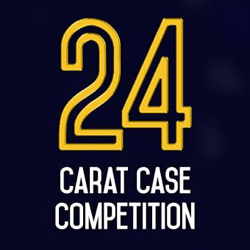 I gamle dage kunne man skrive en ansøgning og komme i betragtning til et job. I dag skal der – som oftest – lidt mere til. Carat Case Competition, der finder sted den 2.-4. oktober i Aarhus, lægger op til at " kickstarte en karriere i medie- og reklamebranchen" og for at komme i betragtning, skal man ansøge via en ét min. lang video.
24 udvalgte talenter – kandidatstuderende (eller bachelorstuderende ud over det sædvanlige) – skal herefter dyste i 48 timer, i teams a 4 personer, om at fremlægge en overbevisende case for den udvalgte kunde og et panel af eksperter fra Dentsu Aegis Network, som Carat er en del af.
Det er tredje år i træk, at Carat afholder Case Competition, og muligvis lyder betingelserne barske, men mediabureauet er klar til at honorere de unge talenter og nye input – og ikke kun med faglig sparring i selve konkurrence.
Blandt de 24 deltagere udvælges en god bid – hhv. 10 og 7 i de første to konkurrencer – til Carats såkaldte Potential Pool. Herfra kan både bureau-gruppen og kunderne let få adgang til de mest iøjnefaldende talenter.
Efter sidste års Carat Case Competition blev Michael Lindskau Nielsen ansat som Project Coordinator i Isobar og Mads Andersen som Performance Marketing Associate i iProspect.
Og via konkurrencen og Potential Pool har Josephine Strafrén fået job hos Relation Media, mens Nanna Fangel-Madsen har fået arbejde hos Scandic Hotels og Nikolaj Sommer er blevet tilknyttet Uncle Grey.
Desuden fik Ane Liebing Grøngaard også ansættelse i netværket og har nu fået arbejde hos Heart Mus, Herning Museum.
Siden den første Carat Case Competition har fem kandidater fået job hos Carat eller Dentsu Aegis Network, hvilket svarer til hver anden nyansættelse.
"Ansøgere skal ikke have en bestemt profil, da vi er åbne over for de evner, som de studerende kan præsentere, " siger Ulrik Petersen, Managing Director for Dentsu Aegis Network Aarhus, og fortsætter:
"De skal vise drive og evne at skabe koncepter, der vinder indpas hos forbrugerne. Frem for alt skal de være i stand til at skabe holdbare forretnings- og marketingstrategier. Talenterne skal kunne performe på scenen, så vi ved, at de også kan præsentere for kunder i det virkelige bureauliv."
Årets case er Call me, og her oplyser salgs- og marketingdirektør Anthony Lim, at han er på udkig efter kandidater, som har et iværksættergen og tør udfordre branchens normer. Han vægter modet til at gå nye veje højt, og for ham er digitalt orienterede og nytænkende idéer helt essentielle.
Ansøgningsfristen er 16. september og deltagere kan ansøge her.