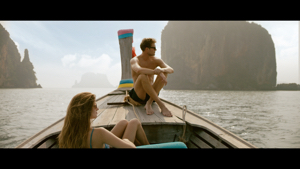 På fredag uddeles Danish Digital Awards i Terminal 1 i Københavns Nordhavn, og et nystartet produktionsselskab, The Base, er firdoblet shortlistet – for Unibet og FCK.
Men aktuelt er de to stiftere i The Base et andet sted henne med en ny film: I Asien, for en af de største luksus resortkæder i verden, Six Senses.
Det var en tredje dansker, Mikkel Bang, der skabte kontakten, og som har været med til at udvikle content-filmen og ageret producer.
"Jeg skulle derud, inviteret af min svigerfar. Og jeg linkede op med Six Senses globale CEO. Min tanke, som jeg luftede over for ham, var, at hvis ikke jeg var blevet inviteret, så havde jeg aldrig hørt om Six Senses," siger Mikkel Bang.
Han er freelance og har tidligere været på Co+. Han kender instruktør Nicklas Hemming, der har været med til opbygge FCK tv de seneste år. Dertil kommer fotografen Ditlev Rosing, der bl.a. har skudt musikvideoen Twerk It Like Miley, der er blevet vist over 100 mio. gange på YouTube.
"Det var Nicklas' film om derbyet mellem FCK-Brøndby, der banede vejen. Nicklas Hemming og Ditlev Rosing står bag The Base, og vi tog derud for at lave contentfilmen Explore The Moments for Six Senses – Yao Noi i Thailand," siger Mikkel Bang.
Six Senses har i alt 14 resorts, bl.a. i Thailand, Vietnam, Kina og Maldiverne. Budgettet er todelt, så både kæden og det enkelte resort står for sin egen markedsføring. The Base og Mikkel Bang arbejder på at kunne få lagt en rød tråd i resortkædens social media-strategi til 2017.
"Vores film kommer på resortets YouTube-kanal og Facebook-site, og her skal det vise det sin effekt. Tanken er, at Explore The Moments skal være være opdelt i kapitler, hvor Six Senses – Yao Noi er 1. kapitel i fortællingen. Six Senses kan ses som boheme-udgaven af Four Seasons. Her lægges vægt på bæredygtighed, og den historie skal også foldes ud," siger Mikkel Bang.
Se The Base og Mikkel Bangs film her: