På det seneste har der været en del debat om kvalitet i reklame foranlediget af væksten i adblocking.
Som et ekko på den diskussion er Mindshare i dagens udgave aktuel med en annonce, der viser to kurver:
Udviklingen i irritation over reklame
Udviklingen i opmærksomhed over for reklame
De to kurver rummer to historier. Dels at afstanden mellem dem er blevet større og større siden 2010, fordi irritationen er støt stigende, mens opmærksomheden er faldende. Og dels at opmærksomheden nu er på et historisk lavt niveau.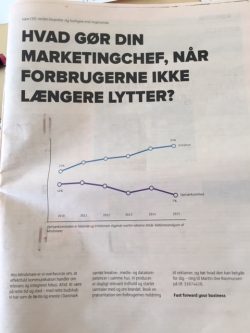 Mindshares adm. dir., Martin O. Rasmussen, er da heller ikke bleg for at konstatere, at branchen har et grundlæggende problem, som først og fremmest skyldes, at kvaliteten er alt for ringe.
"Branding er en strategisk øvelse og en langsigtet investering, som skaber resultater – ikke bare på den lange bane. Også på den korte," siger Martin O. Rasmussen og fortsætter:
"Det er bare ikke noget, der nyder den store respekt. Annoncørerne er på tværs af alle kanaler blevet for fedtede med at investere i ordentligt indhold. Det giver faldende effekt, og der er kun en vej ud af det: Bedre indhold."
Når Martin O. Rasmussen peger på, at annoncørerne er blevet for fedtede med at investere i indhold, så melder han dog ikke hus forbi i forhold til også at have et ansvar for udviklingen.
"Vi er alle en del af problemet – mediabureauer, Facebook, Google, medier og andre aktører – og derfor må vi alle også deltage i en løsning af problemet."
Aktuelt er der meget fokus på den digitale verden, hvor væksten i adblocking har sat gang i diskussionen.
"Det er naturligt, at det digitale fylder mere og mere, fordi det også tager en både voksende og meget stor del af reklamebudgetterne. Men udviklingen inden for både irritation og opmærksomhed er ikke isoleret til de digitale medier. Man ser den samme udvikling hen over kanaler," siger Martin O. Rasmussen.
Ingen sammenhæng mellem irritation og opmærksomhed
Han siger videre, at der ikke er en sammenhæng mellem irritation og opmærksomhed. Tv er f.eks. et medie, der kan irritere meget – men det er fortsat et medie med stor opmærksomhed og høj effekt.
Martin O. Rasmussen fremhæver da også, at man skal have det rette perspektiv i diskussionen om adblocking. Realiteten er, at tv i årevis også har rummet en form for adblocking gennem adgangen til at zappe væk eller gå ud efter kaffe.
Men der er samtidig en uudtalt kontrakt mellem mediebrugere og medier om, at reklamer er en del af grundlaget for adgangen til mediet.
Det store problem er, at der i den digitale verden er opstået en ubalance mellem omkostningerne ved at producere ordentligt indhold, og det brugerne udsættes for, når indtægterne skal skaffes.
"Det ironiske er, at de digitale medier er de mest målrettede, vi nogensinde har haft – men det reklameindhold, som brugerne udsættes for alt andet end relevant. Det vælter ind med indhold, som er af alt for ringe kvalitet, og som ikke er målrettet på nogen måde, så det hele mere har karakter af spam, og det reagerer brugerne mod," siger Martin O. Rasmussen og fortsætter:
"De digitale medier rummer fantastiske muligheder, men man har fuldstændig overset, at det lige som andre medier kræver godt indhold at bruge dem – og at det koster at lave godt indhold."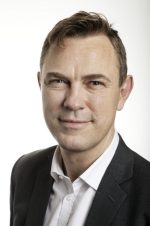 Ud af kaos kommer en løsning
Martin O. Rasmussen konstaterer, at markedet lige nu er kendetegnet af kaos – men det rummer sådan set også kimen til en løsning.
"I det loop, der har handlet om digital annoncering, har der været rigtig mange udbydere. Nu er der ved at ske en konsolidering, og det vil øge mulighederne for at gøre noget ved problemerne," siger Martin O. Rasmussen og fortsætter:
"Vores to kurver viser, at effekten af paid advertising falder, og det er et problem, for vi kan ikke undvære paid advertising. Men når problemerne tårner sig op, så skabes der også et grundlag for at begynde at gøre noget ved dem."