Pong er en sammensat størrelse: Det næstmest vindende reklamebureau ved årets True Award for nogle uger siden, men samtidig tilbageholdende med dels at sende ind, dels at tillægge awards for stor betydning.
Bureauet hylder sin nuværende størrelse på 9 personer, men er nok ca. 50 pct. større en skønne dag.
Og alligevel: Klar i mælet.
Pong er et reklamebureau med alt, hvad der hører sig til af strategi, kreativitet, koncept og eksekvering. Det er måden at organisere sig, at rekruttere kreative og kommunikere sit arbejde, som nok er lidt til en side.
Mikkel Elung, tidl. kreativ direktør Brandhouse og Ogilvy, stiftede for godt tre år siden Pong – og nogle måneder senere tiltrådte Mette Hørdum som medejer og adm. direktør. Hun er tidl. medstifter af The Unicorn og tidl. client service director hos Hjaltelin Stahl.
Hvad er det, I vil?
"Vi er interesseret i én ting: At lave rigtigt godt arbejde for vores kunder," siger Mikkel Elung.
Det er der også andre bureauer, der siger …
"Helt bestemt," siger Mette Hørdum, "Så vi ser på, hvordan vi bedst skaber betingelserne for det gode arbejde. Det handler om samarbejde og kultur. Vores erfaring er, at magien skabes i nære teams med få dygtige mennesker. Det er svært med magi, hvis man er en lille brik i et stort team og ikke har overblikket."
Mikkel Elung uddyber:
"De bedste løsninger bliver til i et åbent og tæt samarbejde. Vi lukker ikke briefen ind i et rum og kommer ud tre uger senere med en stor løsning og en lille fanfare. Samarbejdet med kunden er uformelt med mange pitstops undervejs, og vores kunder kommer med input, der så godt som altid gør idéerne bedre. Kunderne har en direkte linje til de kreative – og omvendt. Det er mere frugtbart end at gætte eller arbejde ud af en retning, der måske ikke er levedygtig."
Darlinger kan dræbes tidligere
"Ideerne er altid til diskussion, og derfor arbejder vi i åbne dokumenter internt på bureauet – så alle på projektet kan følge med og komme med input løbende. Det betyder også, at de kreative skal være indstillet på, at deres darlinger en gang imellem bliver dræbt tidligere end i mere traditionelle processer."
Det lyder heftigt …
"Det kræver også et trygt og tillidsfuldt rum for arbejdet, og at man kan håndtere en dynamisk proces. Det kræver, at de kreative er ekstroverte og har lyst til at indgå i den tætte dialog med kunderne. Jeg kender mange dygtige kreative, der ikke har lyst til at lukke kunden ind i idé-genereringsprocessen, for det er en sårbar proces at finde frem til de bedste idéer. Men vi har god erfaring med det, så vi ansætter udelukkende kreative, der har lyst og mod på det tætte samarbejde.
Jesper Buch-filmen for Rådet for Sikker Trafik vandt publikumsprisen ved True Award i sidste måned.
Organiserer I jer ellers anderledes?
"Vi registrerer ikke tid," siger Mette Hørdum og uddyber:
"På mange bureauer er dagen nøje planlagt, og de kreative har tre timer til at løse den ene opgave og så en time til den næste. Det mener vi er en spændetrøje. Friheden til selv at bestemme, hvornår man vil løse den enkelte opgave, er vigtig for motivationen hos de kreative. Hos os ved den enkelte kreative, hvilke opgaver, der skal løses i løbet af ugen – og personen kender deadlinen. Hvornår opgaverne løses, bestemmer den kreative selv.
Men I har fornemmelsen af tidsforbruget i forhold til kunden …
"Med 20 års bureauerfaring kan vi fornemme, hvor lang tid en opgave bør tage. Men det er kun interessant i forhold til kunde-budgetter. Vi tjekker ikke tidsforbruget, og ingen skal udfylde timesedler. Vi vurderer opgaverne løbende, og nogle gange kan vi mærke, vi bruger for lang tid på en opgave, men det vigtigste er, at vi leverer en god løsning.
Fra 9 til 15 medarbejdere – en dag
For ni måneder siden var I 7 fuldtidsmedarbejdere og forventede at være 9-10 inden for et år. Det er I nu. Hvad er næste forventning?
"Vi har 16 arbejdspladser, og vi vil ikke flytte," siger Mette Hørdum om de højloftede, lyse, stuelokaler med forskudte plan i baggårdshuset på Rantzausgade på Nørrebro i København.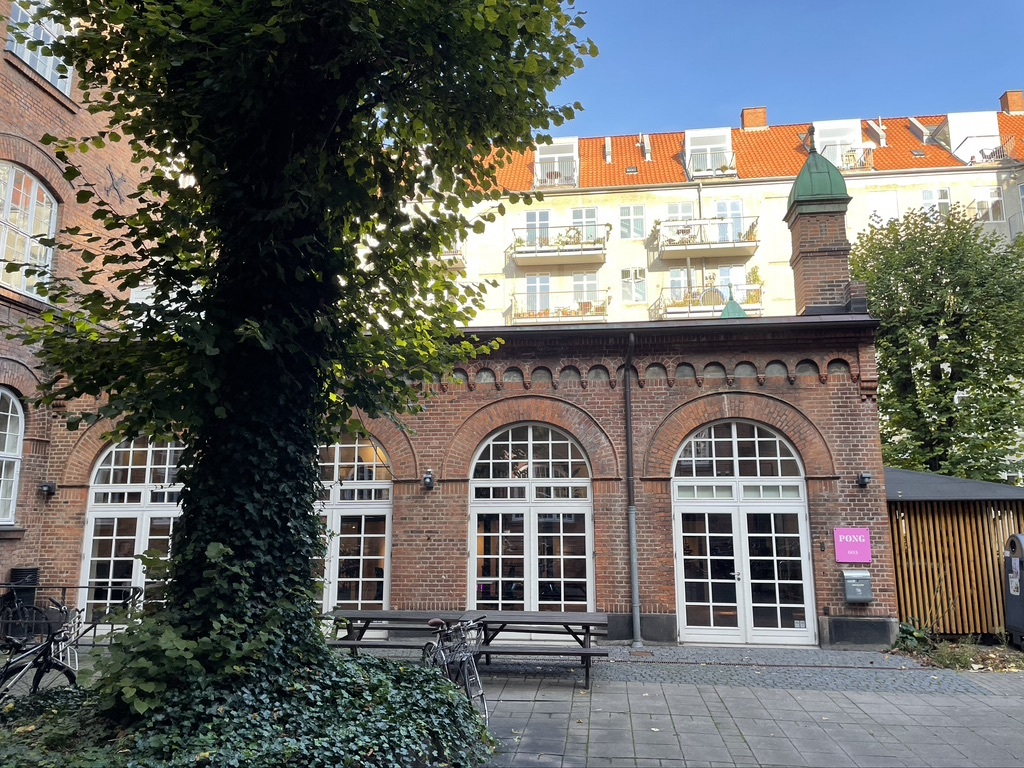 Men det er ikke et spørgsmål om lokalerne:
"Det handler om at rendyrke den kreative kultur. Derfor har vi ikke produktion i huset. Teamet i Rantzausgade består kun af kreative, strategi og kontakt. Vi samarbejder os til produktion, f.eks. film, programmering, rentegning, design, og det er sømløst, så kunderne oplever ikke, at det bliver lavet ude af huset," siger Mikkel Elung.
Mette Hørdum supplerer:
"2021 var et vildt år, og 2022 bliver et godt år. Hos nogle kunder er tingene på det seneste gået i stå, mens andet kører godt videre, og nyt kommer til. Vi forventer ikke et stort år næste år, men håber det bliver som 2022. Og vi kommer nok op på 15 medarbejdere, men ikke lige med det samme. I mellemtiden fokuserer vi på at blive bedre."
Bedre til hvad?
"Vi har et særligt fokus på kulturen, på arbejdsgangene, vaner og rutiner. Vi er meget opmærksomme på, at vores nuværende medarbejdere bliver kulturbærere for de næste, så vi gør os umage med at gøre det rigtigt fra starten," siger Mette Hørdum.
Udviklingen i bureauet skal ikke kun ses i antal medarbejdere og bruttoavance. Mette Hørdum hæfter sig også ved, hvor kunderne kommer fra:
"Vi brugte vores netværk de første to år – særligt det første. Men vi får stadig flere opkald fra folk, vi ikke kender. De har ofte fået os anbefalet eller på anden vis fået øjnene op for vores arbejde."
Allermest stolt over andenplads
Man ser Pong på bl.a. shortlister, men ikke så tit i medierne, når I ansætter en medarbejder eller vinder en kunde. Er det bevidst?
"Vi er stolte af vores medarbejdere og fortæller om dem på f.eks. LinkedIn. Men vi vil primært vurderes for det arbejde, vi udfører for vores kunder. Og her er vi så heldige at få mange højprofilerede opgaver fra vores kunder, både fra kommercielle virksomheder, NGO'er og interesseorganisationer," siger Mette Hørdum.
I har vundet priser …
"… og dem er vi stolte af, uanset om prisen kommer fra en fagjury eller et publikum. Men de kunder, vi har fået, vælger os ikke på grund af awards. Hvis awards bliver målet, så lukker du af for en masse løsninger alt for tidligt, fordi de ikke passer ind i det, du tror kan vinde," siger Mikkel Elung.
Mette Hørdum tilføjer:
"Annoncørerne i MyImage har givet os skulderklap, som vejer tungere end en award: Vi topper i kundetilfredshed og på at være fleksible og agile. Og det, vi er allermest stolte over, er en andenplads: I disciplinen Kreativt stærkt. Her blander vi os i feltet med &Co. og Robert/Boisen, som vi har en kæmpe respekt og beundring for."