Mange kommunikationsfolk har haft en selvforståelse af, at man er hævet over den rent kommercielle verden, man finder hos f.eks. reklamebureauerne. Man arbejder med en mere idealistisk kommunikation, der ikke blot handler om at sælge varer.
Ligeledes har selvforståelsen hos mange PR-bureauer også været, at man er placeret et helt andet sted i værdikæden.
PR-bureauer arbejder med topledelserne om virksomhedernes overordnede kommunikation, mens andre bureauer må tage til takke med marketingafdelingerne, som typisk er noget længere nede i hierarkiet.
Det er blot en selvforståelse, som får det sværere og sværere. Brancheglidningen rammer ikke kun reklamebureauer – den digitale udvikling indebærer lige så store udfordringer for PR-bureauer.
Og spørgsmålet er, om de først nu er ved at tune sig ind på at tilpasse sig den virkelighed.
Op og ned i de sidste par år
I 2014 så det ellers ud til at gå rigtig godt for branchen i den årlige bureauanalyse fra Bureaubiz. De 39 PR-bureauer voksede med næsten 9 pct., hvilket var klart mere end det samlede tal for de 248 bureauer i analysen.
Men det var primært reklamebureauerne, der trak ned. Af de seks bureautyper i analysen var PR-bureauerne kun fjerdebedst.
Og i 2015 kom PR-bureauerne så ned på jorden igen. Her faldt den samlede bruttoavance med 3 pct. – det samme som reklamebureauerne faldt med. Gruppen er vokset til 42 bureauer, og det var ikke de nye bureauer, der trak ned.
Kigger man nogle år længere tilbage, så har udviklingen været mindre prangende. Tendensen har været til en faldende andel af markedet, mens digitale-, media- og dialog-bureauer vinder andele, og det understreger, at PR-bureauerne lige som alle andre bureautyper skal tilpasse sig den digitale virkelighed.
Fra Press Relations til Public Relations
PR står for Public Relations og i mange år har det kunnet oversættes til Press Relations, fordi pressen var gate-keeperen ud til offentligheden. Derfor var folk, der kunne hjælpe virksomhedernes ledelser med at håndtere den genstridige presse i høj kurs.
Med den digitale virkelighed kan man vende tilbage til Public Relations, for pressen er ikke mere den uundgåelige gatekeeper.
Nu kan man bedre end nogensinde kommunikere direkte med forbrugerne, og nogle af tidens mest succesrige bureauer har netop stærke dialog-kompetencer. Den digitale verden bevæger sig i stigende grad mod en eller anden grad af 1:1 kommunikation.
Dialogen og interaktionen på de sociale medier er dog også et felt, som rummer muligheder for PR-bureauerne. Shit-storms er blot et eksempel, hvor deres DNA kan få en ny rolle.
Men samtidig kommer man tættere på markedsføringen. Strategisk kommunikation er ikke noget, der kan køres med topledelserne adskilt fra marketingafdelingen.
Og så vil digitale kompetencer lige som hos andre bureauer udfordre bureauerne på størrelse. Hvis man som bureauer skal kunne levere troværdigt på både on- og off-line samt på strategiske og kreative kompetencer, så kræver det en kritisk masse.
Konsolidering tiltrængt
Det lægger op til en konsolidering i en branche, der ellers har været kendetegnet af relativt små bureauer – og der er da også tegn på, at noget er ved at ske.
Geelmuyden.kiese fusionerede med House of Communication, Lead Agency fusionerede med Kasters, og Primetime har købt flere mindre bureauer.
Da fusionen med Lead blev præsenteret fremhævede Søren Kaster netop størrelse i forhold til at gribe mulighederne i markedet.
"Vi mener begge, at vi driver vores bureauer på en måde, der berettiger til at indtage en placering blandt de største kommunikationshuse. PR-branchen er meget fragmenteret, og flere muskler styrker os i forhold til både rekruttering af talenter, digital udvikling samt muligheden for at gå efter de store opgaver," sagde Søren Kaster.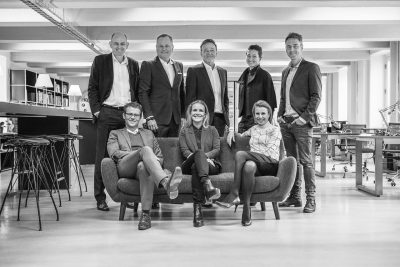 Partnerkredsen i Lead/Kasters fusionen.
Hvis man ser bort fra Advice, så er det dog Operate, der har taget førertrøjen blandt PR-bureauer.
Advice udspringer godt nok af PR-verdenen, og rummer stadig betydelige kompetencer inden for dette område – men har udviklet sig i en retning, hvor bureauet nu står blandt reklamebureauerne. Her er bureauet landets fjerde største reklamebureau.
Operate har udvidet
Operate havde en markant vækst på 30 pct. til næsten 39 mio. kr. og er således klart størst i PR-branchen.
Hertil kommer, at gruppen faktisk også rummer et digitalt bureau, Operate Technology, der optræder sammen med de digitale bureauer. Lægger man det til, så har Operate en bruttoavance på over 44 mio. kr. og er second to none i branchen.
Det skal også nævnes, at Operate har oprettet et nyt selskab, Operate Experience, i samarbejde med tidligere Bysted-direktør, Bo Søby Kristensen, og set udefra er Operate dem, der er nået klart længst i forhold til at udvikle en bredere funderet organisation.
Adm. dir. John Pedersen nøjes dog med afdæmpet af konstatere, at der er en bevægelse i gang i markedet.
"Det er først i de senere år, at vi for alvor har udviklet vores kompetencer, og det bliver spændende at se i de kommende år, hvor mange af os, der vil være dygtige nok til at bygge den brede portefølje af kompetencer, og hvem der vil fastholde specialistvejen," siger John Pedersen.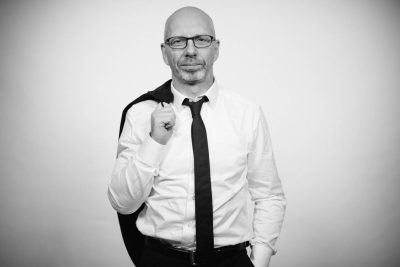 Den sidste bemærkning sigter til, at det hos PR-bureauerne lige som andre bureautyper først og fremmest vil være bureauer i midten, der kommer under pres for at søge den ene eller anden vej.
"Der vil altid være plads til specialistbureauer, som enten dyrker en nichekompetence, eller hvor nogle nøglepersoner har tætte relationer til en række kunder," siger John Pedersen og fortsætter:
"Men brancheglidningen indebærer, at kommunikations-kompetencer smelter mere og mere sammen, og det vil udfordre PR-bureauerne. Det er ikke kun et spørgsmål om at være relevant for både topledelser og marketingafdelinger – andre faglige verdener i virksomhederne kommunikerer mere, og hvis vi fortsat skal være relevante, så skal vi kunne håndtere en stadigt bredere portefølje af kompetencer. Det kan man ikke gøre troværdigt uden en vis størrelse."
3 største PR-bureauer
Operate 38,737 mio. kr. +29,6 pct.
Geelmuyden.kiese 34,551 mio. kr. -7,4 pct.
Mannov 26,089 mio. kr. -12,7 pct.
Størst vækst i bruttoavance:
Friday, 5,545 mio. kr. +163,7 pct.
Størst fald i bruttoavance:
Burson Marsteller 4,871 mio. kr. -51,6 pct.
Størst overskud:
Help PR +11,086 mio. kr. +13,4 pct.
Størst underskud:
Burson Marsteller -5,834 mio. kr. -85,7 pct.
Den årlige bureauanalyse fra Bureaubiz rummer nøgletal for mere end 257 bureauer fordelt på 6 typer: Reklame, Digital, PR, Media, Design og Dialog.
Nøgletallene omfatter: Bruttoavance, Bruttoavance pr. medarbejder, Lønandel, Resultat af primær drift, Primær drift pr. medarbejder, Overskudsgrad og Gennemsnitsløn.
Rapporten udkommer i trykt form og koster 1995 kr. ex. moms.
Den kan bestilles ved at maile Finn Graversen på finn@bureaubiz.dk