33.000 deltagere fra 85 lande. 2.700 talere og 1.250 seminarer på 5 dage. Det er svært at opsummere SXSW kort og præcist i en artikel på Bureaubiz, men vi giver det et forsøg.
Tracking
Hvis du har paranoia over, at alle dine bevægelser trackes, har du grund til at være bekymret. Vi er kun lige startet. Fremover kommer alt til at kunne trackes.
Med Google's selvkørende biler ved de til enhver tid, hvor du befinder dig – med millimeters præcision. Med wearables fra Apple, Under Armour, Adidas og Nike sender du data om din helsemæssige situation i real time.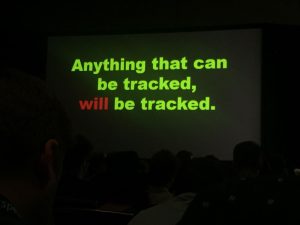 Og med Quell, som vandt wearable tech kategorien til SXSW Interactive Innovation Awards, får du en wearable, som ikke bare kan lytte til din krop, men som rent faktisk kan lindre smerter for folk med kroniske sygdomme.
Med smarte services, som kender dine brugs- og indkøbsmønstre, kan alt fra temperaturen i dit hus til ugens indkøb klares af delvist automatiserede tjenester.
Morgendagens brands vil ikke alene blive bygget på historier – de vil bygges på den reelle værdi, de giver os – pakket ind i en stærk fortælling. Vi vil gå fra fans og likes til brugere og trust.
De selskaber og brands, som formår at levere værdi baseret på al den data de indsamler og gemmer, vil vinde.
Med connected services bliver forbindelsen mellem et brand og forbruger stærkere end før. Men det kræver også at der leveres en reel service – at det ikke bare er noget brandet siger, men også noget brandet gør.
Og at de services brandet tilbyder fylder en rolle i forbrugernes liv.
Vi vil nok stadigt se klassiske kampagner drevet af den gode historie, men vi vil nok i højere grad også se løsninger hvor ideen er et produkt eller en tjeneste, og fortællingen er opbygget rundt dette.
Det vil kræve at brands og forbrugere connecter på en ny måde, samtidig med at det kræver at kunder og bureauer connecter på en mere forpligtende måde end de gør i dag.
Artificial intelligence
Der blev talt meget om artificial intelligence og robotter.
Kevin Kelly fra Wired kunne dog berolige os med, at robotterne ikke er blevet smartere end os endnu, og at det vil tage lang tid, inden de bliver det. Men inden for et afgrænset felt, som f.eks brætspillet Go, er udviklingen kommet langt. Her vinder robotten over os mennesker.
For brands kan narrow artificial intelligence blive til algoritmer og tjenester, som kender dig og kan forenkle og forbedre din hverdag baseret på maskinlæring.
Robotter
Indrømmet – jeg har altid haft det lidt svært med robotter. Men efter at have været til forskellige seminarer, som på hver deres måde har handlet om robotter, er jeg blevet overraskende positivt indstillet.
Dr. Hiroshi Ishiguro havde taget både sig selv og sin android med til Austin Convention Centre og demonstrerede live, hvordan det hele fungerer. Du kan se det her:
Dr. Hiroshi Ishiguro forsker i menneskelignende robotter og kunstig intelligens. Udviklingen var kommet tættere på virkeligheden, end jeg havde troet.
Nytteværdien var nem at se. Robotter som samtalepartnere til ældre mennesker på plejehjem. Robotter som undervisere i sprog. Robotter, som er gode til ting, vi mennesker er mindre gode til.
Den største udvikling sker lige nu indenfor effektiviserende robotter – maskiner som udfører processer mere effektivt, end vi mennesker selv kan klare. Men når du kan stille et spørgsmål til en robot på japansk og få den til at svare på flydende engelsk, er fremtiden kommet tæt på.
Virtual Reality
Teknologien er ikke ny. Heller ikke interessen. Kevin Kelly fra Wired kunne fortælle, at han prøvede et VR headset tilbage i 1989, som kunne meget af det samme, som teknologien kan i dag.
Forskellen var, at det dengang kostede 1 million dollar, og at det i dag koster under 1.000 dollar.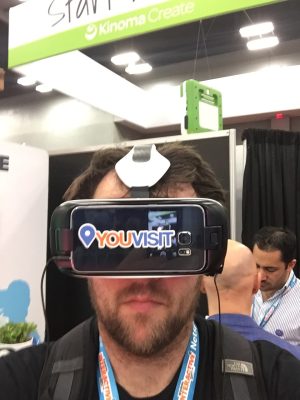 Vi har ramt en perfekt storm i forhold til den teknologiske udvikling, prispunkt og markedets interesse. Med Oculus Rift i den ene ende og Google Cardboard i den anden, er det blevet muligt at levere VR og 360 løsninger uden at skulle kaste sig ud i millionsatsninger. Og med Facebooks investering i Oculus Rift og støtte for 360 video både på Facebook og Youtube, er alle forudsætninger for et gennembrud tilstede.
Kevin Kelly spåede, at VR vil blive det mest sociale medie af alle medier og at vi vil gå fra the "internet of information" til "the internet of experiences", hvor et "you-perspective" kan levere oplevelser, som kan komme helt tæt på kroppen.
Hvorfor rejse tværs over Atlanterhavet for at høre ting, du kan se på din computer i Danmark?
Svaret er tid til fordybelse og mennesker. Der sker noget, når du hører og møder menneskene, der har opfundet en teknologi, et produkt eller et selskab, fortælle deres historie live.
Og der sker endnu mere, når du på vej fra et seminar til et andet eller over aftensmaden, engageret kan tale med både konkurrenter og kollegaer om, hvad du har set og oplevet, mens det endnu er friskt i hukommelsen.
I Cannes er de fleste optaget af at vinde. I Austin er alle optaget af at lære og dele ud af den viden, vi får.
Måske er det ikke alene værd at rejse hele vejen fra København til Austin for at høre Under Armour grundlægger Kevin Plank fortælle om, hvordan ideen bag Under Armour har udviklet sig fra at skabe verdens bedste undershirt til amerikanske fodboldspillere til at blive "the dashboard of your life".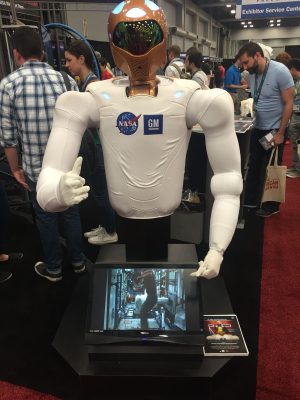 Måske er det ikke helt ligetil at bruge inspirationen fra NASA's seminarer om det nye James Webb Telescope og rejsen til Mars i arbejdet vores kunder i hverdagen.
Men kombineret med at vi har været til workshop med Google Innovation Lab og prøvet deres metode om 10x thinking, 3 timers workshop om duft og interaktiv storytelling med tre geeks fra Holland og en parfumeforsker fra USA, udforskning af 360 kameraer, droner og cardboards og en live omvisning via Facetime fra NASA's produktionsfacilitet i Baltimore, giver det er godt perspektiv på, hvor langt vi er nået lige nu.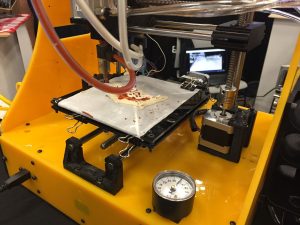 Og lige netop det perspektiv og den tid til fordybelse er det, der gør turen til SXSW og Austin det hele værd.
Ned på jorden
Og så blev fem dage med højteknologiske løsninger afsluttet helt nede på jorden.
Meditationsguru Andy Puddicombe fra Headspace talte om, hvordan vi kan finde happiness i en verden, hvor alt er muligt, og intet står stille.
Svaret var banalt enkelt: Silence.
Som far til tre børn i alderen 3 til 10 år ved jeg, hvor svært det kan være at få en lille familie til at være stille i et øjeblik. Tirsdag eftermiddag var over 2.000 mennesker stille sammen i over fem minutter under ledelse af Adam Puddicombe. Det var en stor oplevelse og en fin afslutning på en hektisk uge, hvor vi hele tiden var på.
Tilbage til fremtiden. Den er her. Den er til at betale. Og den er tilgængelig for alle – også herhjemme i Danmark. Frem for at vente på den perfekte løsning, som kan det hele, handler det om at gribe muligheden med de teknologier og løsninger, som er til rådighed her og nu.
For som vi skrev i vores første rapport fra Austin, er verdens vigtigste selskab om 20 år ikke startet endnu. Det samme gælder fremtidens produkter.
Vi glæder os som små børn til at omsætte inspirationen fra SXSW til løsninger for vores kunder og deres kunder.
Hvis du har lyst til at lytte til en del af de talks, der var i Austin, kan du finde dem på Soundcloud.
En del talks ligger også ude på SXSW's officielle Youtube kanal