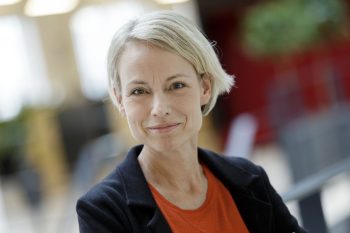 En kendt sportsatlet lægger billeder af sine nye sportssko på Instagram. Og en velbesøgt blogger roser et bestemt rengøringsmiddel til skyerne.
Gennem de senere år er blogs og sociale medier blevet effektive markedsføringsredskaber for virksomheder.
Men med den nye markedsføring følger udfordringer. Især for læserne. De kan have svært ved at gennemskue, om anbefalingen er personlig, eller om personen er blevet betalt for at omtale produktet. I det sidste tilfælde vil det være reklame, som skal markeres tydeligt.
Vi har formuleret en række gode råd for at gøre forskellen på personlig anbefaling og reklame klar. Med de nye råd ønsker vi at hjælpe bloggere og andre med at overholde reglerne i markedsføringsloven.
Sagen om latte-produktet
Skjult reklame er ikke et nyt problem. Tidligere har der været flere eksempler på skjult reklame i traditionelle medier såsom dagblade og magasiner.
Hos Forbrugerombudsmanden har vi nu set flere sager om skjult reklame på blogs og sociale medier.
I 2014 afgjorde vi til eksempel, at en bloggers omtale af produktet Bubble Latte fra Arla skulle have været markeret som reklame, fordi bloggeren omtalte produktet efter aftale med virksomheden bag produktet.
Sagen drejede sig om en korrespondance på tre mails mellem Arla og bloggeren. I den første mail til bloggeren roste Arla hende og spurgte, om hun havde lyst til at smage Bubble Latte.
Bloggeren svarede, at hun gerne ville blogge om produktet. Efterfølgende bekræftede Arla aftalen med ordene: "Hvor dejligt. Produkterne er først klar på mandag, så jeg sender det til dig enten mandag eller tirsdag."
Efter vores vurdering udgjorde de tre mails samlet set en aftale om, at bloggeren skulle omtale Bubble Latte på sin blog.
Men i det efterfølgende indlæg på bloggen fremgik det ikke klart, at der var tale om reklame. Bloggeren skrev blot, at der var "kommet en pakke fra Arla", og at Arla virkelig havde gjort "noget ud af denne gave."
På den baggrund vurderede vi, at der var tale om skjult reklame.
Lær at bruge bloggere i din markedsføring. Kursus hos Bureaubiz/Kforum
Afgørelsen førte til en del debat på de sociale medier, hvor der blev efterspurgt klare guidelines på området. De ligger klar nu. I det følgende vil jeg gennemgå nogle af de vigtigste pointer.
Hvornår er noget reklame?
Det er reklame, når en virksomhed – som led i sit erhverv – kommunikerer med det formål at sælge sine varer eller ydelser.
Har en blogger indgået en aftale med en virksomhed om omtale af virksomhedens produkter, er det derfor reklame.
Der skal ikke meget til, for at der er indgået en aftale. Aftalen kan være skriftlig, mundtlig eller stiltiende. Hvis en virksomhed gentagne gange giver dig produkter, og du hver gang blogger om dem, er der fx en formodning om, at I har en aftale om, at du reklamerer for virksomhedens produkter.
Det er underordnet, hvem som tager kontakten. Om det er virksomheden eller personen selv.
Læseren må ikke være i tvivl
I markedsføringslovens § 4 står der, at:
"En reklame skal fremstå således, at den klart vil blive opfattet som en reklame uanset dens form og uanset, i hvilket medium den bringes."
Det betyder, at læseren ikke må være i tvivl, når han eller hun ser en reklame.
Er det ikke tydeligt for læseren, at en statusopdatering eller et blogindlæg er reklame for en virksomhed, vil det være en overtrædelse af markedsføringsloven, og det kan give bødestraf.
Sådan skal reklamer til voksne markeres
Er reklamen målrettet voksne, vil den være tilstrækkeligt markeret, hvis der tydeligt står: "reklame", "annonce", "betalt indlæg" eller "sponsoreret indlæg" i starten af teksten.
Det er ikke nok, at der står "i samarbejde med x-virksomhed" eller "gave fra x". På Facebook og Instagram er det heller ikke nok, hvis virksomheden bare er tagget på et opslag om dens produkter.
På YouTube vil det være tilstrækkeligt, hvis ordet "reklame" fremgår klart og tydeligt af det første skærmbillede i så lang tid, at seeren når at opfatte, at videoen er reklame.
Sådan skal reklamer til børn og unge markeres
Børn og unge er i dag aktive på de sociale medier. Og de kan have sværere end voksne ved at gennemskue, om et indlæg fra en person, som de følger, er reklame.
Derfor er der skærpede krav til, hvor tydeligt reklamer til børn og unge under 18 år skal markeres.
Er reklamen målrettet børn og unge, vil den være tilstrækkeligt markeret, hvis der tydeligt står: "reklame" eller "dette indlæg er betalt af x" i starten af teksten.
Det er mit håb, at bloggere og virksomheder, der bruger nettet til markedsføring, efterlever vores enkle råd. Det giver forbrugerne et bedre udgangspunkt, når de skal vælge, hvad de vil købe.
Læs mere på www.forbrugerombudsmanden.dk, hvor du finder gode råd til bloggere om skjult reklame samt en liste over de hyppigst stillede spørgsmål om skjult reklame.