Susanne Lund taler hurtigt. Det har hun altid gjort, forklarer hun – det er ikke noget, der er fulgt med jobbet som adm. direktør for Republica.
Man kunne ellers ikke fortage hende i det, for på de godt otte måneder, der er gået, siden hun sagde farvel til Bates Y&R og posten som strategisk direktør, har hun effektivt formået at gøre opmærksom på Republica:
En kreativ hub i København, React by Republica, er oprettet med seks af landets mest talentfulde unge
Digitalbureauet Konstellation er købt
To nye kreative direktører er hentet ind – Clare McNally fra DMJX og Thomas Pries fra Konstellation. Begge har i øvrigt awards i skabet.
Faktisk er disse elementer faldet på plads på blot fire måneder. Susanne Lund tiltrådte i januar, dykkede ned i bureauet og dannede sig et overblik – for så i maj at præsentere en strategiplan for først bestyrelsen og siden – med bestyrelsens godkendelse i ryggen – for Republicas medarbejdere.
"Jeg blev kontaktet af en headhunter. Og jeg svarede nej, inden jeg hørte, hvor det var henne, fordi jeg var glad for Bates Y&R. De spurgte, om jeg i det mindste ikke ville høre, hvem det var – og drikke en kop kaffe? Det sagde jeg ja til, og blev introduceret for Republica", siger Susanne Lund.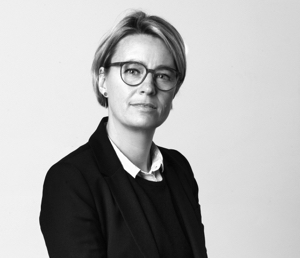 50 interviews og 3 problemer …
Hun blev præsenteret for dét, hun kalder "et velfungerende set-up" med en solid kundebase og en sund økonomi. Republica er blandt landets 10 største reklamebureauer og med et overskud på næsten 10 mio. kr. sidste år.
"Her var ikke tale om en turn around – eller på anden vis at komme fra noget, der er dårligt. Medarbejderkulturen er stærk, der er højt til loftet, og min opgave er at tage Republica til 'the next level'. Jeg lægger ikke op til en revolution, men heller ikke business-as-usual. Fundamentet skal ikke ændres – der skal bygges nyt ovenpå," siger Susanne Lund.
Og hvad skulle det nye være? Det brugte hun de første måneder på at dykke ned i – og danne sig et overblik over. Hun mødtes med kunder, ex-kunder, ikke-kunder, kundeteams, og søgte svar på, hvad der er godt, hvad der er skidt, hvad der kan blive bedre.
"Min kalender var spækket. Jeg holdt 50 interviews og havde møder hver time. Ud fra de samlede findings identificerede COO Lars Berntsen og jeg tre problemer, lagde en plan for hver afdeling og begyndte at eksekvere," siger Susanne Lund.
Republicas tre problemer blev formuleret således:
Vi var ikke tilstrækkeligt digitalt kreative
Vi havde svært ved at tiltrække branchens mest talentfulde unge
Vi skulle styrke vores strategiske kompetencer
"Vi har købt Konstellation, og her var det vigtigt, for dem og for os, at de ikke blev en separat digital afdeling, men at deres digitale kompetencer blev fuldt integreret på tværs i bureauet. Derfor er Thomas Pries fra Konstellation blevet kreativ direktør på lige fod med Clare McNally, og Claus Leinøe er blevet indsat som kontaktdirektør," siger Susanne Lund.
Om de to sidste problemer tilføjer hun:
"Vi skal tiltrække de bedste unge, og det er super-svært. Derfor ansatte vi Per Holm Henriksen som Talent Manager. Sammen med ham identificerede vi problemet og nåede frem til en enkel løsning: Placering centralt i København, giv de unge indflydelse og et formål. Vi har vendt hierarkiet på hovedet i React by Republica: De unge er kreativt ansvarlige, og de bliver coachet af nogle af branchens førende kreative. De leverer handlende ideer, og de er fuldt booket."
"Sidste væsentlige brik var at styrke vores strategiske kompetencer. Hvor andre reklamebureauer skærer planner-delen ned eller væk, ønsker vi at styrke den. Til denne opgave hentede vi bl.a. Mette Bech, der sad som strategisk direktør på TBWA/BBDO. Derudover har vi styrket vores strategiske kompetencer i bureauets øvrige afdelinger – ikke mindst med Clare McNally og udnævnelsen af Peter Zimmermann som Retail Impact direktør."
"Vi er dem, der ved noget om retail"
Republicas spilleplade er i følge Susanne Lund 'connected retail', e-tail som retail.
"Med retail tænker jeg bredere end dagligvare. Det er BtC handel i enhver forstand; lige fra shoppingcentre til banker – og på en hvilken som helst platform. Forbrugeren handler på alle tidspunkter, alle steder og fra alle devices. Der skelnes ikke mellem, hvad der er off-line og on-line. Og det skal vi og vores kunder heller ikke. Vi skal skabe en sammenhængende og gnidningsfri købs- eller brandoplevelse på en hver kanal," siger Susanne Lund.
Men selv om du breder begrebet retail ud, så klinger det stadig af hyldesvirpere …
"… og af pallesvøb og andre usexy sager. Men det er en fordom, fordi fremtidens retail-oplevelser og innovationer i høj grad er teknologisk drevet. Mit bud er, at om bare 1-2 år er det en af de mest interessante legepladser. Jeg tror på, at kombinationen af et tæt samarbejde mellem Strateger, Technologists og Kreatører kan resultere i nye løsninger, som kan gøre livet og hverdagen både nemmere og bedre for os alle sammen. Mobile Pay er et fantastisk eksempel på en løsning, som vi vil efterstræbe i fremtiden."
Du nævner ikke Republicas placering i Albertslund som et problem …
"Det kalder på flere svar. Folk er glade for at være her. Det er jeg også selv. Det er et skønt sted, med god plads og dejlig atmosfære – med kaniner, der løber rundt på plænen om morgenen. 'Gården' i Albertslund er del af kulturen, og man ødelægger ikke kulturer. På samme måde ligger det heller ikke lige for, at Konstellation skal flytte ud til gården, eller at gården rykker til byen. Til gengæld flytter React By Republica fra Bredgade ind i Konstellations bygning på Søtorvet, hvor de får deres egne lokaler," siger Susanne Lund og uddyber:
"Det er projektorienteret, og vi er en ledelse i flow – så vi er både i Albertslund og Søtorvet."
Det digitale er på plads, de unge er bookede, men I mangler at levere …
"Ja, nu er vi klar til at rulle ud. I 2016 skal vi bevise, at setup'et er rigtigt. Opgaven bliver at få kompetencerne til at spille sammen – strategien, det kreative, det digitale og Retail Impact," siger Susanne Lund og tilføjer:
"Vi laver spændende projekter for Coop, og det skal vi blive ved med. Men vi skal også vækste forretningen uden for Coop".
Hendes holdning er, at det skal være sjovt at gå på arbejde. Men en decideret forbrugs-fest – sådan skal købet af Konstellation, oprettelsen af React by Republica og ansættelsen af nye kreative direktører ikke opfattes:
"Det er ikke et slaraffenland, og disse investeringer kommer ikke til at gå ud over bundlinjen. Konstellation bidrager med kunder, som Republica kan arbejde videre med, og ansættelserne er snarere markante, end de er mange. 10 år som investmentbanker og 15 år i bureaubranchen har lært mig, at jeg hverken skal sætte økonomi eller kulturen over styr – for et bureau er ikke bedre end stemningen internt, og det kræver bl.a. udsyn og pejlemærker," siger Susanne Lund.