Robert/Boisen & Like-minded står bag en ny kampagne for Synoptik, der tager udgangspunkt i børns syn på verden. Optikerkæden har ellers brugt Brandhouse som leadbureau, men da kampagnen er finansieret af Synoptiks uafhængige fond, Synoptik-Fonden, har opgaven været i udbud.
Kampagnen bygger på indsigter fra et treårigt forskningsstudie, der blandt andet er støttet af Synoptik-Fonden. Én af hovedkonklusionerne er, at to ud af tre 5-7-årige med behov for behandling af synet, ikke bliver opdaget ved de obligatoriske synstest. Det fremgår af en pressemeddelelse.
Kampagnefilmen er lavet i samarbejde med den selvstændige instruktør Rune Milton og spiller på dobbeltheden i 'barnets syn' – i overført betydning på verden og konkret i barnets faktiske synsevner. Udover kampagnefilmen består kampagnen også af en børnebog og ni konkrete tegn på synsudfordringer, der skal være med til at øge opmærksomheden omkring børn og unges syn.
De 9 tegn på synsudfordringer
1) Barnet klager over hovedpine
2) Barnets er tydeligt generet af lys
3) Barnet er ofte træt i øjnene og gnider sig i dem
4) Barnet har svært ved at sidde stille og koncentrere sig
5) Barnet dækker for eller lukker det ene øje, når barnet skal fokusere
6) Barnet virker lidt klodset eller har andre problemer med finmotorikken
7) Barnet holder ting meget tæt på øjnene, når det læser eller leger
8) Har synlig skelen – også̊ bare en gang imellem
9) Har problemer med at se ting, der er langt væk.
Børnebogen 'Da fantasien forsvandt' er skrevet af Klara Vilshammer, kreativ hos Robert/Boisen, illustreret af Josephine Kyhn og trykt af Cool Gray. I pressemeddelelsen siger hun, at bogen er tænkt som en oplæsningsbog, og er en hyldest til børns fantasi og måde at se verden på. Undervejs som historien skrider frem, bliver barnets syn testet gennem forskellige øvelser. Også kampagnefilmen fungerer som en slags test, der kan give konkret hjælp til at spotte synsproblemer, siger den anden kreative kraft bag kampagnen, Christoffer Boas:
"For at understrege hvor nemt man som forældre overser disse synsproblemer, fungerer filmen som en skjult test af seernes evne til at spotte børns tegn på synsproblemer. Flere af børnene undervejs i filmen har nemlig vist tegn på synsproblemer."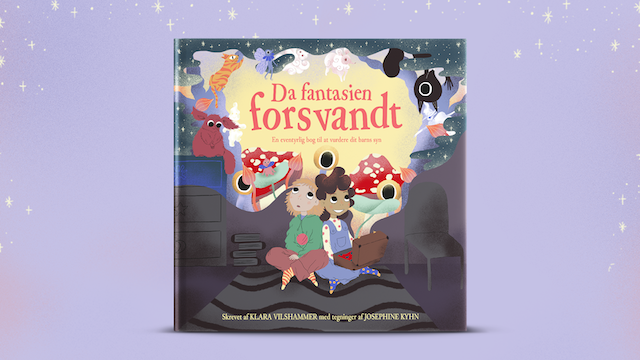 Børnebogen 'Da fantasien forsvandt'
Uopdagede synsproblemer kan medføre koncentrationsbesvær, motoriske udfordringer og dårlig trivsel. Kampagnen kører derfor fra i dag, hvor den er timet som et led i skolernes indskoling. Håbet for Synoptik er, at barnets syn kan blive en del af den faste tjekliste op til skolestart, siger marketingdirektør hos Synoptik, Gitte Willemoe Matzen:
"I Synoptik er vi på en fælles mission for at sikre alle børn et syn, der er godt og aktivt. Hvis vi kan hjælpe forældrene til at have fokus på barnets syn som en del af tjeklisten op til skolestart, er vi nået meget langt. Det håber vi at kunne med den her kampagne."
Bogen kan ved lancering hentes gratis i alle landets Synoptik-butikker.
Se kampagnefilmen her.