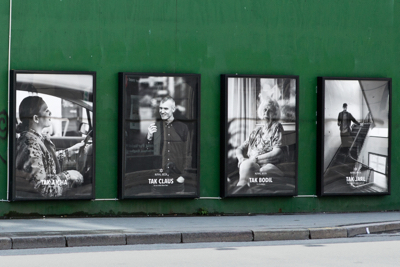 Når Distortion om få dage for 17. gang inviterer til fest i Københavns gader, sker det for første gang med bureau-bistand. Konstellation hjælper med subbrandet Distortion Ø, og Great Works Copenhagen (en del af North Alliance) er koblet på gadearmbåndet.
Nu følger en kampagne, der hylder de mennesker, der via en ekstraordinær indsats gør festivalen mulig. Det anerkender Distortions hovedsponsor Royal Beer i en ny kampagne, som er udviklet af Revolt.
I dag omfatter Distortion over 85 lokale gadefester og trækker op mod 140.000 gæster på Vesterbro og 120.000 på Nørrebro. Og Royal Beer takker nu dem, der får det til at ske.
"Vi, der elsker Distortion, skylder en stor tak til alle dem, der knokler bag kulisserne. Det gælder selvfølgelig arrangørerne og de frivillige, der holder styr på det hele. Men vi skal også huske at sige tak til gadefejeren, der bliver oppe hele natten for at rydde op, buschaufføren, der kører en omvej, og beboerne på Nørrebro og Vesterbro, der flytter deres biler og gør plads til festen," siger Christian Lund-Martorell, Senior Brand Manager hos Royal Beer.
I kampagnen siger Royal tak til en række lokale personligheder, bl.a. caféejeren Magnus, der lader festivalgængerne bruge sit toilet, Københavns Kommunes klageansvarlige Claus Beck Smidt og Mr. Lee, indehaver af den legendariske Isted Grill på Istedgade. De professionelle billeder bliver hængt op i tre outdoorserier forskellige steder i København.
Revolt siger også tak – til Royal, for at have godtaget idéen om at rette fokus udad og sige tak til dem, der er med til at fylde byen med kunst, kultur, musik og sjæl.
"Vi er stolte af at have en kunde, der takker til de ildsjæle, der gør benarbejdet og skaber de fantastiske oplevelser, vi alle nyder godt af. Især fordi der er en tendens til, at visse sponsorer tager hele æren for kulturlivet i Danmark. Vi er glade for, at Royal med denne kampagne retter blikket udad. Vi vil hellere sige "tak for det, I gør" end vi vil sige "se, hvad vi gør"," siger Martin Meyer, Strategic Director hos Revolt.
Distortionkampagnen ligger i forlængelse af med Royal Beers eksisterende Tak Rock-kampagne, som bl.a. indeholder sponsorater og støtte til up-coming bands i det danske rockmiljø.