I går fik Facebook-brugere muligheden for at gå mere følelsesbetonet til værks, når de klikker. Synes godt om-ikonet blev udvidet med fem andre reaktioner.
Irere og spaniere har haft den udvidede liste af emoticons på prøve i fem måneder, hvorefter 5 andre lande fordelt på 3 kontinenter kom med. I den forbindelse blev 'Yay'-reaktionen i øvrigt pillet fra.
Nu følger så resten af Facebooks verden, og brugerne kan nu også udtrykke begejstring, glæde, latter, vrede og sorg.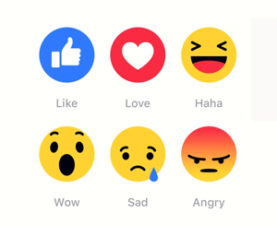 Og det kræver – fremhæver branchemediet Campaign – mere omtanke og en aktiv udvælgelse at udtrykke sig på den nye måde frem for blot at like, hvilket skaber plads til, at budskabet kan synke lige den smule dybere på plads.
Og den mere nuancerede reaktion kan brands også få at føle:
"Jeg tror, at den umiddelbare reaktion fra brands vil være nervøsitet ud fra en 'For pokker, nu kan folk reagere fler-dimensionelt på de ting, jeg lægger ud'. En naturlig reaktion, men som forretning vil jeg i sidste ende gerne vide, hvad folk synes om de ting, jeg siger," lyder det på Campaign fra Richard Sim, der leder overvågningen af Ad Interface og News Feed-ads hos Facebook.
En af de annoncører, der begyndte at varme op, allerede da Reactions var i test-fasen, er Chevrolet.
Bil-brandet har lanceret en film, hvor de nye ikoner (samt Malibu-modellen) er helten – 'From Like to Love'.
"En stor mulighed ligger åben for os i takt med, at vi nu får en række forskellige forbruger-reaktioner. Og det lægger et nyt lag til den måde, folk engagerer sig i vores brand," siger Paul Edwards, der er VP of Marketing hos Chevrolet.
Virksomheds- og brand-sider får samme Reactions-funktion som personlige Facebook-sider. Og en funktion, der ikke kan vælges fra. For ingen, hverken brands eller personer, kan slå bestemte Reaktioner fra.