Arbejdsløsheden er den laveste siden finanskrisen i 2008, og i alle brancher er det svært at skaffe arbejdskraft, så hvordan sikrer man sig de medarbejdere, man har brug for? Man kan starte med at finde ud af, hvad fx de unge lægger vægt på, når de kigger efter et job.
Ifølge en mini-undersøgelse blandt primært CBS-studerende, er det især karrieremuligheder og løn, som optager de unge, der står på spring til at komme ind på arbejdsmarkedet.
Umiddelbart skulle man tro, at de unge ville gå højere op i, om virksomheder lægger vægt på klima og miljø, men direktør i Maagaard & Partnere, Jan Maagaard, er ikke overrasket over resultaterne.
"Nu er det jo studerende fra primært CBS, der har deltaget i undersøgelsen, og de er formodentlig lidt mere forretningsminded end gennemsnittet, men jeg er faktisk ikke overrasket over, at miljø og klima kommer længere nede."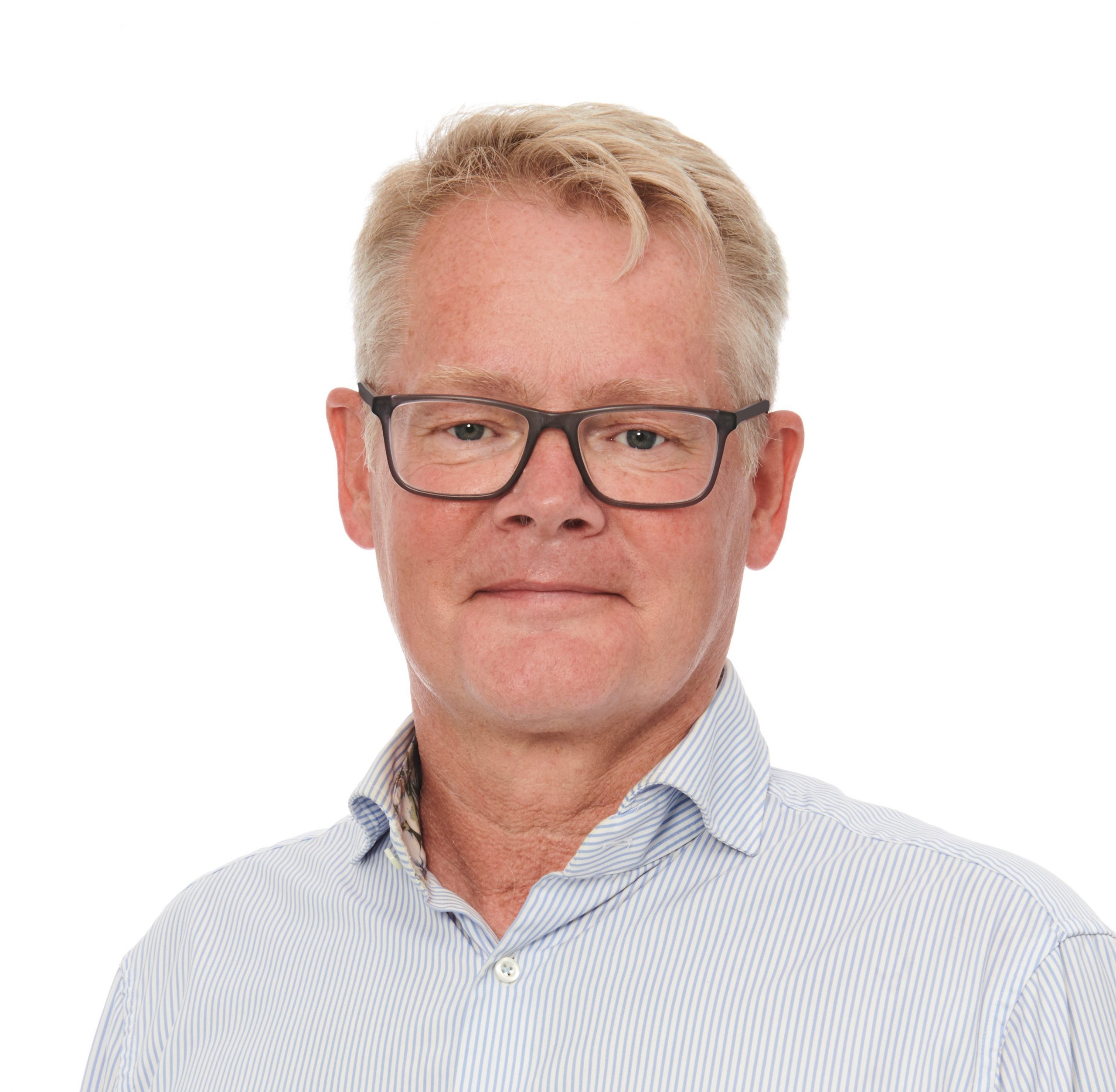 Jan Maagaard, adm. direktør i Maagaard & Partnere
Efter karrieremuligheder og konkurrencedygtig løn, vil de unge gerne have, at virksomheden har en god onboarding plan, og alle tre præferencer kan Jan Maagaard genkende i sit arbejde med at finde kandidater til kommunikationsbranchen.
"De tre øverste præferencer rimer på noget med karriere. Når man står som næsten færdig med sit studie eller som nyligt dimitteret, kigger man, hvor man kan få gode karrieremuligheder. Og hvis der er en god onboardingplan, kan man også se, at virksomhederne tager den unge seriøs," siger Jan Maagaard.
Den fjerde præference er god arbejdskultur, og det tolker Jan Maagaard også som en del af, at der er gode betingelser, for at den nye medarbejder forventer, at man kan udvikle sig.
"Det er selvfølgelig svært at vide, hvordan man skal tolke det svar, men jeg tror, at det lige som de tre øverste præferencer, har noget at gøre med, at man synes det er vigtigt, at virksomheden giver muligheder for udvikling."
Karrieremuligheder er need to have
Efter præferencerne om karrieremuligheder, kommer ønsket om at virksomheden er innovativ. Det havde Jan Maagaard forventet lå lidt højere, og så er han alligevel også lidt overrasket over, at der kommer nogle præferencer så højt oppe om jobsikkerhed, selvom der klart er et niveauskifte til de præferencer som handler om sikkerhed og tryghed.
"Det er alligevel pudsigt, at sådan noget som pension- og sundhedsforsikring alligevel ligger relativ højt, når man tænker på, at det er unge på vej ud på arbejdsmarkedet," siger Jan Maagaard.
Samlet set siger han om de unges præferencer:
"Vi oplever helt klart at unge i valget af deres første job er meget bevidste om virksomheden kan udvikle dem fagligt og personligt. Det, jeg synes man kan se, er at karrieremuligheder er need to have for de unge, mens socialt ansvar og klima samt sociale arrangementer måske mere er nice to have. Dog tror jeg, at man skal passe på med ikke at undervurdere fx socialt ansvar, det er trods alt hver femte, der har det som præference, og måske vil andre tage det for givet."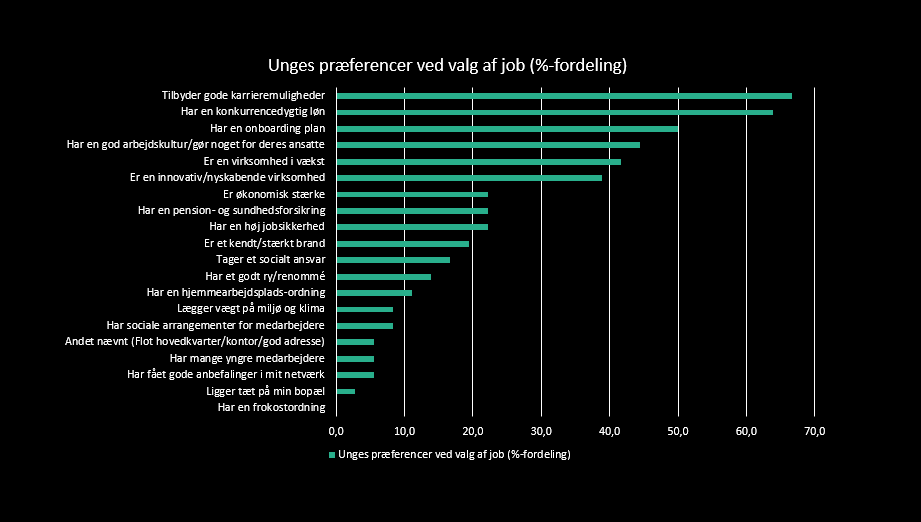 Fakta om undersøgelsen
Spørgeskema er ultimo januar 2022 sendt til 120 unge fra primært CBS, som kommer fra Maagaard & Partneres kandidatbase. De unge er enten ved at være færdige, eller er lige blevet færdige med uddannelsen.
Der er kommet 72 besvarelser retur.
Undersøgelsen er ikke repræsentativ for de unge, men er en indikation af, hvad de unge fra CBS lægger vægt på, når de skal vælge, hvor de vil ansættes.
Maagaard & Partnere er en del af Nordic Recruiting – et fagligt forpligtende samarbejde mellem selvstændige rekrutteringsvirksomheder bestående af seniorpartnere, der rekrutterer til alle niveauer inden for marcom/martech/salg inden for mediehuse, reklame-/mediebureauer og marketingafdelinger.
Artiklen blev første gang bragt i bladet: Kommunikationsindustrien – et blad for medlemmer af brancheorganisationen GRAKOM, som Creative Club er en del af.