Årets højdespringer 2019 på listen over de CEO's der gør det bedst på de sociale medier, er Niels Bjørn Christiansen, der tiltrådte som topchef for Lego i efteråret 2017. Han er gået frem fra en 30. plads til en 5. plads i år. Den placering er han ikke kommet sovende til. Han har nemlig været fire gange så aktiv som han var sidste år.
Det viser Infomedias analyse, CEO Superbrands 2019, der er den syvende af slagsen.
Den CEO, der har gjort det bedst på de sociale medier i 2019, gjorde det også bedst i 2018. Og det er Mads Nipper fra Grundfos.
Det er både hårdt arbejde og empati, der ligger bag førstepladsen. For det første skriver Mads Nipper rigtig mange indlæg og fordi han har mange forbindelser på både LinkedIn og på Twitter, når hans indlæg langt ud.
For det andet formår Mads Nipper at skrive sig ind i hjertet af brugerne på sociale medier. Stort set alle Mads Nippers omtaler tager udgangspunkt i hans og Grundfos' mærkesager omkring bæredygtighed og grøn omstilling, og det er emner, som typisk finder et publikum, som gerne vil inspireres af en CEO, der skaber retning for både virksomhed og samfund.
På andenpladsen på Infomedias CEO-liste for 2019 kommer Jeff Gravenhorst fra ISS. Han skriver gennemsnitligt på LinkedIn hver fjerde dag, og det har løftet ham fra en femteplads sidste år.
På tredjepladsen ses Lars Fruergaard Jørgensen fra Novo Nordisk, der har rykket sig fra en niendeplads, mens Per Bank fra Salling Group kommer ind på en fjerdeplads ligesom sidste år.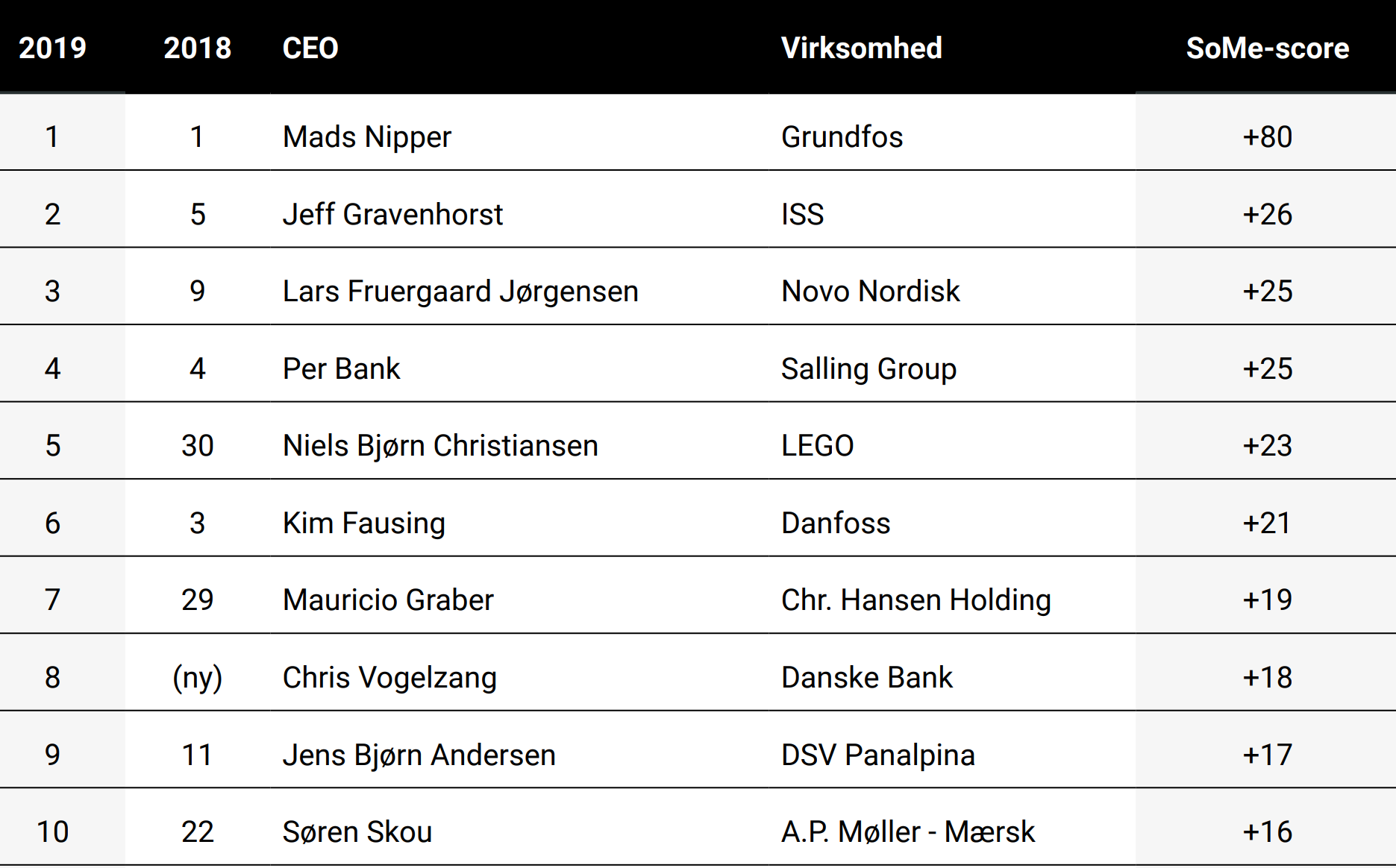 Røg ud af listen trods stor aktivitet på SoMe
En liste handler ikke kun om dem, der er på, men også om dem, der ikke er på. F.eks. er Jyske Banks Anders Dam røget direkte ud fra listen efter at have haft andenpladsen sidste år.
Straffen har formentlig skyldtes to ting: For det første at Anders Dam besluttede at skille Dankort og Visakort i starten af 2019 og blev straffet hårdt på sociale medier for den beslutning. For det andet, en sag om manglende kønsfordeling i Jyske Banks koncerndirektion. De to sager tilsammen betød, at ca. en tredjedel af Anders Dams sociale omtaler blev negativt ladede i 2019. Så selvom Anders Dam var den næstmest aktive CEO på sociale medier røg han altså ud af top-20 i år.
Bæredygtighed hittede i 2019
Det er især bæredygtighed, der fyldte på de sociale medier sidste år. For eksempel er hashtagget #SDG13 blevet brugt 243 gange. Et hashtag, der retter fokus mod verdensmål nr. 13: Klimaindsats. Af andre klimahashtags blev #dkgreen, #klimapartnerskab og #energieffektivitet også flittigt brugt.