Når virksomheder åbner dørene og inviterer alverdens ideer indenfor i form af crowdsourcing, så bliver det i nogen kredse opfattet som noget positivt.
Men i dette kor råber reklamebureauer sjældent højest.
Crowdsourcing repræsenterer på flere punkter dét, som bureauerne reagerer mod: At annoncører høster en stor bunke ideer og oplæg, som de ikke betaler for. Blot dét, der eventuelt bliver brugt, bliver belønnet – og sjældent særskilt overdådigt. Og de juridiske aspekter vedrørende rettigheder og brug kan desuden være usikre.
Det er et klondyke, og kreativiteten bliver ikke nødvendigvis styrket af lykkeriddere, der savner indsigt i både forbrugere og virksomhedernes produkter.
Så kort fortalt: Crowdsourcing træder ind på bureauernes kerneområde; kreativitet. Spørgsmålet er så, om bureauerne reelt behøver at frygte det?
Det mener man næppe hos We Love People. Her er man gået anderledes offensivt til værks og har skabt sin egen model. Reklamebureauet står således bag Cosmicpeople, der lanceres som et "creative buying agency".
Det er et crowdsourcing-bureau, for kreativiteten købes fra crowds.
Og sådan fungerer det: Bureauet formulerer kundens forretningsmæssige udfordring til en brief, der bliver lagt ud til en eller flere crowds i form af f.eks. en konkurrence. Bureauet organiserer og analyserer de modtagne forslag, og sammen med kunden vælges en kreativ løsning, som Cosmicpeople godt kan gøre færdig og eksekvere, hvis det skal være. Kunden betaler for de ideer og den kreativitet, der bruges. Bureauet clearer juraen og rettighederne.
Tilbuddet er ikke kun rettet mod kunder, men også andre bureauer.
Fra Cosmicpeoples præsentation af crowdsourcing: "We will wash your eyes, change your perspective and restart your thinking."
Adm. direktør i We Love People, Pernille Simmelkjær, ønsker ikke at kommentere tiltaget, men det vil en kunde gerne. En yderst tilfreds kunde, faktisk, i form af Jeep i Danmark.
Ved lanceringen af Jeep Renegade-modellen fik den danske importør lov til at fravælge den italiensk producerede kreativitet – og gå lokalt til værks.
Glad kunde
"Jeep er en nichebil i Danmark, og samtidig har bil-annoncer en tendens til at ligne hinanden. En SUV skal ofte vise sin duelighed i en ørken eller i et bjerglandskab. Ikke så troværdigt herhjemme, og derfor gik vi til CosmicPeople, der – ligesom Jeep – skaber sine egne veje," siger Ebba Jeppsson, der er Brand Communication Manager for FCA, Fiat Chrysler Automobiles, i Skandinavien.
CosmicPeople og FCA skrev en brief i fællesskab, og det lokale skulle ses i bureauvalget – ikke i inputtene, der kom fra hele verden:

"Vi fik ca. 300 input. På en uge, hvilket er yderst tidseffektivt. Vi er en lille marketingafdeling, så vi bad bureauet om at grovsortere. Jeg var på forhånd lidt nervøs; ville vi få noget, vi kunne bruge? Vi så ca. 30 bud, og jeg var positivt overrasket over det høje niveau," siger Ebba Jeppson.
Jeep valgte på den baggrund ca. 15 bud på "urban meets nature", der alle blev benyttet i outdoor-delen af kampagnen samt brugt på en lanceringsfest og udstilling af "street art værker". Vinderen kom på print, online og tv.
Var du ikke nervøs for, om crowd'en havde forstået briefen?
"Denne del er vigtig. Og jeg ville have været mere nervøs, hvis vi selv havde skullet arbejdet med crowds. Netop derfor gik vi sammen med CosmicPeople, der har erfaring i at skrive briefs til crowds, så det bliver opfattet på den rigtige måde, kreativt set," siger Ebba Jeppsson.
Vil I gøre det igen?
"Så absolut. Crowdsourcing er faktisk egnet til alle – små virksomheder, store marketingafdelinger, bureauer. Det er en god og effektiv måde at udfordre sig selv og få nye indsigter. Jeg vil også foreslå Jeeps europæiske hovedkontor at gøre det," siger Ebba Jeppsson.
Hun tilføjer, at Jeep ejer alt det indsendte materiale, så hvis et logo skal flyttes, eller en farve ændres, behøver man ikke at spørge nogen.
Og så det vigtigste:

"Det gav resultat. Salgsafdelingen var bestemt meget tilfreds med kampagnen, og det er trods alt vigtigere end at gøre en god figur ved en award," siger Ebba Jeppsson.
Resultatet kan ses her og nedenfor: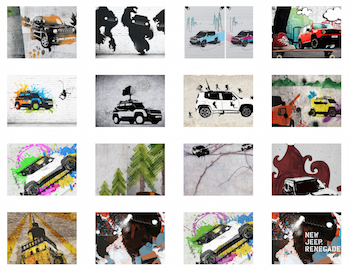 Hun kan ikke fortælle, om det er alle de brugte Jeep-input, der er blevet honoreret, eller kun vinderforslaget – og da Pernille Simmelkiær ikke har ønsket at fortælle om Cosmic Peoples arbejde med crowdsourcing må det spørgsmål – og andre – stå ubesvaret.
CosmicPeople blev lanceret i begyndelsen af året. Det var da på et spædt stade, men i sin tid sagde Pernille Simmelkiær til Bureaubiz om tiltaget:
"Her vil vi gå i laboratoriet for hele tiden at søge nye og kosteffektive måder at skabe kreativitet på til vores kunder. Vi kommer til at eksperimentere med kreativitet … både uddannelse, læring, kollektivitet og i det hele taget nye måder at frembringe og sælge kreativitet på."