Slik-nostalgi kan man smile lidt af, men den er for stærk til at blive ignoreret. Temporallappen i hjernen hånderer dels sanser som lugt og smag, dels hukommelse. Vi bliver således ret effektivt ført tilbage til f.eks. 90er-kæresten via parfume og 80er-tyggegummi via – ja, via en opdateret udgave af SorBits.
Cloetta Danmark, som har patent på SorBits-brandet i Danmark, har lyttet til forbrugernes ønsker, og støver nu mærket af og tester, om danskernes følelser er lige så stærke som dengang.  
"SorBits har haft fast plads i bukselommen hos mange danskere op gennem 80erne og 90erne, og vi har et klart indtryk af, at mærket har været savnet, siden det blev sat ud af produktion. Vi imødekommer forbrugernes ønske og fylder nu udvalgte butikker med nye Sorbits pakker i en meget begrænset periode, og så får vi se, hvad responsen er," siger Heidi Teschemacher, der er marketingchef hos Cloetta Danmark.
Bag det visuelle comeback står det lille reklamebureau, In-Mind, der i forvejen løser opgaver for Cloetta-brands som Malaco og Läkerol.
"De gamle pakker ville have været en god idé – men det ville også have været vildledende, fordi selve produktet ikke er helt det samme. Vi skulle vise, at der er sket noget nyt og samtidig trække referencerne fra de gamle pakker tydeligt op," siger Jesper Bräuner, kreativ direktør i In-Mind.
Han tilføjer:
"Det er altid med lidt blandede følelser, når man skal ind og pille ved et brand, som man ved er elsket af forbrugerne. Vi ville gerne holde fast i de gamle dyder, da markedet flyder med overdesignet emballage og finurlige trykteknikker. Så vi valgte at gå den modsatte vej."
SorBits – som taget op af 80er-bukselommen: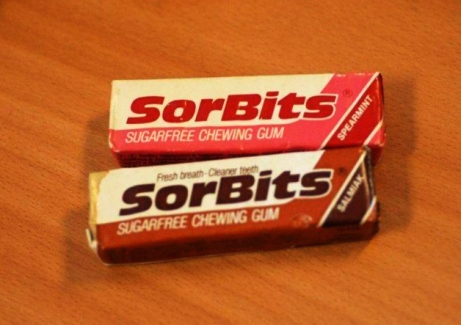 – og SorBits anno 2013: