Folkefest og A.P. Møller Mærsk? Det rimer ikke lige frem – vel?
Rederiet er ikke bare Danmarks største virksomhed – det er også en udpræget BtB-styret virksomhed. Og så er det arketypen på magt. Fair eller ikke fair – men – bare for at nævne et par eksempler – Mærsk Mickinney Møller kunne få placeret Operaen hvor han ville gennem sin økonomiske magt, og hele sidste uge kunne rederiet få lukket Langelinie for normalt trafik.
Bare fordi verdens største containerskib lå der.
Nu er der selvfølgelig lige den detalje, at verdens største containerskib ejes af verdens største containerrederi, der faktisk er dansk. Det er faktisk så stort, at der ikke nogen amerikanske containerhavne, der kan modtage skibet – og i USA er alt ellers større end i Danmark.
Så måske kan man iblande et element af national stolthed. "Hvad kan vi danskere", spørger Børsen i sin aktuelle kampagne? Ja, vi kan f.eks. være bygherre på verdens største containerskib. Det er godt nok koreanere, der har bygget det – men det er en dansk virksomhed, der har visionerne, evnerne og pengene til at få det gjort.
Om der var national stolthed eller om det bare var fascinationen af et kæmpe stort skib koblet sammen med noget nær det bedste efterårsvejr i mange år skal være usagt.
Fakta er, at folk strømmede til Langelinie i stort tal de fleste af dagene. Deres udsendte var der selv lørdag, og der var tale om noget nær en folkevandring.
Vurderingen lyder, at 225.000 mennesker var fobi Langelinie fra torsdag til søndag.
De 42.000 billetter til at komme ind på skibet i løbet af de sidste fire dage i sidste uge var revet væk efter at man lige frem havde annonceret eventen på tv. Hertil kom chancekøen, så i alt 49.500 mennesker var ombord.
Men der var andet at komme efter.
Det er langt fra første gang, at Mærsk har vist et af sine nye skibe frem på Langelinie. Denne gang blev det pillet ud af drift for at blive navngivet af Kronprinsesse Mary.
Men i modsætning til tidligere, så havde man gjort meget mere ud eventen og lagt en masse kommunikation ind omkring den.
Langelinie var blevet udstyret med containere med et væld af indhold. Mærsk Line og deres bureau PS Communication havde benyttet fascinationen af verdens største containerskib til at fortælle historien om, hvad containere rent faktisk betyder for din og min hverdag.
De er f.eks. årsagen til, at vi kan få frisk frugt og grøntsager året rundt i supermarkederne – illustrereret ved at der blev uddelt tusindvis af bananer på Langelinie. Faktisk 80.000 ialt.
Containere er også dybfrysere, der både kan transportere den fineste tun ved minus 60 grader og dåse-tunen ved -30 grader. Sådan en fryse-container blev brugt som uddelingspunkt for en lille kop is til alle, der havde tålmodigheden til at stå i køen.
Samtidig fik man fortalt mange andre historier om både rederiet, skibet – og muligheden for at arbejde i det blå Danmark.
Der var også et legerum for børn, der kunne farvelægge et containerskib – de bedste ville blive hængt op i kaptajnens kahyt og der var mulighed for at vinde en Lego-model af Triple E skibet.
Så kort sagt: PS Communication og Danmarks mest magtfulde virksomhed fik lavet en folkefest – og en image-markedsføring, der faktisk er en pris værdig.
Bringing the World to you, lød budskabet. A.P. Møller Mærsk er ikke bare et rederi – det er en virksomhed, der rent faktisk gør noget for din og min hverdag.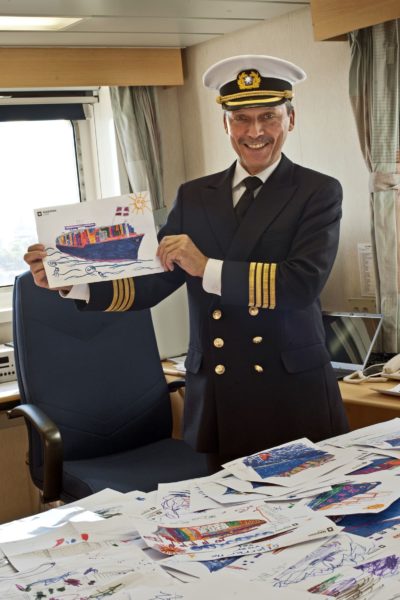 I går, søndag, fik Majestic Mærsks Kaptajn Petur Madsen overleveret mere end 3.000 tegninger af skibet – alle tegnet af besøgende børn i udstillingsområdet. Vindertegningen – af Nanna fra Søborg – vil blive ophængt i skibets messe. Og vinderen får en Lego-model af et Maersk Line Triple-E skib, samme type som Majestic Mærsk.