Sidste år lancerede Super Brugsen sammen med det lille bureau, Beginr, en Grill-faktor kampagne, som lykkedes så godt, at den både har udløst priser ved DIA og en shortliste ved Advertising Effectiveness Award (AEA).
Men arbejdet var ikke bare award-vindende – det kunne også bruges igen – og endda med mindst lige så gode resultater.
"Ofte sidder man med en sådan aktivitet og tænker, at der var noget, der kunne have været lavet lidt anderledes, og det fik vi så lejlighed til her," siger Kenneth Melchior, der er kommerciel direktør hos Super Brugsen. Han siger videre:
"Brugerne tog rigtig godt imod Grillfaktor sidste år, og da vi kiggede på tallene for 2014, fornemmede vi, at vi havde gode muligheder for både at give en endnu rigere brandoplevelse og opnå stærkere taktiske resultater i 2015-versionen. Og med lidt iteration har vi gjort konceptet endnu bedre."
Han hæfter sig bl.a. ved to ting. Man har ikke bare fået 349.000 besøg på et målrettet kampagnesite – tidsforbruget er øget til et gennemsnit på to minutter. Og dermed altså en øget involvering I brandet.
Hertil kommer, at man har fået godt fat i unge målgrupper. 60 pct. af sessionerne har været med målgruppen 18-34 år – fordelt med ca. halvdelen i 18-24 og halvdelen i 25-34 år.
"Også det taktiske niveau kom flot i land med bl.a. 30.000 nye SMS-permissions på meget kort tid. Vi har kommunikeret med den største respekt for konteksten: At tage udgangspunkt i at være relevant og underholdende, og det er vi blevet belønnet for," siger Kenneth Melchior.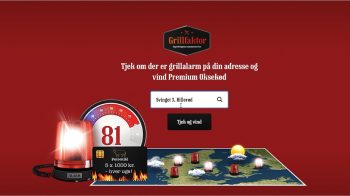 Ideen er skabt af det lille bureau, Beginr, som også har stået for videreudviklingen.
"Vi arbejder efter dogmet Claim Over: Hvordan kan vi kommunikere budskabet med en handling, og dermed undgå blot at sige det? Som en service brugerne faktisk kunne drage nytte af, og som kunne løse centrale marketingudfordringer for Superbrugsen, er Grillfaktor født ud af den tankegang," siger Niels Alberg, concept director i Beginr.
Selvom Super Brugsen har haft succes med genbrug, så tror Kenneth Melchior dog ikke på, at det kan blive en fast tilbagevendende aktivitet.
"Aktiviteten ligger fint i forlængelse af vores generelle fokus på digitale aktiviteter, og det har medvirket til at trække os ind hos målgrupper, som ellers ikke ligger lige for. Men umiddelbart tror jeg, at vi nu har trukket det ud af konceptet, som er muligt. Der ligger dog en række tanker og ideer, som nok kan bruges i andre sammenhænge," siger Kenneth Melchior.