Tekstlinjen er søster til både Reklamelinjen og Contentlinjen, men har på seks år markeret sig på egen og selvstændig vis – alle årene med de to kreative direktører, Katrine Jo Madsen (Ogilvy) og Clara Prior-Knock (UncleGrey), som fagansvarlige for uddannelsen.
Nu har uddannelsen dét, politikerne kalder "en ny situation", for da UncleGrey forleden fortalte, at bureauets to kreative direktører tager til Le Pub i Amsterdam, betyder det samtidig, at Tekstlinjen er en fagansvarlig i underskud.
Katrine Jo Madsen skal derfor finde en ny makker og siger i den forbindelse:
"Det har været seks fantastiske år med Clara – helt fra starten, hvor vi udformede hele programmet til nu, hvor vi kontinuerligt piller ved det for at gøre det tidssvarende. Og ligesom man aldrig bliver for erfaren til at lære, er justeringsarbejdet aldrig slut. Så jeg glæder mig til at se, hvad min nye makker vil foreslå af programjusteringer og nye måder at gøre tingene på."
Artiklen, der fortalte om Claras afgang, bruges nu til at skaffe en ny fagansvarlig. Katrine Jo Madsen hackede Bureaubiz' overskrift og skrev den om til en SoMe-post:

"Vi har lavet opslaget, da vi gerne vil åbne op for mulighederne og se, hvem der mon byder sig til. Der er så mange gode folk derude, og forhåbentlig er der én, der synes det kunne være sjovt at arbejde med mig – og Per Holm Henriksen (Tekstlinjens stifter, red.)," siger Katrine Jo Madsen.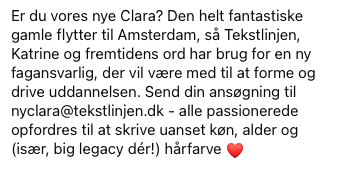 Målet med hacket er at få motiverede mails fra interesserede. Og hendes motiverede ord den anden vej ser således ud:
"At være fagansvarlig på Tekstlinjen er jo verdens fedeste job. Punktum. At blive betalt for at give sin passion videre til topsultne og investerede deltagere, der er præcis lige så nørdede omkring tekst som dig selv og som gæstelærerne… det er altså ret fedt. Jeg har jo i grunden gået på Tekstlinjen seks gange efterhånden, men jeg er altid i en ny opgave med en ny kunde, hver gang jeg hører et foredrag, så jeg lærer stadig."
Kampagnen har allerede haft effekt, for Tekstlinjen har ifølge Katrine Jo Madsen modtaget "en god del ansøgninger" – både fra gamle elever, etablerede navne og folk med meget erfaring.
"Man skal ikke underkende hverken netværket eller inspirationen, man får med sig som lærer. Det er fedt at lære nye, dygtige mennesker at kende – og at få et kig ind i både lærere og studerendes hjerner. Vi siger, at 'Vi går til tekst'. For det er vitterligt et job med en indbygget hobby," siger Katrine Jo Madsen.