"Vi holder foredrag og er sparringspartnere for bl.a. turistorganisationer og kommuner. Der er steder med langt bedre beliggenhed, end hvad vi har, men det handler også om at fortælle historien og få ideerne ud at leve."
Ordene stammer fra Lau Sass, og når han sammen med sin kone, Michelle Sass, hentes ind til at nytænke overnatningsformer og branding, skyldes det ikke mange års erfaring, men resultatet af en anderledes tilgang og en lodret læringskurve, siden de to forlod bureaubranchen for i 2020 at lancere Lillero. Naturhotellet med luksustelte i Høve ved Sejerøbugten er blevet et brand på sit felt uden et egentligt budget.
Det lyder velforberedt, men er det kun delvist. Der har også været mange hurtige beslutninger samt en del dræbte darlings. 
Michelle og Lau mødte hinanden, da det bureau, han var på, var underleverandør til bureau, hun var på. Michelle har arbejdet på bl.a. Brandhouse og BBDO, mens Lau i de senere år har haft sit eget bureau.
"Vi havde en spirende drøm om at bryde ud af et univers, vi følte var låst. Vi købte en campingvogn. Og sidenhen en professionel kaffemaskine, der blev installeret. Derfra kom ideen om et B&B, efterfølgende en campingplads, som så blev til et lille hotel på stranden," siger Michelle Sass.
Parret kørte Sjælland rundt med to små børn og kiggede på naturgrunde. Og halvanden times kørsel fra København fandt de Danmarks ældste telt-campingplads, som staten havde sat til salg. "Nedslidt og dårlig", men med et så stort potentiale, at de slog til.
"Vi solgte huset i Dragør, stoppede på vores job, købte pladsen og lagde kræfterne i det. Markedsføringen var photoshoppede billeder – uden tanke for, om det kunne genskabes. Vi havde hverken bookingsystem eller telte. Eller strøm og toiletforhold til at begynde med, og det skulle være luksus," siger Michelle Sass og suppleres af Lau Sass:
"Hvis opholdet er dyrt, så skal vi også forklare, hvad gæsterne får ud af det. Ikke kun den bedste udsigt og de bedste råvarer, vi skal også servicere og inspirere. Og levere storytelling."
22 ansatte, heraf 6 på fuldtid
Et lille sted med fred og ro blev til Lillero – suppleret med læren fra bureautiden:
"Jeg er kreativ og eksekverende, mens Michelle har styr på strategien. Vi havde lært, at en dårlig idé ikke bliver bedre af at blive drøftet længe. Vi var vant til at tage mange hensyn og navigere en tung coaster, når det gjaldt beslutninger med kunder. Nu kunne og skulle vi reagere hurtigt, og det var befriende bare at gøre det," siger Lau Sass, og Michelle uddyber:
"Vi havde masser af ideer, f.eks. én om at afholde bryllupper. Det fandt vi hurtigt ud af, at det skal vi aldrig. Der var en del kill your darlings ud fra en tilgang om at holde det enkelt."
Men helt enkelt har det ikke været:
"Vi troede, vi kunne drive det sammen med en enkelt medhjælper, men allerede i første sæson var vi i højsæsonen 22 ansatte, hvoraf 6 på fuldtid. Og vi havde pludselig også en restaurant, fordi to kokke var svævet ind," siger Michelle Sass.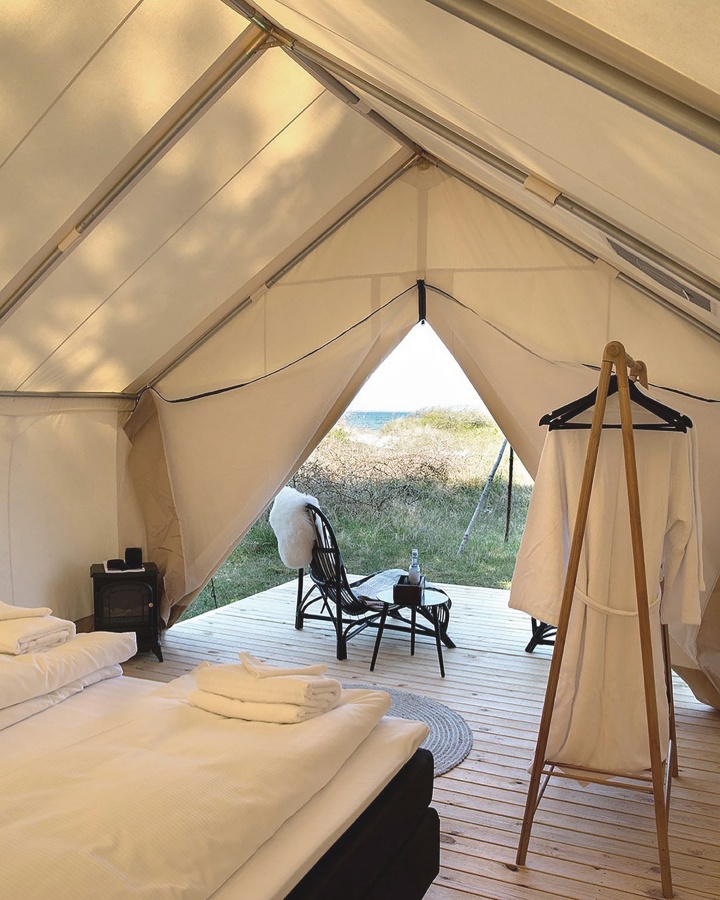 Tabte 15 kg i første sæson
Parret kalder første sæson "ultradrænende":
"Vi var i en boble, og det gik lynende hurtigt. Også udenfor – jeg fik på et tidspunkt et kald: 'Alle snakker om Lillero på modeugen'. Vi har aldrig markedsført os i gængs forstand, vi bruger kun de sociale medier uden penge bag. Influencere spørger os om ophold, ikke den anden vej rundt," siger Michelle Sass.
Første sæson gik godt – og der blev gået en del:
"Jeg lavede morgenmad fra kl. 7 og tændte alle gæsters bål kl. 22, delte skumfiduser ud og fortalte Lilleros historie," siger Lau Sass og fortsætter:
"Som bureaumand gik jeg 4.000 skridt om dagen, den første sæson gik jeg 34.000 skridt hver dag, fra syv morgen til midnat, i otte måneder. Jeg tabte 15 kg," siger Lau Sass.
"Fjernede vores bedste produkt"
Lillero går i næste uge ind i sin fjerde sæson. 8 telte ved åbningen er i dag 13, og der er strandbar samt restaurant, som seneste sæson har været i samarbejde med Michelin-restauranten Formel B.
"Vi lærer hele tiden og har f.eks. fjernet vores bedste produkt, Supreme Suite, for det går ikke, at et telt er bedre end andre. Og de eneste, der brokkede sig, var dem med supreme. Nu er alle telte suiter," siger Lau Sass og tilføjer:
"Vi vil have den bedste mad, bedste kaffe, bedste petanquebane – og vi fokuserer på detaljerne, og det bliver bemærket. Vi købte army-uldtæpper, fordi nogle gæster havde det lidt koldt. Vi er vant til at lytte til kunder, inkl. at høre, hvad der ikke bliver sagt." 
Lilleros kunder er købestærke – uanset om det er børnefamilien fra Kolding eller parret fra København V – og det smitter af:
"Vores værdier virker, og derfor vil andre brands gerne have deres produkter ind hos Lillero. Vi er selv blevet en form for influencere i vores brand" siger Michelle Sass. 
Kan det ikke ske, at Lillero bliver for in – og dermed flygtigt?
"Vi er taknemmelige for den opmærksomhed, vi har fået – og tager ingenting for givet. Vi kan modellere brandet og dermed målgruppen. Samtidig vil jeg mene, at vi har en fornemmelse for, hvad næste trend er," siger Michelle Sass.
Samtidig har værtsparret trukket sig lidt tilbage. Ikke i arbejdsmæssig forstand, men af hensyn til brandet.
"Lillero er brandet, ikke Michelle og Lau. Det gør det faktisk lettere at træffe beslutninger, hvis det er brandet, og ikke os. Det er også en af grundene til, at sitet er på engelsk – for at distancere sig lidt fra os som personer," siger Lau Sass.