Mensch, Nordlid, Nord DDB og Wibroe, Duckert & Partners er nogle af de bureauer, der har givet deres bud på en buskampagne gennem Home Of Medias koncept: Outdoor Stafetten, som hvert år udvælger 12 bureauer.
I dette selskab blander sig nu for første gang to førsteårsstuderende fra DMJX-uddannelsen Kreativ Kommunikation, nemlig Louise Lindholm og Nicoline Grace Paulsen, der sammen har givet deres bud på en busreklame for den blå Ikea pose.
Med hjælp fra Morten Grubak, der er executive creative director på Virtue, der er Ikeas leadbureau i seks lande, inkl. Danmark, fik de to studerende solgt ideen ind til Ikea.
Ligheden mellem bus og pose
"Vi fandt hurtigt en lighed mellem det, at både bus og pose fragter os selv og vores ejendele gennem hverdagen. Aha-øjeblikket opstod, da vi opdagede at posens produktnavn tilmed er Frakta, og herefter skabte idéen næsten sig selv," siger de to studerende.
De blev dog også sat på lidt af en opgave. For hvordan gør man sin første reklame trykklar – og så i den størrelse.
"Bare det at få fotograferet en IKEA-pose, har været en opgave i sig selv. Vi havde en hel stak poser med på fotoshoot, som både blev strøget og stylet, for at få billedet til at se troværdigt ud. Det lykkedes i sidste ende at få den helt rette balance mellem brugstegn og slid med hjælp fra fotograf Nanna Ferslev," siger Louise Lindholm og Nicoline Grace Poulsen.
Ikea-posen er synlig på bus nr. 150, der kører forbi Ikea i Gentofte de næste fire uger.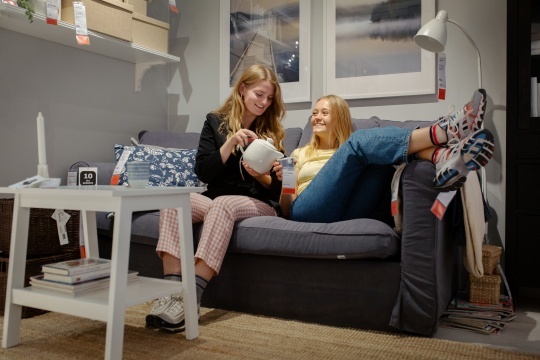 Louise Lindholm og Nicoline Grace Poulsen