I forrige uge var Rasmus Smith Bech, 29, og Jonas Roth, 32, et talentfuldt team, man skulle holde øje med. Da de mødte på arbejde hos Grey London i denne uge, var det med en verden til forskel. 
De har været kreativt team på Life Paint for Volvo – en trafiksikker løsning med at spraye, så cyklister og cykler lyser op i mørket. Løsningen havde allerede fået noget opmærksomhed forinden, men i sidste uge blev det med ét intenst; da casen vandt to Grand Prixer, i hhv. Promo & Activation og Design, i Cannes Lions. 
Her gør de to danskere status – ikke så meget over selve Grand Prix'erne, men over deres tilgang til kreativitet og den betydning, priserne får af betydning i den kommende tid:
"Det er hårdt arbejde, der har kastet de her priser af sig. Og det er dejligt at se, at de lange dage og nætter har været givet godt ud – ikke kun p.g.a. Cannes-modtagelsen, men generelt hvad projektet har gjort for Volvo," siger Rasmus Smith Bech.
"Arbejdet er en lille del talent og stor del hårdt arbejde, som består i at skubbe på og overbevise. Og i den forbindelse har Grand Prix'erne givet os personlig ballast – vi får en anden lydhørhed over for kunderne og kommer tættere på deres problemstilling," siger Jonas Roth.
25 Volvo-markeder har købt projektet
Og denne lydhørhed er ekstra godt at have, når nu ens tilgang er aldrig at sælge stangvarer.
For selv om det danske team i princippet kunne hvile på de nys erhvervede laurbær og lave Life Paint og lignende de kommende år, er det ikke deres stil/tilgang.
"Vi skal naturligvis gøre projektet færdigt. Og Life Paint er blevet et globalt projekt, for 25 Volvo-markeder har købt det," siger Rasmus Smith Bech.
"Men det, der driver os, er ikke, at nye kunder kommer ind og siger "Vi vil også have Life Paint". Løsningen er ikke givet på forhånd. Det skal ikke nødvendigvis være et projekt eller velgørenhed," siger Jonas Roth.
"Vi vil se kundens problem, finde en menneskelig indsigt og så eksekvere det anderledes. Vi søger hele tiden en ny vinkel på jobbet," siger Rasmus Smith Bech.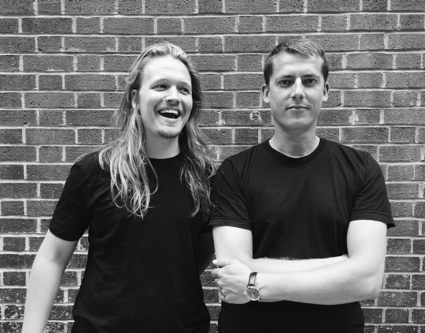 Rasmus Smith Bech og Jonas Roth – tilbage i London.
Klassisk visuelle i kirken 
De to danskere blev færdige for seks år siden på Grafisk Kommunikation på DMJX. De kom på Zupa og var der godt et halvt år. Thorkild Bjerre, bureauets kreative direktør (nu partner på Another), kendte teamets udlængsel og hjalp dem i deres søgen mod især London og Amsterdam.
Det blev sidstnævnte først i form af KesselKramer – et reklamebureau i en tidligere kirke, med klassiske dyder og et kunstnerisk touch samt Diesel og Absolut Vodka på kundelisten.
"Det var småt, quirky og hands-on. Og alt var op til dig selv. Det grafiske, inkl. design, fylder meget," siger Jonas Roth.
"Vi har været på det digitale bureau, det klassisk visuelle og nu – på Grey London – er det tekst og film. Vi har aldrig skrevet så meget som nu," siger Rasmus Smith Bech og suppleres af Jonas Roth:
"Vi er i bund og grund vilde med ideer."
Projekter med terapeutisk virkning
Dobbelt Grand Prix'en i Cannes åbner nye døre, som Rasmus Smith Bech og Jonas Roth meget gerne åbner – men ikke uden at se sig tilbage:
"Man bør ikke glemme de ting, man har lært, eller de kloge mennesker, man har mødt – og derudfra skabe sin egen profil," siger Rasmus Smith Bech.
"Hvert skridt, du tager, definerer dig. Du skal udvikle dig hele tiden, ellers bliver du en dinosaur," indskyder Jonas Roth.
"Vi er dem, der gør det lidt anderledes – det er den profil, vi har fået," siger Rasmus Smith Bech og uddyber:
"Grey London er et stort bureau, med store kunder og flere lag. Og her har små underlige digitalprojekter eller beskedne kunstneriske projekter haft en terapeutisk virkning for os og været med til at holde gejsten oppe."
Mantraet for det danske team er at blive ved med at være nysgerrig og blive ved med at presse grænser. Det kan lyde ligetil, men det er på ingen måde let:
"Der er ikke frit spil, og det har været hårdt arbejde. Og det nye og anderledes har ofte været noget, vi har presset ind efter normal arbejdstid, efter at man har lavet tv-filmen til kunden, der allerede har booket mediet," siger Jonas Roth.
Spændende tid – for alle i reklame
En del ting ændrede sig i sidste uge med den største gevinst i verdens største og mest prestigefyldte kreativitets-festival. En stående aftale med Bureaubiz om at mødes i Cannes blev aldrig til noget. De havde for travlt.
"Det har været hektisk – på den fede måde. Der var mange folk, der var stolte og glade på ens vegne. Og det skulle selvfølgelig fejres," siger Rasmus Smith Bech.
Nu er teamet tilbage på kontoret og har fået en ny brief. Lidt ligesom før, men på en ny måde.
"Grey har klassisk set været stærk på tv og print. Grand Prix'erne er et hak i bæltet til alle. Det er et pejlingspunkt for bureauet, der – også fra topledelsens side – gerne vil gå nye veje og skabe nye rammer for os," siger Jonas Roth.
"Det er en spændende tid, og alt er muligt – og her tænker jeg ikke på os, men på dér, hvor reklame er lige nu. Der er færre formularer og flere, der gerne vil ryste posen," siger Rasmus Smith Bech.