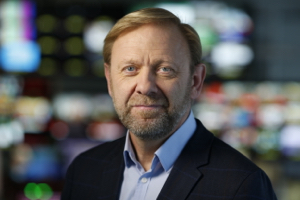 Foto: Miklos Szabo-TV 2
Michael Dyrby har alt overvejende fået ros for måden, hvorpå han i tirsdags sagde farvel til TV 2 og posten som nyhedsdirektør.
Alene fraværet af "efter gensidig aftale" og den evigt ulmende lyst til "nye udfordringer" er næsten befriende – vendinger, der let bliver til floskler, hvis fratrædelsen sker med øjeblikkelig virkning, måske suppleret med at parterne up front melder, at de ikke har yderligere kommentarer.
Michael Dyrbys farvel var vitterligt øjeblikkeligt og begrundet i 'private årsager' – men før gætteriet kunne begynde, blev disse årsager uddybet:
"Jeg har for nylig haft en kortvarig affære. I den anledning har jeg truffet nogle hensynsløse og forkerte beslutninger, der har sat mig i en sårbar position. Det kan man ikke som nyhedsdirektør. I forbindelse med affæren har der været udvekslet kompromitterende materiale."
Herefter delte medierne sig: Nogle gik på jagt efter bemeldte materiale, nogle talte med samlivsterapeuter, andre med tillidsrepræsentanter i TV 2. På Bureaubiz interesserer vi os dog for selve kommunikationen.
Ægte eller påtvungen ærlighed?
Mange steder fra – men ikke alle – er Michael Dyrby blevet mødt med respekt for at melde så åbent ud.
Her kan man så indledningsvist spørge sig selv, om åbenheden var oprigtig eller påtvungen?
For der kan være flere faktorer, der gør det nødvendigt at spille mere åbent ud for at undgå andre problemer.
Kommunikations- og livsstils-eksperten, Henrik Byager linder over for Ekstra Bladet lidt for muligheden med ordene:
"Det handler jo også om TV 2. De har en interesse i at få isoleret den sag omkring Dyrby og hans privatliv, hvilket også er sket. Ingen kritiserer TV 2, og man diskuterer kun, hvordan i alverden han kunne få sig selv sat i sådan en situation."
Michael Dyrby har dog overvejende fået ros for ærligheden. Til Bureaubiz siger Yvonne Schantz fra Kriseklar Kommunikation:
"Det er et meget klogt træk. Han fortæller historien ærligt. Det dæmmer op for intern sladder, trækker tænderne ud af ekstern sladder, og man kan ikke tage ham i en løgn. På den måde får han via kommunikationen skabt respekt for sin person."
Dertil kommer den respekt, som tydeligvis er omgærdet af Michael Dyrby som journalist. Medarbejderne klappede ifølge Berlingske taktfast af den afgående nyhedsdirektør, da han gik til bekendelse for staben – klapsalver, der ikke gjaldt afgangen, men person som journalist og leder.
"Jeg tror ikke, at det er tilfældigt, at det netop er en journalist, der arbejder med faget på dette høje plan, som handler på denne måde. Den åbenhed og ærlighed, han forlanger af sine medarbejdere, praktiserer han her," siger Yvonne Schantz.
At melde åbent og ærligt ud – at lægge kortene på bordene – er en klassisk og ofte anbefalet strategi inden for krisekommunikation. Men det er lettere sagt end gjort.
"Min erfaring er, at når det kommer til stykket, vil de fleste helst gemme sig bag floskler. Respekten for Michael Dyrbys kommunikation kommer også af, at han har modet til at gøre det i praksis," siger Yvonne Schantz.
Over-kommunikation
Men strategien er netop journalistisk og klassisk, understreger Lotte Hansen fra Hansen Agenda – og det udstiller sagens svage parter.
"Det er forskellen på 1. generations- og 2. generations-krisekommunikation. Tilhængerne af førstnævne er typisk tidligere journalister, som hylder åbenhedsstrategien. Den sidstnævnte ser også på de forretningsmæssige og menneskelige omkostninger – d.v.s. et hensyn til både den virksomhed og de mennesker, der er involveret," siger Lotte Hansen og uddyber:
"I den konkrete sag skal de nærmeste – det være sig børn, ægtefælle og elskerinde – leve med historien resten af livet, mens vi andre fik en god historie."
Hun mener, at hvis sagen havde drejet sig om en person med en lignende stilling i en anden type virksomhed, ville det klart have været overkommunikation at melde så åbent og detaljeret ud.
Og hun hælder også til at bruge ordet overkommunikation om, hvordan Michael Dyrbys fratrædelse blev tacklet:
"Sagen har et gået-for-langt skær over sig. I al fald virker tilgangen umiddelbart mere journalistisk end forretningsstrategisk. En direktør stopper af private årsager. Længere behøver den ikke at være. Michael Dyrby har en magtfuld medieposition, men så kendt er han heller ikke. Og jeg kan heller ikke se, hvilken gavn TV 2 får af denne omtale. En mulig diskussion om ledelseskrise i TV 2 ville kun have fundet sted i kantinen mellem erhvervsjournalister," siger Lotte Hansen.
På trods af at journalister altid synes, at medievirksomheder er sjovere at skrive om end andre virksomheder, så vurderer Lotte Hansen, at der ikke ville have været kogt meget suppe på årsagen til Michael Dyrbys farvel, hvis han havde holdt sig til de private årsager, eventuelt suppleret med ønsket om at koncentrere sig om sin familie.
Denne vurdering deles ikke af Yvonne Schantz, som også ser en fordel for TV 2 af den valgte fremgangsmåde:
"Hvis man havde holdt sig til 'private årsager', så ville der have været sladret, både på de øvrige medier og internt på TV 2. Det ville have været emnet de første 14 dage, ikke kun i sladderpressen. Her ville det ikke spille den store rolle, at Michael Dyrby var forhenværende nyhedsdirektør," siger Yvonne Schantz.
Som en krølle på halen kan man også nævne en anden – og mere spekulativ – faktor bag kommunikations-strategien: At man ved tilsyneladende at spille 100 pct. ærlig, reelt får undgået, at medierne graver sig ned og finder al snavset.