Vi har skrevet det før, men det står – heldigivis – stadig til troende: Unge danske talenter formår at gøre sig gældende på den internationale scene.
Louis Elsass Meyer var det danske islæt i en af årets fem vinderteams i Future Lions i Cannes, og nu har ungdoms-konkurrencens arrangør, digitalbureauet AKQA, kvitteret med et drømmejob:
"Vi har været heldige at få et job hos AKQA i form af et tre-årigt Creative Fellowship Program, hvor vi starter i New York," siger Louis Elsass Meyer.
Han tilføjer:
"Vi får muligheden for at rykke rundt i verden, inden for AKQA's kontorer. Det kan ske efter første og andet år, og det giver os muligheden for at lære bureauet at kende globalt."
AKQA har i alt 14 kontorer; 5 i USA, 5 i Europa, 3 i Asien (Kina, Japan og Indien) samt 1 i Sydamerika (São Paulo, Brasilien).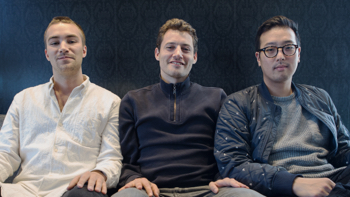 Første dag på jobbet i New York – i form af AKQA's treårige kreative

program: I midten Louis Elsass Meyer flankeret af svenske Ludvig

Pehrson (tv) og canadiske Elton Rhee.
Afsættet, Future Lions, har AKQA i 10 år arrangeret i Cannes Lions-regi. I år formåede konkurrencen at samle 1800 studerende fra 60 lande.
Briefen er befriende enkel "Reklamér for et produkt fra et globalt brand på en måde, der ikke havde været muligt for tre år siden".
Det håndterede Louis Elsass Meyer sammen med sine to makkere, canadieren Elton Rhee og svenskeren Ludvig Pehrson, med casen "chromebook_type for Google". Den løser problemet, at mens kloden går mod at være fuldt wifi-dækket, så er en tredjedel af befolkningen afskåret fra strøm. Voila; en computer, der oplades via dine tryk på tastaturet.
Det internationale team afsluttede i juni deres uddannelse på Miami Ad School og havde forinden været i praktik sammen på J. Walter Thompson i New York. Nu går turen så tilbage til New York for trioen.
AKQA koketterer gerne med, at Future Lions er en karriere-kanon for vinderne, og bureauet har flere gange stået på scenen i festivalpalæet i Cannes med årets fem teams og sagt til publikum "Allright – you can start hiring".
Denne gang har det WPP-ejede digitalbureau selv slået til. The Creative Fellowship program er kreeret særskilt til Future Lions-vindere, og det er blot andet år, at AKQA udvælger et – og kun ét – vinderteam fra den årlige konkurrence.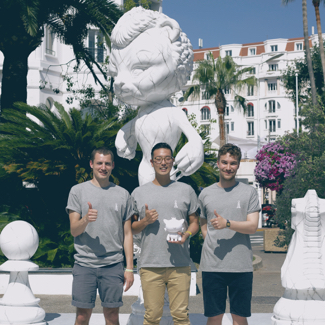 Dør-åbneren til AKQA: Future Lions-sejren i Cannes i sommer.

Fra venstre Louis Elsass Meyer (Danmark), Elton Rhee (Canado)

og Ludvig Pehrson (Sverige).
Louis Elsass Meyer siger:
"Det var bestemt ikke svært at sige ja til. Vi skal arbejde med klienter som Nike, Starbucks og Verizon og forhåbentlig være på forkant med den digitale evolution i reklamebranchen … rettere sagt verden. Vi glæder os helt vildt."
Louis Elsass Meyers mulighed for at komme jorden rundt i sit bureauarbejde kan i øvrigt minde om det, som to andre danske Future Lions-vindere, Peter Ammentorp og Nicolai Villads, fik lov til at opleve i 2011. Dengang sendte Ogilvy – og Lars Bastholm – teamet til Shanghai, Paris, Sao Paolo og New York. Denne turné var mere komprimeret end AKQA's program, idet den varede et år.
Senere blev de to danskere hyret til at opbygge et bureau i Paris – for AKQA, for nu at afslutte cirklen.
Vinder-casen i Future Lions – chromebook_type for Google: