Lidt tilfældigt opdagede Louise Haugaard Nielsen, at nogle af hendes facebookvenner havde "liket" den konkurrence, som TDC havde været med til at sætte i gang i forbindelse med selskabets samarbejde med Ida Corr.
Det fik hende til at tjekke de simple konkurrenceregler, som handlede om at designe et cover til sangeren Ida Corrs nye single, Hold My Head Up High.
Og så gik det pludselig stærkt:
"Jeg var i forvejen i gang med at tegne. Det arbejde lagde jeg væk, jeg fandt et foto af Ida Corr, blæste det op på væggen og tegnede. Lagde tegningerne på gulvet og fotograferede dem, og så uploadede jeg til Instagram som man skulle," fortæller Louise Haugaard Nielsen.
Hun er fuldt på det rene med, at både TDC og Ida Corr har penge nok til at betale for ydelserne, i stedet for at mobilisere gratisarbejde til coveret, til musikvideoen og til remix, som de har gjort i færdiggørelsen af hitsinglen. Men hun synes det er helt i orden, for hun ser det som godt for alle parterne.
"Ida Corr virker meget sød, og hun er et smukt motiv at tegne. Hun virker groundet. Det var en skøn opgave, jeg opfattede det som et 'work of passion'. Det tog nogle få timer. Der kom rigtig mange gode cover-forslag, så jeg blev virkelig overrasket da de ringede fra TDC," siger Louise Haugaard Nielsen og fortsætter:
"Jeg har et lille, nyt firma i den spæde startfase. Jeg fik god snak nogle helt nye steder. Man kan sige, at TDC og Ida Corr fik coveret, jeg fik snakken."
Ida Corr facebook-roste i den grad arbejdet, da vinderen blev udpeget:
"Men, der kan kun være én vinder, og det hér, det er simpelthen både godt tænkt og virkelig virkelig sejt udført. Det bliver SÅ fedt at få som cover! Stort tillykke til Louise H."
Næste uges takkefest kommer Louise Haugaard Nielsen ikke med til; da skal hun selv holde afslutningsfernisering på en udstilling i Kolding.
Louise Haugaard Nielsen er uddannet fra Arkitektskolen Aarhus i 2009, arbejdede derefter som arkitekt på en tegnestue, men følte at der "var en tå for meget i arkitektskoen", tog en omvej omkring et job som arrangementschef hos Lynfabrikken og fik udvidet netværket der. Fra februar i år sprang hun fuldt ud som selvstændig med firmaet a mile in the woods (http://amileinthewoods.dk/). Det unge firmas hidtil største opgave har været at levere en række illustrationer, som bliver en del af møbel- og indretningskæden Boconcepts kollektion.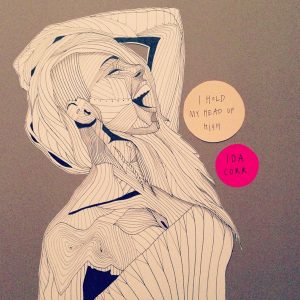 TDC og Ida Corr:
Ida Corr har i vid udstrækning været ansigtet for Mit TDC og TDC Play. Og i forbindelse med lanceringen af musikerens nye single har man udnyttet en lang række kanaler – klassiske tv og print, men i meget høj grad også sociale medier, blandt andet netop brugeres/kunders/fans' bud på, hvordan musikken skal mixes, musikvideoen skal danses og coveret skal tegnes.