Farvel til Cannes med et opsigelsesbrev
Selv om Bill Bernbachs opsigelsesbrev har mere end 60 år på bagen, er det stadig gældende og dybt inspirerende læsning. (Sebastian Artmann)
Dear collegues,
Our agency is getting big. That's something to be happy about. But it's something to worry about, too, and I don't mind telling you I'm damned worried. I'm worried that we're going to fall into the trap of bigness, that we're going to worship techniques instead of substance, that we're going to follow history instead of making it, that we're going to be drowned by superficialities instead of buoyed up by solid fundamentals. I'm worried lest hardening of the creative arteries begin to set in.
There are a lot of great technicians in advertising. And unfortunately they talk the best game. They know all the rules. They can tell you that people in an ad will get you greater readership. They can tell you that a sentence should be this sort or that long. They can tell you that body copy should be broken up for easier reading. They can give you fact after fact after fact. They are the scientists of advertising. But there's one little rub. Advertising is fundamentally persuasion and persuasion happens to be not a science, but an art.
It's that creative spark that I'm so jealous of for our agency and that I am so desperately fearful of losing. I don't want academicians. I don't want scientists. I don't want people who do the right things. I want people who do inspiring things.
In the past year I must have interviewed about 80 people – writers and artists. Many of them were from the so-called giants of the agency field. It was appalling to see how few of these people were genuinely creative. Sure, they had advertising know-how. Yes, they were up on advertising technique.
But look beneath the technique and what did you find? A sameness, a mental weariness, a mediocrity of ideas. But they could defend every ad on the basis that it obeyed the rules of advertising. It was like worshiping a ritual instead of the God.
All this is not to say that technique is unimportant. Superior technical skill will make a good ad better. But the danger is a preoccupation with technical skill or the mistaking of technical skill for creative ability. The danger lies in the temptation to buy routinized men who have a formula for advertising. The danger lies In the natural tendency to go after tried-and-true talent that will not make us stand out in competition but rather make us look like all the others.
If we are to advance we must emerge as a distinctive personality. We must develop our own philosophy and not have the advertising philosophy of others imposed on us.
Let us blaze new trails. Let us prove to the world that good taste, good art, and good writing can be good selling.
Respectfully,
Bill Bernbach
How Ideas Go Viral
Jeg var inde og se oplægget 'How Ideas Go Viral' fra Fast Company. Det foregik i et af de mindre auditoriums og da jeg sad næsten forrest gjorde det oplevelsen endu mere personlig og involverende. John Mescall var inviteret til at tale om Dumb Ways To Die, der har ryddet bordene ved samtlige ceremonier. Den holder nu rekorden i flest antal grandpix'er pr. kampagne – rekorden før i år var 2 – 'Dumb Ways to die har modtaget 5! Anselmo Ramos var inviteret til at tale om en anden af festivalens helt store vindere Dove Real Beauty Sketches. Modsat mange af de andre oplæg jeg har set var der i denne talk mere fokus på at gå i dybden med begge kampagner, og vi fik en masse at vide om processen bag kampagnerne, hvor andre oplæg jeg har set har fokuseret langt mere på kampagnernes større sammenhæng – det var fedt! Én ting jeg tager med mig fra denne her talk, er et tip Ramos gentog flere gange som en af grundstenene til at bygge en successfuld kampagne – Ask for a one line brief.
Sune Overby
Future Lions: Fra "lavet før" til "fat i noget"
I palæet og se Future Lions prisoverrækkelse til de fem vindere. Jeg var derinde med René Schultz og Casper Christensen, der var blevet nomineret med deres idé "Virgin Mini Holidays", men som desværre ikke vandt. Se videoen her.
De fem vindende projekter bestod af:
Byt dine gamle bøger gennem Amazon til e-books og så sender Amazon dine bøger til Indien.
Et vibrerende armbånd til døve, der sender advarsler om ting, som man normalt hører men ikke nødvendigvis ser.
Saml alle dine yndlingsartikler udgivet i magasiner fra forlaget Condé Nast i ét online costumized magasin.
En navigation til biler lavet af IBM, der giver dig (og alle andre biler) den hurtigste vej fra a-b på det eksakte tidspunkt og navigerer dig udenom trafikpropper og andre "forhindringer".
Et produkt uden kunde. Når man betaler produkter med kontanter, vil en applikation (og en tilsvarende teknologi fra kunden) give dig muligheden for at sætte dine byttepenge ind på kontoer, der defineres af dig.
Der var blandede meninger mellem os alle efter showet. Alt fra "Det er jo lavet før", "Det findes allerede" til "Dem bag Amazon havde fat i noget" og "Navigationen var sgu egentlig meget smart".
Hvad, vi dog alle kunne blive enige om var, at vores to fyre fra Kreativ Kommunikation klart havde fortjent at få indløst en nominering til en gul tigerbamse.
Camilla Berlick
Laaang Lou Reed
"I used to see the world of advertising as my enemy camp, but now you are actually the only ones who are paying us for doing our job".
Lou Reed, Greys Annual Music Legends Seminar i Cannes, 20-06-2013.
Idag var jeg iblandt flere andre perfect day-seekers i Grand Audi, hvor scenen var sat til Mr Lou Reed. Det var meget bevægende at tage med Mr Reed fra fortid til nutid, fra ungdom til alderdom, fra analog til digital og lande i oplæsning af "The Raven".
The Raven
Once upon a midnight dreary

as I pondered, weak and weary

over many a quaint and curious

volume of forgotten lore

while I nodded, nearly napping

suddenly there came a tapping

as of some one gently rapping

rapping at my chamber door

"'Tis some visitor," I muttered

"tapping at my chamber door

only this and nothing more."
Muttering I got up weakly

always I've had trouble sleeping

stumbling upright my mind racing

furtive thoughts flowing once more

I, there hoping for some sunrise

happiness would be a surprise

loneliness no longer a prize

rapping at my chamber door

seeking out the clever bore

lost in dreams forever more

only this and nothing more
Hovering my pulse was racing

stale tobacco my lips tasting

scotch sitting upon my basin

remnants of the night before

came again

infernal tapping on the door

in my mind jabbing

is it in or outside rapping

calling out to me once more

the fit and fury of Lenore

nameless here forever more
And the silken sad uncertain
rustling of the purple curtain

thrilled me, filled me
with fantastic terrors never felt before so that now, oh wind, stood breathing hoping yet to calm my breathing "'Tis some visitor entreating entrance at my chamber door some lost visitor entreating entrance at my chamber door this it is, and nothing more."
Deep into the darkness peering
long I stood there

wondering fearing

doubting dreaming fantasies

no mortal dared to dream before

but the silence was unbroken

and the stillness gave no token

and the only word there spoken

was the whispered name, "Lenore."

this I thought

and out loud whispered from my lips

the foul name festered

echoing itself

merely this, and nothing more
Back into my chamber turning
every nerve within me burning

when once again I heard a tapping

somewhat louder than before

"surely," said I

surely that is something at my iron staircase open the door to see what threat is open the window, free the shutters let us this mystery explore oh, bursting heart be still this once and let this mystery explore it is the wind and nothing more 
Just one epithet I muttered as inside
I gagged and shuddered

when with manly flirt and flutter

in there flew a stately raven

sleek and ravenous as any foe

not the least obeisance made he

not a minutes gesture towards me

of recognition or politeness

but perched above my chamber door

this fowl and salivating visage

insinuating with its knowledge

perched above my chamber door

silent sat and staring

nothing more
Askance, askew
the self's sad fancy smiles at you I swear at this savage viscous countenance it wears Though you show here shorn and shaven and I admit myself forlorn and craven ghastly grim and ancient raven wandering from the opiate shores tell me what thy lordly name is that you are not nightmare sewage some dire powder drink or inhalation framed from flames of downtown lore quotes the raven, "nevermore."
And the raven sitting lonely
staring sickly at my male sex only

that one word

as if his soul in that one word

he did outpour, "pathetic."

nothing farther than he uttered

not a feather then he fluttered
till finally was I that muttered as I stared dully at the floor "other friends have flown and left me flown as each and every hope has flown before as you no doubt will fore the morrow."
but the bird said, "never, more."
Then I felt the air grow denser

perfumed from some unseen incense

as though accepting angelic intrusion

when in fact I felt collusion
before the guise of false memories respite respite through the haze of cocaine's glory I smoke and smoke the blue vial's glory to forget at once the base Lenore quoth the raven, "nevermore." 
"Prophet," said I, "thing of evil
prophet still, if bird or devil

by that heaven that bend above us

by that God we both ignore

tell this soul with sorrow laden

willful and destructive intent

how had lapsed a pure heart lady

to the greediest of needs

sweaty arrogant dickless liar

who ascribed to nothing higher

than a jab from prick to needle

straight to betrayal and disgrace

the conscience showing not a trace."

quoth the raven, "nevermore." 
"Be that word our sign of parting

bird or fiend," I yelled upstarting

"get thee back into the tempest

into the smoke filled bottle's shore

leave no black plume as a token

of the slime thy soul hath spoken

leave my loneliness unbroken

quit as those have quit before

take the talon from my heart

and see that I can care no more

whatever mattered came befor

I vanish with the dead Lenore."

quoth the raven, "nevermore."
But the raven, never flitting

still is sitting silent sitting

above a painting silent painting

of the forever silenced whore

and his eyes have all the seeming

of a demon's that is dreaming

and the lamplight over him
streaming throws his shadow to the floor I love she who hates me more I love she who hates me more and my soul shall not be lifted from that shadow nevermore.
Marlene Vagn Andersen
Carlsberg Brief:Case Session …
Efter flere dage i kreative omgangskredse med overflod af smoothies, øl, fest, farvede parasoller, intens sol, kind kys, musik, drinks, stående bifald, professionel smalltalking, rosé vin, høje hæle og dermed compeed plastre.. kan det være rart at få gang i ens kreative jeg, og få brainet lidt igen – men så også kun i præcis 30 min.
Igår formiddags deltog min kreative makker og jeg i Carlsberg Brief:Case Sessions.
Det er en kreativ idé konkurrence af Carlsberg som er i samarbejde med Patchwork (som producerer film), hvor det vindende team får et pas hver til Cannes Lions 2014.
Et team af tre meget venlige og muntre fyre fra konkurrencen som skulle dokumentere vores brainstorming, mødtes vi med i Dansker baren ved Le Goeland. Vi fik en "Brief Case" med tusher, papir, lim, modellervoks og andre dimsedutter vi kunne bruge til at præsentere vores idé.
Vi trak en opgave der lød som følgende: Make daily commuting more inspiring.
Og så gik uret igang.
Fyrene filmede vores brainstorming og eksekvering af idéen, og det var sgu lidt skægt at blive overvåget på den måde. Projektet handler også om at filme de deltagende teams i konkurrencen, så de kan få skruet en case sammen der viser hvordan forskellige kreative arbejder – og at Carlsberg selvfølgelig er helt nede med det vi laver!
Vi præsenterede idéen for kameraet.. og efter det skulle der naturligvis skåles i kolde Carlsberg øl.
Neela Wedage 
What Connects in Comedy 
Gårsdagens første talk for mit vedkommende var Anderson Coopers samtale med Conan O'Brien for TimeWarner. De talte om hvordan komikere kan favne et bredere publikum ved brug af sociale medier. Conan er en af de komikere der har gjort størst brug af sociale medier til at styrke sit brand. For bare få år siden var hans online presence nærmest ikke eksisterende i dag har han over 8 mio. followers på Twitter.
Han har også et meget aktivt YouTube site hvor især hans 'Clueless Gamer' anmeldelser af computerspil er super populære. Han er på ingen måde en dedikeret gamer men sætter sit kendte comedy twist på anmeldelserne der laves i samarbejde med Aaron Bleyaert. Til talken viste de en forkortet udgave af denne anmeldelse.
Mange elementer fra O'briefs show er gået viralt, dog lagde Conan stor vægt på at muligheden for at noget muligvis kan gå viralt aldrig må diktere indholdet – det kreative indhold skal altid have 1. prioritet. Vi så en forkortet udgave af følgende video som eksempel herpå.
Specielt interessant var det at se hvordan komiker og fans smeltede sammen i projektet Occupy Conan: Folkene bag Late Night lagde materialet til en 'best of' episode tilgængelig på nettet. De bad derefter fans af showet om at redigere de forskellige klip – samt tilføje egne animationer, optagelser eller andet for at personliggøre klippet. De forskellige bidrag blev derefter redigeret sammen for til sidst at blive broadcastet på ny. For at give os en smagsprøve få projektet viste de en forkortet udgave af dette klip.
Sune Overby
Mugne? Fokuserede!
I går startede vi dagen med et besøg i Le Goeland, hvor Carlsberg stod klar med en kreativ brief til os. De udfordrer hele ugen kreative med deres 'Carlsberg Brief: Case Sessions', hvor man får udleveret en kuffert med kreative værktøjer samt en specifik brief. Man har så 30 minutter til at komme op med en løsning, mens hele processen bliver dokumenteret af et kamerahold. Nedenunder kan man se os i gang med opgaven. Vi ser noget mugne ud, men er i virkeligheden bare meget fokuserede på at løse opgaven.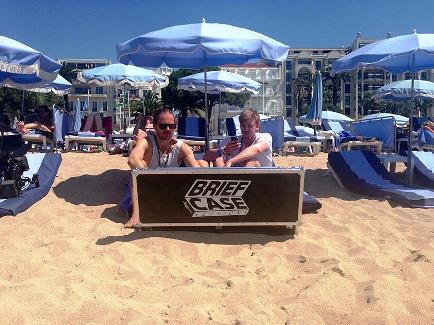 Carlsberg vil senere offenliggøre en video med vores præsentation, hvor I både kan se vores udfordring og løsning. 
Det var en smule grænseoverskridende at skulle være kreativ foran et filmende kamerahold, men  hele opgaven var et velkomment afbræk blandt en masse seminarier, hvor man normalt er den passive modtager. Carlsberg gav os chancen for at skærpe vores kreativitet og samtidig møde en masse inspirerende folk fra branchen. Forhåbentligt kommer der flere lignende kreative udfordringer som ugen skrider frem.
René Schultz & Casper Christensen
McD Master Class
McDonald's holdt i går formiddags Master Class i Young Lions zonen. Chief Marketing Officer, Joel Yashinsky og Managing Director, Andrew McCartney fortalte om deres "Our food. Your questions"-kampagne der har kørt i Canada siden juni 2012.
Kampagnen bundede i al den negative omtale, McDonald's har stået på mål for i de seneste årtier – specielt det seneste, hvor YouTube, Twitter og Facebook i dén grad er blevet et medie til at dele negative brandoplevelser – blandt andet med McDonald's.
"Our Food. Your questions" blev løsningen på problemet, der gav folk i Canada mulighed for at stille spørgsmål til McDonald's om deres mad. Websitet  var en succes, der lever videre, og som pt har 20.000+ spørgsmål fra både McDonald's 'haters', 'fenchsitters' og 'lovers'.
I tråd med kampagnen fik publikum i går mulighed for at stille spørgsmål til Joel og Andrew, der åbent og ærligt svarede på alt fra PR-relaterede spørgsmål til semi-fjendske kommentarer om deres såkaldte åbenhed i kampagnen.
Alt i alt en god snak – som dog desværre for de rosé-ramte ikke endte med freebees i form af greasy cheeseburgere…
Trine Qvistgaard
Rory Sutherland
Seminaret Digital Divas var ikke særlig udbytterigt, alligevel skriver jeg nu om det. Det gør jeg fordi en af de deltagende var Rory Sutherland, direktør for Ogilvy One i London, og han er værd at tjekke ud. Han har flere tedtalks liggende på youtube der er værd at bruge tid på. Han beskæftiger sig med menneskers adfærd generelt og hvordan reklame kan påvirke vores adfærdsmønstre. Han han også nogle interessante pointer omkring det han kalder choice architecture, og er i det hele taget en ret inspirerende og karismatisk person at høre på.
Janus Flagstad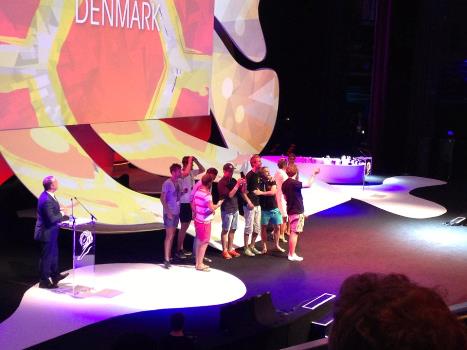 Guld til Danmark
Kreativ Kommunikation kunne for anden år i træk hente guldet hjem ved VM i reklame i strandbold. Brasilien, Argentina, Columbia og Portugal blev rundbarberet. Det var de første danskere på scenen, desværre ikke med en løve i hånden – men lad os håbe at det kommer! 
Oliver Lilholt 
The truth will set you free……?
Dagen i går startede med en forsinket rockstar med de mange navne, Sean Combs, P diddy eller Puff om du vil. En meget seriøs mand med mange ambitioner og announcements som han selv kaldte det – " I need you" og "the truth will set you free – and if anyone have a problem with that they can get the fuck out of here!" Var nogle af beskedene Puff gerne ville annoncere for publikum. Ham som startede sin karriere igennom MTV, afsluttede sit foredrag med at "Im hiring" – KK er klar!
Ellers så må man også nævne at Danmark vant fodboldkampen i går (igen!!) Seje drenge!
På forhånd beklager ordstilling, skrivefejl etc – Hilsen nordmand i Cannes
Nina Due Ørka Halvorsen
What is really Chicken McNuggets?
 McDonalds er en af de få virksomheder, der samtidig med en billion omsætning, er en af de mest forhadte fastfoodkæder.
McDonald's marketingchef Joel Yashinsky fortalte i dag om McDonald's "Our food-your questions" initiativ. En kommunikationstrategi der forsøger at skabe troværdighed for deres brand ved at tale med forbrugeren, i stedet for at tale til dem. 
Konceptet er at virksomheden imødekommer den skeptiske holdning til Mcdonalds gennem en åben online dialog hvor de besvarer alle spørgsmål vedrørende deres mad.