De godt 1000 deltagere, hvilket er overbooket, ved GroupM's to-dages konference, NextM i Københavns Nordhavn, blev mødt med en overraskelse; en hippie som hovedtaler.
Ikke en hippie i 1969-forstand, som stod og prædikede kærlighed og fred, men en moderne én – én, der om nogen kender big data, fordi han karakteriserer sig selv som the most connected human in the world – og én som viser en vej mod en højere forståelse og indsigt.
Vel at mærke indsigt i os selv, til glæde for os alle, frem for en indsigt, som tech-giganter som Apple og Facebook kan profitere af.
Chris Dancy beskrev med sine klare holdninger mildt sagt ikke marketing-lykken, og manden – til daglig Chief Digital Officer og Senior VP i Healthways, Inc. – var et usædvanligt valg for en flok tilhørere bestående af bureaufolk og annoncører.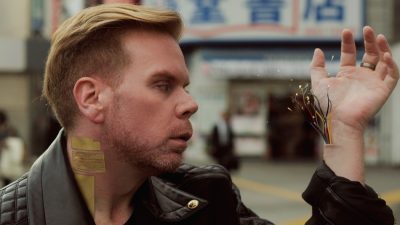 Talen hed "Hvad sker der, når internettet forsvinder?" Men det er i øvrigt ikke et spørgsmål om når, for internettet – for så vidt angår det browserbårne – forsvandt i 2010, påpeger Chris Dancy. 
Men selv om det er nogle år siden, er det ikke for sent at reagere – og der er grund til at stoppe op:
"Vi står over for den fjerde industrielle revolution, og som vi ved fra de tre foregående har de aldrig været specielt skånsomme over for mennesker," sagde Chris Dancy.
Umiddelbart virker det ellers skånsomt, for vi har det jo let. Facebook giver dig nu hele seks måder at vise dine følelser via en knap. Det er super-nemt, men ingen stopper op og spørger sig selv, om hvad der er vigtigt?
"Det første ord, et barn født i 2016 lærer at sige, er Hello Siri. Og når jeg siger 'Siri Play Madonna', så bliver det Apple Music. Ikke Spotify eller nogen anden musiktjeneste. Interface er lig med muligheder, og mindre interface er lig med færre muligheder. Og convenience er fraværet af egne valg," sagde Chris Dancy.
Eftertanke har trange kår
Han maner til eftertanke, og det har trange kår nuomstunder. Forrige år satte Harvard en flok studerende til at sidde i et kvarter alene med deres tanker. Uden net, uden gadgets, kun dem selv. Hvis denne situation blev for uudholdelig, kunne de trykke på en buzzer og give sig selv stød.
67 pct. af de mandlige studerende buzzede, 25 pct. af de kvindelige studerende buzzede. En af de studerende gav sig selv stød 190 gange i løbet af de 15 min.
"Vi vil hellere få stød end at sidde stille. Men det slår os altså ikke ihjel at sænke farten," sagde Chris Dancy.
Han er kendt for at bruge op mod 700 følere, apps, himstergimser og services for at holde styr på, analysere og optimere sit eget liv. Og han har taget ejerskab over sine egne data.
"Vi bliver målt til døde. Jeg får rabat hos forsikringsselskaber, hvis jeg har følere i min bil, i mit hjem og på min krop. Ja, det er USA, hvor vi lever og ånder for rabatkuponer. Vi er medlemmer af loyalitetsklubber, men de er i hvert fald ikke loyale over for dig.
Vi forærer gerne vores liv væk for rabatter, og de store koncerner sælger dig også. Når noget er gratis, så er du produktet. Når alt er gratis, så er du en platform. Og en platform kan der fyldes på – og udvikles," sagde Chris Dancy og tilføjede:
"Hvad er Facebooks eneste formål? At forbinde folk – nej, at tjene penge. Når Facebook og de andre tech-koncerner køber virksomheder, er det ikke teknologi, der er varen, men vores data, vores adfærd og tankegang."
Hippien holder med regeringen
Problemet er, at vi ikke tænker over det. Chris Dancy nævnte som eksempel, at det i 2008 blev vurderet for usikkert for Barack Obama at have en Blackberry. Men i 2015 har han en Fitbit. Og ingen stopper op.
"Præsidentens hjerterytme lagres på en server i Californien. Hvis jeg var terrorist, ville jeg da hacke mig ind her og slå til, når præsidenten har en dårlig dag," sagde Chris Dancy og tilføjede:
"Apple vil ikke åbne deres apparater for regeringen, men gerne for udviklere. Her holder jeg altså med regeringen, og ikke med dem, der vil sælge dit liv til andre."
Chris Dancy er ikke en dommedagsprofet. For der er store muligheder i big data.
"Lad NSA samle al datakraft i en time – bare én – i jagten på dét, der er godt. Kuren mod cancer, kampen mod analfabetisme, hustrumishandling. Tilstrækkelig meget data kan blive til information, tilstrækkelig meget information bliver til viden – og samler vi tilstrækkeligt meget viden bliver det til visdom," sagde Chris Dancy.
Og formålet med den samlede visdom ligger ligefor:
"Lad os skabe løsninger for os alle sammen. Noget, der er godt for alle, og som ikke udelukker nogen – heller ikke de fattigste af os – fra begyndelsen. En smartphone til 300 dollars er ikke en revolution i dét lys …"