Kunden har altid ret. Eller formuleret mere pragmatisk: Selv om kunden ikke har behandlet én efter fortjeneste, så har den gængse bureau-holdning været, at der sjældent kommer noget godt ud af at holde en skidt kunde ud til offentlig spot og spe.
Men det er åbenbart ikke alle, der deler holdningen.
Moderne teknik og kanaler gør det muligt for os alle at lufte vores utilfredshed – at evaluere produkter, tjenester og virksomheder, om man vil, hvilket vi i udtalt grad benytter os af.
Og den kultur smitter nu også af på bureau-siden:
Frank Jonen – et lille tysk webbureau, ejet af Frank selv – mener, at man er blevet snydt for det fulde honorar af en kunde. Derfor erstattede bureauet kundens site med et vredt brev, der forklarer kundens kunder årsagen til handlingen.
Kunden er Fitness SF, en mindre fitness-kæde på San Fransisco-egnen, og her lyder forklaringen til Adweek, at man har betalt bureauet, og at brev-sitet er et forsøg på afpresning.
Det blev i fredags fulgt op med en meddelelse om, at Frank Jonen i maj var hyret til at udvikle et nyt website til brandet – og han havde fået 5.000 dollar ved samme lejlighed.
Bureauet satte opgaven til 10 uger, men adskillige deadlines blev overskredet – inkl. en lancering i september – og i december overdrog han frivilligt det ufærdige og ikke-fungerende site til kædens nye bureau, hævder Fitness SF.
Artiklen i Adweek har trukket et stort læs af kommentarer, heriblandt flere fra Frank Jonen selv, der forklarer, at de mange overskredne deadlnes skyldes, at Fitness SF ikke leverede indhold til aftalt tid.
Flere kommentatorer mener, at bureauet – og manden bag – graver sin egen grav, for hvem vil hyre et bureau, der hænger sine kunder til tørre offentligt, hvis de ikke makker ret? Andre hylder bureauet for det udviste mod – om end det bliver fremhævet, at fremgangsmåden er risikabel.
Forneden ses Frank Jonens brev, den fulde tekst i Frank Jonens brev – samt Fitness SF's svar.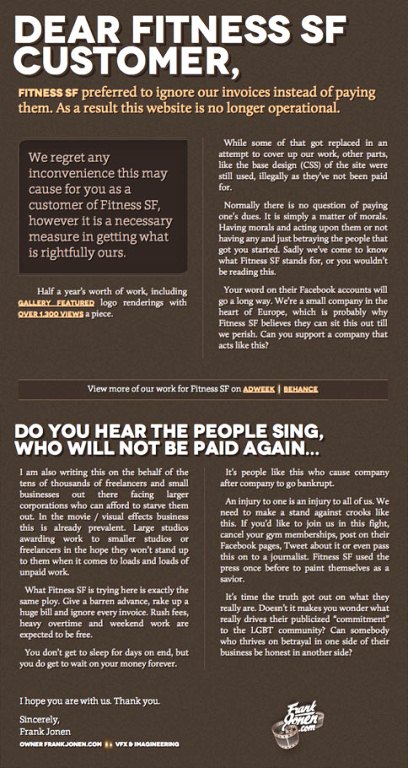 * * * * * 
Dear Fitness SF customer,
Fitness SF preferred to ignore our invoices instead of paying them. As a result this website is no longer operational.
We regret any inconvenience this may cause for you as a customer of Fitness SF, however it is a necessary measure in getting what is rightfully ours.
Half a year's worth of work, including gallery featured logo renderings with over 1,300 views a piece.
While some of that got replaced in an attempt to cover up our work, other parts, like the base design (CSS) of the site were still used, illegally as they've not been paid for.
Normally there is no question of paying one's dues. It is simply a matter of morals. Having morals and acting upon them or not having any and just betraying the people that got you started. Sadly we've come to know what Fitness SF stands for, or you wouldn't be reading this.
Your word on their Facebook accounts will go a long way. We're a small company in the heart of Europe, which is probably why Fitness SF believes they can sit this out till we perish. Can you support a company that acts like this?
Do you hear the people sing, who will not be paid again…
I am also writing this on the behalf of the tens of thousands of freelancers and small businesses out there facing larger corporations who can afford to starve them out. In the movie / visual effects business this is already prevalent. Large studios awarding work to smaller studios or freelancers in the hope they won't stand up to them when it comes to loads and loads of unpaid work.
What Fitness SF is trying here is exactly the same ploy. Give a barren advance, rake up a huge bill and ignore every invoice. Rush fees, heavy overtime and weekend work are expected to be free.
You don't get to sleep for days on end, but you do get to wait on your money forever.
It's people like this who cause company after company to go bankrupt.
An injury to one is an injury to all of us. We need to make a stand against crooks like this. If you'd like to join us in this fight, cancel your gym memberships, post on their Facebook pages, Tweet about it or even pass this on to a journalist. Fitness SF used the press once before to paint themselves as a savior.
It's time the truth got out on what they really are. Doesn't it makes you wonder what really drives their publicized "commitment" to the LGBT community? Can somebody who thrives on betrayal in one side of their business be honest in another side?
I hope you are with us. Thank you.
Sincerely,
Frank Jonen
owner frankjonen.com • vfx & imagineering
 * * * * * 
"On Wednesday evening, our domain name Fitness SF was hacked and stolen by an individual named Frank Jonen. Frank was hired on May 16th, 2012 to develop a functional website for our brand. A $5,000 payment was made to him on the same date. In his proposal, he stated that the website would take 10 weeks to complete. He missed numerous deadlines including our brand launch in September. In December, he voluntarily passed the incomplete and non functioning website to our new design firm.
Now, Frank is attempting to portray himself as the victim when truly the victim is Fitness SF as he attempts to get paid for work he did not complete and has decided that blackmail is the way to accomplish that."