We Love People hedder bureauet, der ikke nøjes med at elske mennesker, men også holder af knopskydning. Det er historisk blevet til et filmselskab, til en talentskole, og nu til det nye crowd-bureau CosmicPeople – og med stiftelsen af sidstnævnte følger nu også et nyt makkerpar i front for We Love People.
Pernille Simmelkiær og Peter Stenbæk tegner ikke længere WLP, men CosmicPeople, og det har givet plads til Karina Holm Henriksen som ny adm. direktør, og Christina Blak som kreativ direktør.
De to er nu også medejere af bureauet – sammen med PeopleGroup og førnævnte Simmelkiær og Stenbæk.
De er nye som direktør-par, men de er ikke nye i We Love People-sammenhæng: 19 år for Christina Blaks vedkommende og 16 år for Karina Holm Henriksen.
"Det er ikke os, der fandt på We Love People – så meget desto mere stolte og glade er vi for at få lov til at videreføre det. Vi er bevidste om vi'et i bureaunavnet, om opturen i love, og at det er mennesker, der driver os," siger Karina Holm Henriksen.
Tilbage fra Buhl UnLtd
Begge har været på bureauet, da det hed buhl UnLtd og havde Dorthe Zangenberg, Claus Buhl og Claus Lembourn i front.
"Det har forberedt os. Tankegangen er præget af et mangeårigt arbejde med Tryg og Tryg i Danmark, senere TrygFonden, der har repræsenteret en ultramoderne tankegang: Doing better by doing good," siger Christina Blak.
Og det er fortsat formålet med We Love People: At finde formålet. Officielt er betegnelsen et reklamebureau, fordi det er nemt at forholde sig til.
"Vi arbejder med at skabe positiv forandring for virksomheder og organisationer. Vi har holdt fast i at være purposedriven – både når det gælder forretningsudvikling og marketing. Og nu kan vi konstatere, at tiden så at sige har indhentet os," siger Karina Holm Henriksen.
Er det så tiden eller jer, der forfølger formålet?
"Begge dele. Tidsånden og dét, vi altid har stået for. Vi har de seneste fem år fulgt BSR-konferencen, Business for Social Responsibility, som virkelig har tændt vores ild. Og netop purpose åbner flere døre ind til virksomheder – langt fra kun marketing, men også corporate finance, HR, kommunikation," siger Christina Blak.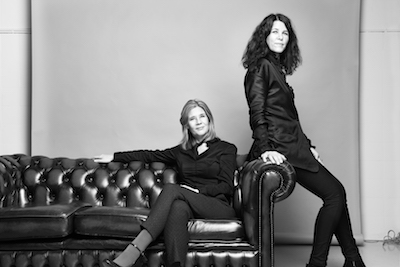 We Love Peoples nye ledelse; Christina Blak (tv) og Karina Holm Henriksen. Foto: Anna-Lene Riber.
Begge nye partnere i WLP har økonomi i ascendanten; Karina Holm Henriksen har bachelor i marketing fra London og er cand.merc. i afsætningsøkonomi, og har gået planner-vejen på Reklameskolen.
Christina Blak er cand.negot – altså civiløkonom – og er tekstforfatter fra Reklameskolen. Dertil kommer en uddannelse i Open Business Leadership & Next Practice fra Leadership Academy.
Dette giver sig udtryk på flere plan:
"Vi har topdirektører som Peder Tuborgh hos Arla og Dennis Balslev fra IKEA i tale, fordi vi bla. beskæftiger os med årsrapporter – både strategisk og kreativt," siger Karina Holm Henriksen, og Christina Blak tilføjer:
"Corporate finance kan lyde støvet, men vores credo er From Report to Reporting. Rapportering bør ikke være en årlig begivenhed, men en løbende dialog med virksomhedens stakeholders."
Kreativiteten kan forandre verden
Og hvad så med kreativiteten?
"Vi kan forandre verden via kreativitet. Den er løftestangen, men afsættet er faglighed og forretningsforståelse," siger Christina Blak.
Vil ethvert bureau ikke hævde det?
"Jo, men for nogle er ideen – den blændende idé – det fornemmeste og dét, der kommer først. Vi har aldrig forladt planner-tankegangen, og vores løsninger er indsigtsbaserede," siger Christina Blak.
Hun suppleres af Karina Holm Henriksen:
"Vi arbejder i store teams, hvor kreativiteten flyder – og på den måde er kreativitet hos os ikke forbeholdt kreative teams."
28 personer arbejder nu på We Love People – for både kommercielle og ikke-kommercielle kunder.
"Vi fokuserede stærkt på purpose-positionen i 2015, som samtidig blev et fint år økonomisk. Vi har arbejdet sammen omkring, hvordan We Love People og CosmicPeople står sammen og hver for sig – og resultatet er positivt. Vi ser kunder hos CosmicPeople, der kan bruge vores indsigtsanalyse, ligesom der er kunder hos os, der kan have gavn af crowdsourcing," siger Karina Holm Henriksen og tilføjer:
"Vi har ambitioner om at blive flere medarbejdere. Vi har en udviklingstrang og ser store muligheder."
Samarbejde med Orchestra
Disse muligheder ligger på formåls-siden og via samarbejder – ikke kun med søsteren CosmicPeople, men også andetsteds i huset:
"Vi nyder godt af vores tætte samarbejde med Orchestra. Kunderne efterspørger samarbejde mellem mediabureau og reklamebureau, og Orchestra kan på både vores kommercielle og vores ikke-kommercielle kunder hjælpe med at dokumentere ROI og herunder gøre det utællelige tælleligt og sikre, at det bløde ikke bliver for blødt," siger Christina Blak og tilføjer:
"Purpose-tankegangen breder sig. Også i Danmark myldrer eksemplerne frem, hvilket bl.a. fremgår af Børsen, men impacten har indtil videre været mindre. Der er – som Information skriver – tale om en stille revolution."
Samarbejdet med Orchestra har i øvrigt også haft en anden effekt: En shortliste ved Advertising Effectiveness Award for netop en ikke-kommerciel kunde; TrygFonden om en folkebevægelse, der skal lære danskerne at redde liv. Filmen blev i øvrigt rangeret som Danmarks bedst performende TVC i TV2´s Kreative Vidensbank i 2015.