I sidste måned skrev Bureaubiz om Peter Stenbæk, der har lanceret NFT-universet Vulnerable Robots Prototypes. Og hos The Gallery er der fuld gang i selvsamme digitale kunst. NFT-projektet Astrobear var i foråret ude med to præ-kollektioner, hvor i alt 200 NFT'er blev udsolgt på under fem dage. Nu er hovedkollektionen ude; 1969 unikke rumbamser.
I spidsen for projektet og for The Gallery står Rasmus Benjamin, der tidligere har været elev og designer hos Superego. Bureauet ejer i dag 30 pct. af galleriet, og Astrobear-teamet har kontor hos selvsamme Superego.
Anders Juel, der er direktør for Superego, sætter disse ord på, hvor et bureau er en del af et galleri og en NFT-kollektion.
"NFT er en spændende måde at lave kunst på, og denne kunstform blander teknik i form af kode med både blockchain, branding, strategi, storytelling og marketing. I dét lys er det faktisk ret oplagt for os som bureau at være en del af projektet."
Apropos storytelling: Hovedkollektionen med de 1969 Astrobears blev lanceret den 20. juli. Datoen er identisk med den første menneskefod på månen. Det skete i 1969 – heraf antallet.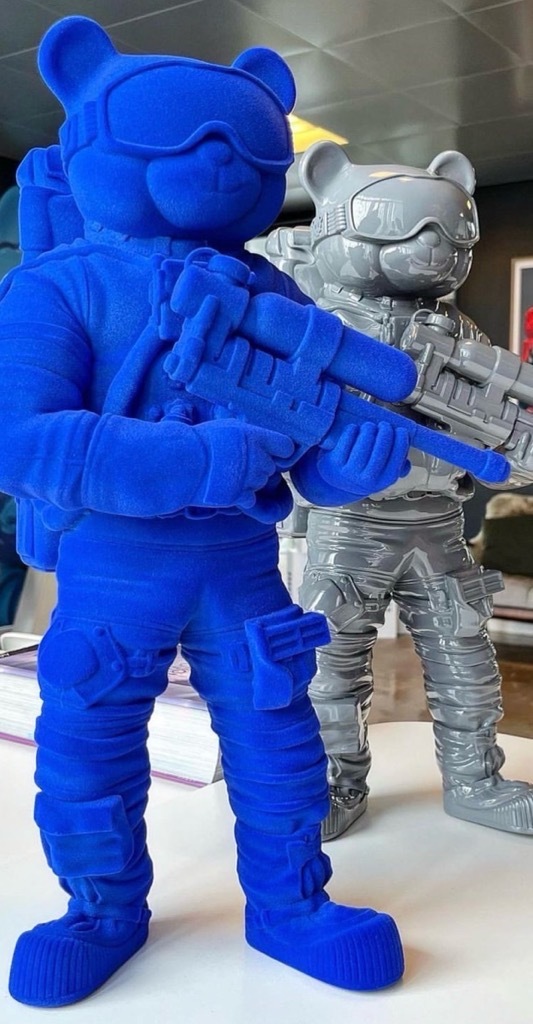 Hver køber af en NFT får også en 50 cm høj fysisk skulptur af Astrobear og en plakat af netop køberens NFT printet.
"Astrobears er prissat i den højere ende. Og det kan kun lade sig gøre, fordi Rasmus Benjamin tålmodigt har opbygget sit renommé som kunster. The Gallery har over 170.000 følgere på Facebook, og Creativesoul har næsten 90.000 følgere på Instagram. Det har taget fem år, men det betyder også, at flere prominente, internationale navne er holders af prækollektionen, Genesis – bl.a. den tidligere Chelsea-spiller Lucas Piazon," siger Anders Juel.
Han peger på, at også store brands arbejder med NFT'er, men han tøver med rulle salgstalen ud:
"Astrobear er en god måde for os at indsamle erfaringer på et nyt område og at tage vores medicin, hvad angår markedsføringen. Vi bliver bedre rådgivere for vores kunder på dette felt, men der går nok noget tid, inden vi vil anbefale kunderne at investere stort i NFT'er," siger Anders Juel.
Astrobear har sit eget site og er på bade discord, instagram og twitter.