Reklamelinjen gør reklame for sig selv med et Grand Prix-vindende islæt; Christine Smith. Hun vandt som senior art director på Virtue den ypperste anerkendelse i Cannes Lions forrige måned med Backup Ukraine for Polycam og Unesco.
Reklamefilmen for Reklamelinjen er ikke skabt af Christine Smith, men har hende som fortaler for uddannelsen.
"Jeg gik selv på Reklamelinjen, dengang uddannelsen hed Kreativ Basis, og her betaler jeg lidt tilbage ved at pege på, at der er ikke kun er én vej ind til branchen – og at alle veje fører til Cannes," siger Christine Smith om sin medvirken i filmen og uddyber:
"Der er også er en diversitets-vinkel i det. Det er ikke kun mænd i suits, der står på scenen. Jeg vil gerne inspirere kvinder ved at vise, at vi også kan vinde Grand Prix'er – og i øvrigt klæde os, som vi vil."
Hendes påklædning på scenen ved netop Cannes Lions vakte i øvrigt opsigt og høstede anerkendelse, som Bureaubiz beskrev.
Løvevindere bliver gæstelæsere
Christine Smith var gæstelærer på uddannelsens seneste hold og vender retur til næste hold – med et særligt budskab:
"Det handler ikke kun om kreativiteten i sig selv, men også om hvordan man som ung kreativ profilerer sig selv. Der er mange om buddet, og people buy people. Så der kan være en idé i at skabe dit eget brand," siger Christine Smith.
På Reklamelinjen er fagansvarlig Per Holm Henriksen taknemmelig for Christine Smiths medvirken i reklamen:
"Danmark har de seneste 20 år i Cannes Lions haft to Grand Prix-vindere, og i begge tilfælde har der været en tidligere studerende fra Reklamelinjen med på teamet. Reklamelinjen har ingen del i den store ære, men vi er glade, hvis nogen opfatter os børnehaven eller indskolingen til dansk reklame," siger Per Holm Henriksen.
Christine Smith er ikke den eneste Cannes-vinder blandt gæstelærerne på Reklamelinjens kommende hold. Uddannelsen har sikret sig en gæstelærer fra hver eneste af dette ås danske løvevindende cases. De studerende står til at stifte bekendtskab med ca. 50 gæstelærere i alt.
Fif til at hæve bureauets kreative niveau
Også Per Holm Henriksen har et særligt budskab – ikke til studerende, men til bureauledere:
"Hvis I vil højne kreativiteten på jeres bureau, så uddan jeres projektledere. De bureauer, der kreativt klarer sig bedst, er dem, hvor projektlederne har en kreativ forståelse," siger Per Holm Henriksen og tilføjer:
"Vi har set, at projektledere på Reklamelinjen også giver de kreative en forståelse og respekt for netop projektledelse, og det er næsten lige så vigtigt."
Ved næste hold på Reklamelinjen, der begynder 1. september, får Per Holm Henriksen selskab af to nye fagansvarlige: Neela Menik, til daglig kreativ direktør på Sylvester Hvid & Co, og Stefan Folio, der er global senior creative inhouse hos B&O.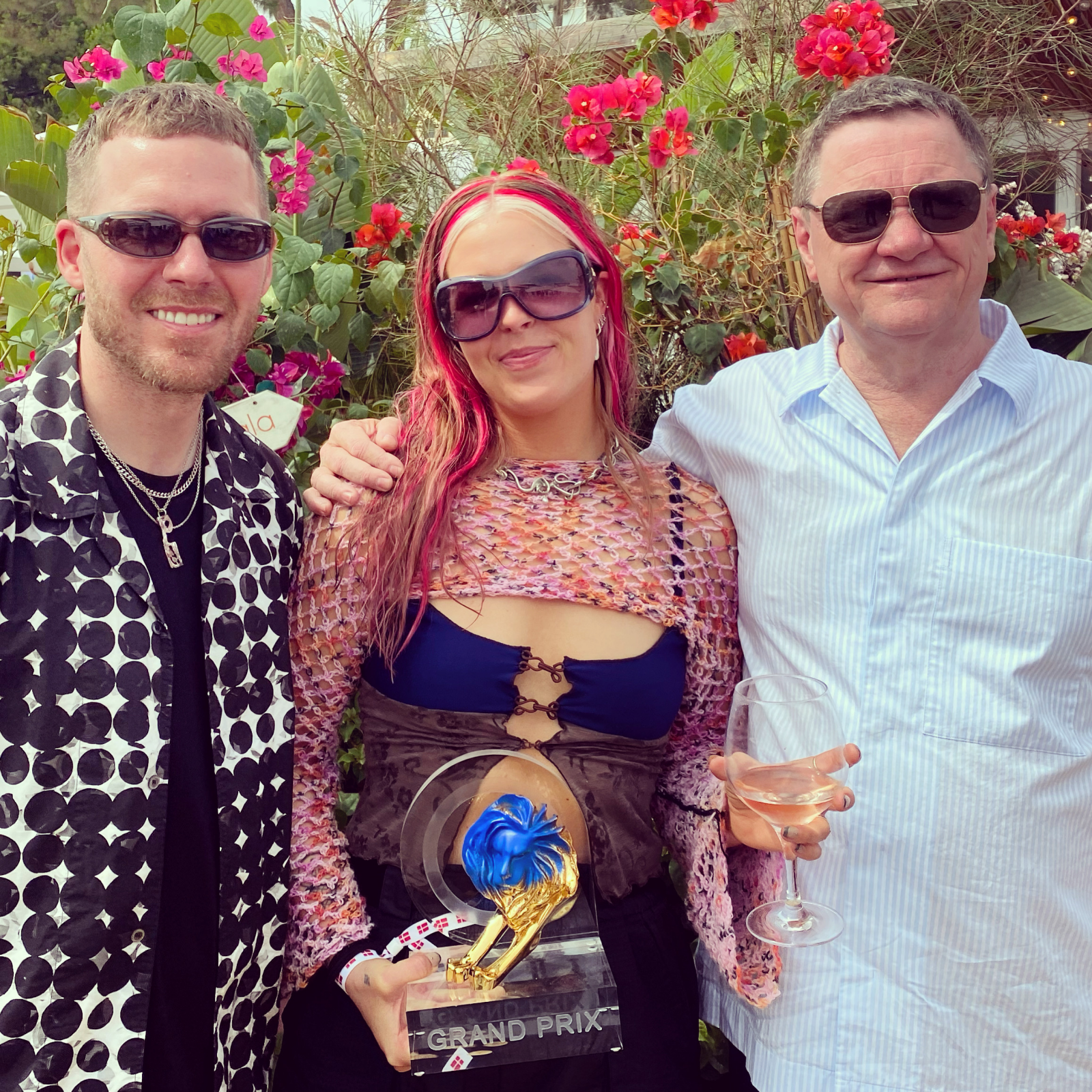 Christine Smith med Grand Prix'en i Cannes – flankeret af Morten Grubak (tv), global executive director hos Virtue, og Per Holm Henriksen, fagansvarlig på Reklamelinjen.