Der er kommet godt gang i debatten om bureauers ansvar i forhold til reklamers indvirken på klima og miljø. Senest ved Cannes Lions, hvor Greenpeace aktionerer hver dag overfor bureaubranchen.
Også på Folkemødet i sidste uge var der en del debatter om greenwashing og bureauansvar. En af dem, der deltog i flere af dem, var den engelske bureauleder og rådgiver for FN, Solitaire Townsend- som i øvrigt også deltager i denne uges Cannes Lions – og hvis TED-talk, 'Are ad-agencies, PR-firmsand lobbyists destroying the climate?' har fået godt 1,3 mio. visninger.
Bureaubiz fik lejlighed til at få et interview med Solitaire Townsend, og hun indleder med at sige, at hun er glad for, at bureauernes ansvar nu også, er kommet på dagsorden i Danmark, hvor hun synes, vi har været lidt bagud i forhold til England.
"I England har vi i længere tid haft debatten, men man er dog endnu ikke rigtigt begyndt at handle på det. Jeg håber, og finder det faktisk også nødvendigt, at I danskere kommer til at køre en kortere proces fra snak til handling, for det er nødvendigt."
Bureauledere i Danmark har tilkendegivet – senest på Folkemødet – at de hellere vil samarbejde med virksomheder for at gøre dem mere miljøvenlige, hvis de ikke er det, end at sige nej til at arbejde for dem. Hvad tænker du om det?
"Det er absurd," siger Solitaire Townsend, og fortsætter:
"Vores job som reklamebureaufolk er storytelling. Vi er ikke eksperter i klimaændringer. Så den rådgivning skal virksomhederne have fra andre konsulenter. Men det er en undskyldning, jeg har hørt før, som branchen kommer med for at beskytte sine indtægter."
Hun tilføjer, at de samme undskyldninger blev brugt i forhold til reklamer for tobak og reklamer for børn.
Solitaire Townsend er derfor også af den overbevisning, at der skal komme både et pres fra forbrugerne og lovgivning fra politikerne, fordi branchen ifølge hende gør alt for at beholde kunder og omsætning.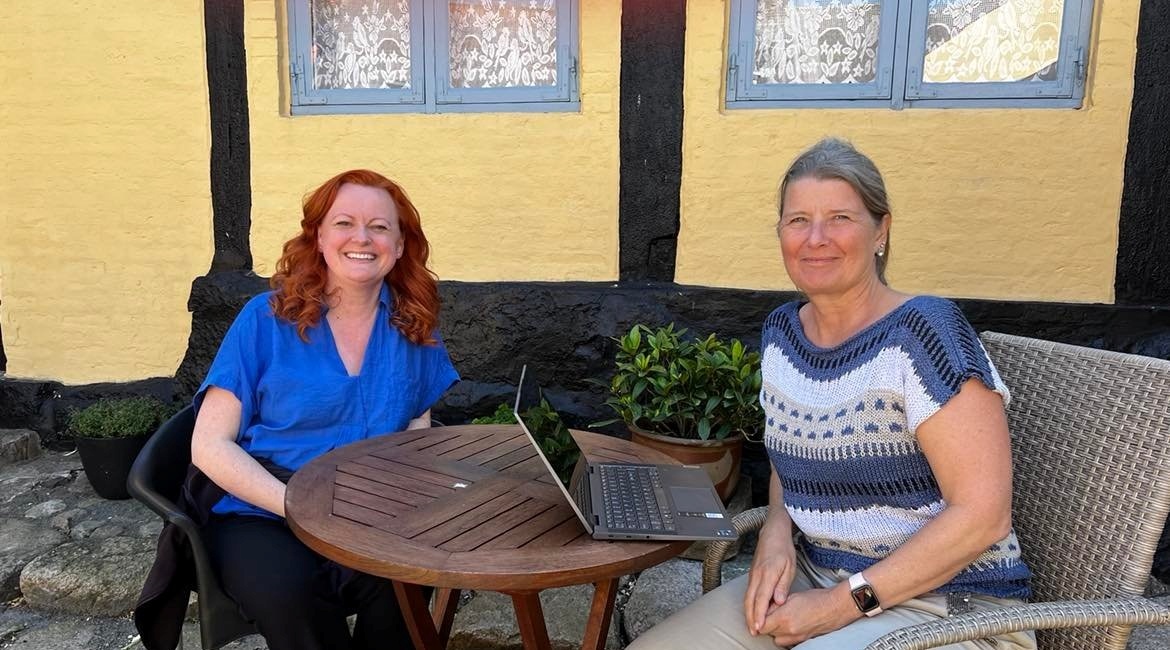 Solitaire Townsend (til venstre) interviewes på Folkemødet af Pia Osbæck (til højre)
En sikker vej til at miste talenter
Hun kommer med endnu en grund til, at hun anser det for – som hun siger – direkte farligt at bruge det som undskyldning, at man hellere vil samarbejde med kunderne for at rykke dem:
"Det, der holder alle bureauledere vågne om natten, er jagten på talenter. Det er sådan i dag, at de fleste unge kreative ikke vil arbejde i reklamebranchen. Hvis bureauledere så ovenikøbet siger, at man vil hjælpe med den bæredygtige fremtid, så ved de unge, at det ikke er rigtigt, og at bureauet blot leverer det, kunden vil have. Det er en sikker vej til at miste talentfulde unge."
I finansindustrien har man påtaget sig et ansvar i forhold til hvem, man vil samarbejde med, siger Solitaire Townsend, og hun mener, at det er på tide, at hele kommunikationsindustrien gør det samme.
"Ifølge Parisaftalen, har de 196 FN-medlemslande forpligtet sig til lavere udledning af drivhusgasser, dvs., at vi ikke skal fortsætte med at bruge olie og gas. Inden for det næste årti har vi formodentlig også et forbud mod benzinbiler. Hvorfor skal man stadig have lov at reklamere for olieindustrien og benzinbiler, når produkterne vil blive forbudt?"
"Men så længe produkterne er lovlige, giver det vel god mening, at man også må reklamere for dem?"
"Nej, det synes jeg ikke. Det er det samme med cigaretter samt junkfood til børn. Det er produkter, vi må sælge og ikke må markedsføre. Årsagen er, at som forbruger har jeg selv retten til at beslutte, om jeg vil ryge, men virksomheder har ikke samme frihed som forbrugerne har."
Bureauer skal offentliggøre, hvem de arbejder med og hvor meget co2, deres markedsføring koster
Solitaire Townsend er overbevist om, at der er en voksende konsensus om, at det er i orden at forbyde at reklamere for produkter, selvom man kan købe dem. Og at der er en særlig grund til det:
"Reklamefolk er så gode til det, de gør. De bruger psykologi, neurovidenskab og sociale signaler, som er meget effektive til at overtale forbrugerne. Reklamebranchen er en meget magtfuld, farlig og succesrig industri.
"Hvad vil du anbefale reklamebureaufolk at gøre?"
"Der er især to ting, der er vigtige: De skal være ærlige omkring, hvem der er deres kunder. Det behøver ikke være med navns nævnelse, men de skal offentliggøre, hvilke brancher, de samarbejder med," siger Solitaire Townsend, og tilføjer, at det gør fx finansbranchen og advokatbranchen allerede.
Desuden skal bureauer offentliggøre, hvor meget ekstra co2, som de produkter, de markedsfører, udleder.
"Men er bureauerne i stand til det?"
"Vi fortæller jo også kunderne, hvor meget salg, vores kommunikation har genereret, og man ved – kunderne gør i hvertfald – hvor meget co2, enkelte produkter udleder, så det er meget nemt at måle."
Solitaire Townsend føler sig sikker på, at det ikke varer længe, inden begge de to faktorer, vil blive pålagt branchen ved lov.
En sidste opsang
Den sidste opsang til kommunikationsbranchen fra Solitaire Townsend lyder således:
"Vi er midt i et opgør mellem salg og sjæl i kommunikationsbranchen. Vi kan fortsætte med at foregive, at vi er neutrale, og at vi kan arbejde for alle. Eller vi kan vælge at blive en del af løsningen og ændre på forbrugernes adfærd. Vi kan ikke gøre begge dele," siger hun og fortsætter:
I alt for lang tid har vi foregivet, at vi kan gøre begge del, og bureauer har arbejdet med kunder som Greenpeace samtidig med, at de har haft flyselskaber som kunder. Det skal slutte nu."
Solitaire Townsends titel er chief solutionist, hun er medstifter af bureauet Futerra, som arbejder med kreativitet og strategi for bæredygtighed samt rådgiver hos FN.