Der kom artige overraskelser og plausible forudsigelser på skærmen, da bestyrelsesformanden i Spring Family, Albert Funder, leverede sin tale ved Bureaulederseminaret hos Creative Club på Holckenhavn Slot ved Nyborg.
"Tendenser for fremtiden set fra en bureaudirektørstol" var overskriften, og lad os med det samme kigge på to hovedkonklusioner:
De store bureauer bliver større, og de har lettere ved at tjene penge. Det er læren fra mange års BureauTrends, der samler bureaubranchens regnskaber.
Men … selv om bureauerne er blevet ca. 32 mia. kr. mere værd de seneste 10 år, så har de allerstørste bureauer ikke formået at øge deres markedsandel. De ti største bureauer herhjemme havde i 2012 en markedsandel på godt 30 pct. Og den har ligget på dette niveau alle årene siden, og i 2022 var den på 29 pct.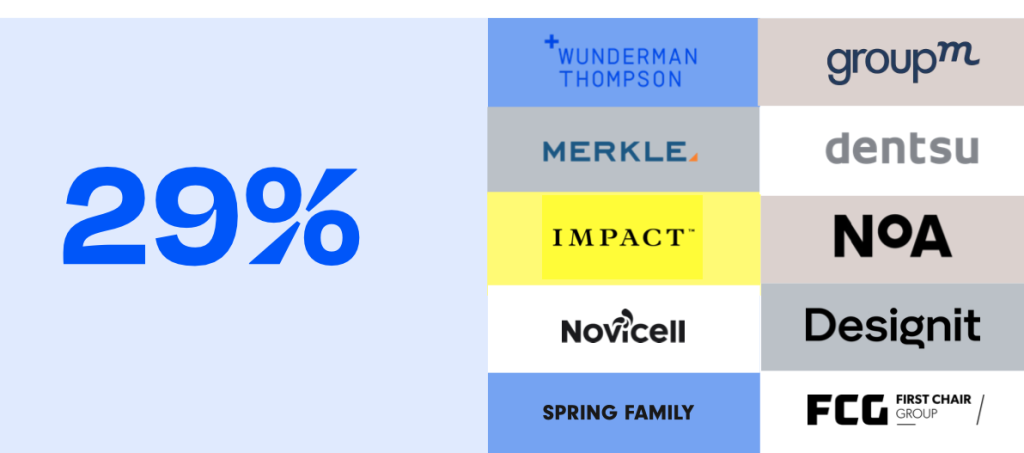 De seneste 10 år er 70 pct. af værditilvæksten i bureaubranchen kommet fra ny teknologi, men ikke udelukkende fra de eksisterende bureauer. Albert Funder forudser, at mindst 70 pct. af den fremtidige værditilvækst vil blive drevet af ny teknologi. Og denne store kage vil ikke nødvendigvis blive fordelt blandt de eksisterende bureauer.
Med hver ny udvikling følger nye bureautyper
Bureauer har alle dage haft en oprigtig begejstring ved nye tiltag – en fordel ved at være født nysgerrig – men der er i vid udstrækning også iblandet en vis frygt for at blive hægtet af udviklingen.
"Som branche har bureauerne formået at følge med udviklingen og leveret nye ydelser i forlængelse heraf," sagde Albert Funder og tilføjede:
"Med pc'ere fulgte fullservice-bureauer, produktionsselskaberne blomstrede med tvc'erne, webbureauer fulgte med internet, dialogbureauer voksede med e-mails, med nethandlen kom e-commerce bureauer, performancebureauer er vokset ud af SEO & SoMe … og med AI vil en ny bureautype følge."

På 10 år er bureauerne blevet 32 mia. kr. mere værd
Det er er netop den teknologiske udvikling og ikke bureauets størrelse, der er værd at kigge på fremover:
"De store bureauer har, dokumenteret, været de bedste til at vokse, men vi ser ikke en øget koncentration – i modsætning til konsulent-branchen. Her sidder The Big Four på næsten 75 pct. af markedet," sagde Albert Funder.
I stedet peger han på, at hele markedet er vokset:
"Hvis man skulle købe alle bureauer i Danmark i 2012, så ville det i 2022-kroner koste 29,4 mia. kr. I 2022 var hele bunken 61,4 mia. kr. værd. Altså er værdien af branchen øget med ca. 32 mia. kr. på 10 år," sagde Albert Funder og uddybede:
"Reklamebureauerne er blevet 2,9 mia. kr. mere værd, det samme er mediabureauerne. Digitalbureauerne er blevet 22 mia. kr. mere værd. De står for næsten 70 pct. af værdi-tilvæksten."
Bureauer kan tjene på dyb AI-viden
Temaet på årets Bureaulederseminar, der samlede et halvt hundrede deltagere, var AI, og Albert Funder satte disse ord på AI-effekten på bureaubranchen:
"Jeg vil tro, at produktionsforbedringerne fra AI vil komme kunderne til gode. Denne profit forbliver ikke i bureauerne. Til gengæld stiger behovet for endnu større AI-enheder, og det kan bureauerne tjene på."
Han vurderer, at på bureauer, der konkurrerer på 'effektivitet', vil der ske en yderligere konsolidering, da disse vil blive presset yderligere på indtjeningen af AI-teknologien, mens der er bedre muligheder på de bureauer, der sælger 'ekspertise':
"Flere standardværktøjer vil sænke barriererne over for AI og øge insourcingen, men hvis bureauerne kan opbygge en dyb AI-viden, så kan de tjene på den øgede kompleksitet og integrationen mellem værktøjer. Derudover kan AI gøre det hurtigere og lettere at sælge de gode ideer, og i øvrigt være bedre til at vægte kort- og langsigtede effekter af indsatsen," sagde Albert Funder.
AI og anden ny teknologi ændrer ikke ved bureauernes basale opgave – det forstærker den kun:
"Vi hjælper med at skabe bedre resultater for vores kunder gennem markedsføring, og jo større synliggørelse af marketing-effekter, des højere margin kan bureauerne få," sagde Albert Funder.
BureauTrends er en årlig rapport, der rummer en nøgletalsanalyse, en liste over årets mest prisvindende bureauer, den årlige CMO trendanalyse samt Året der gik.
Nøgletalsanalysen bygger på 407 bureauer, og rapporten rummer konkrete nøgletal på hovedparten.
BureauTrends udkommer til september og koster kr. 4.950,- ex. moms for det første eksemplar og kr. 500,- ex. moms/styk, for de efterfølgende eksemplarer.
BureauTrends kan bestilles allerede nu. Bestil den her