Det er som om, vi lever en parallelvirkelighed. I den ene verden skriger organisationer og virksomheder på, at politikerne skal ændre vilkårene, så virksomhederne kan komme i gang med at digitalisere, for vi sakker bagud.
Man skæver nervøst til Silicon Valley, og afventer de muligheder, som udlandet tilbyder os. Hvis man overhovedet har blik for, hvad der foregår uden for Danmarks grænser.
I den anden verden går det forrygende. Danskerne er iværksættere som aldrig før, vi er foregangsland på en række digitale områder, herunder offentlig digitalisering og robotteknologi, og vi har en af verdens mest digitale parate befolkninger.
Her har man blik for, at ungt talent og konstant forandring er en forudsætning for at følge med udviklingen. Man holder øje med digitale teknologier og det potentiale, som det kan give virksomheden på kort og lang sigt.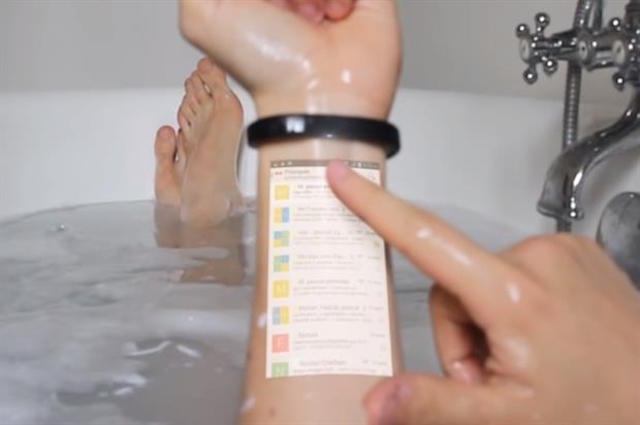 Teknologi uden frygt. Udviklingen er den del af driften. 
I denne verden rækker man ud til andre – startups, offentlige, universiteter, udlandet – og har samtidig indset, at vi i Danmark har en unik position, når det kommer til at være på forkant med den digitale udvikling.
Demokratiser disruption
Spørgsmålet er, hvilken verden, du ønsker at placere dig i?
Den, hvor man afventer, at nogle andre tager affære, og hvor man overlader det til politikerne at sikre virksomhedens fremtid, eller den, hvor man har opdaget, at vi ikke i vores levetid får flere muligheder for at skabe en spændende forretning og arbejdsplads, end vi har lige nu?
Det er naturligvis et karikeret billede, at man skal vælge mellem de to verdener. Men der er brug for at afmystificere digitalisering, ny teknologi og disruption.
Det er ikke forbeholdt de få, det vedrører os alle. Der er brug for, at disruption bliver demokratiseret.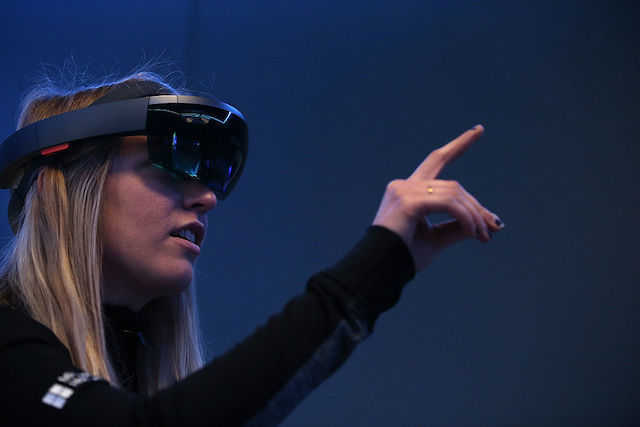 Microsoft lancerede deres HoloLens augmented reality (AR) viewer i 2016  til Microsoft Build Developer Conference i San Francisco, California. Microsoft er med til at definere og udvikle den digitale fremtid, hvor blandt andet teknologi som augmented reality kommer til at spille en større og større rolle. Kilde: Gettyimages.
Hvis man grundlæggende set synes, udviklingen går for stærkt, og man ikke kan se mulighederne i en digital, global og always-on verden, så er chancerne for, at man griber dem, minimale.
Til gengæld er risikoen for, at nogle andre gør det, enorm. Med andre ord: Hvis I ikke ser den fagre nye verden som en gave til jeres virksomhed, så er det nok ikke jer, der skal skabe fremtiden – og ikke jeres virksomhed, som overlever.
Langt fra alle store eller etablerede virksomheder vil klare omstillingen.
Sådan har det altid været. Men det er samtidig helt på sin plads at forholde sig kritisk til den bølge af dommedagsprofetier og utopier, som ny teknologi er omgærdet med.
Vi skal ikke forfalde til sentimentalitet, i stedet skal vi fokusere på at skabe nye virksomheder, arbejdspladser og meningsfulde produkter samt services.
Distopien – og virkeligheden
Administrerende direktør i Netcompany, André Rogaczewski, siger til Politiken:
"Der findes et helt korps af 35-årige mænd fra Silicon Valley, der i øjeblikket rejser rundt med den samme fortælling om, at verden vil ændre sig så fundamentalt i løbet af de næste 10-15 år, at alle værdikæder, organisationer og samfundsformer, som vi kender dem, vil være fortid. At vi enten ender i et nirvana, hvor det er computerne, der skaber værdierne, og hvor vi andre slapper af til borgerløn – eller i et ragnarok, hvor vi ikke kan styre udviklingen, hvor værdikæderne bliver brudt for hurtigt, hvor der kommer oprør og uro, og civilisationen falder sammen."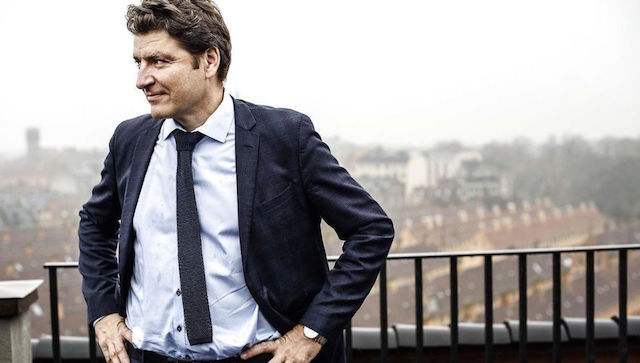 André Rogaczewski, Netcompany. 
Han er ligesom mange andre trætte af denne historie, da den ikke matcher den virkelighed, som han og hans 1000 medarbejdere arbejder i.
Hvis man skal forstå den udvikling, som vi står midt i, ser jeg den tilgængelige teknologi, som det, der er synligt på et meget stort isbjerg.
Efterhånden som vandet sænker sig omkring det digitale isbjerg, kommer den ene teknologiske idé efter den anden til syne.
Det drejer sig om begreber som Internet of Things (IoT), kunstig intelligens (AI for artificial intelligence), virtual reality (VR) og augmented reality (AR), wearables, big data og robotter. Det kunne også være 3D-printere, bio-tech eller droner.
Under havets overflade gemmer der sig endnu flere teknologiske fænomener, og I kan selv bryde isen og spotte flere. Ligesom sociale medier de sidste 10 år er blevet allemandseje, er disse teknologier også på vej til at blive det.
Den frygtløse virksomhed
Den tænkning og tilgang, som har præget sociale medier, vil fortsætte i en række af de andre teknologier, som bryder frem.
En række tiltag inden for IoT, AI og robotter er baseret på samtalen, enten i form af stemmestyrede apparater eller chatbaseret dialog med en virtuel robot. På sociale medier har vi både én-til-mange-kommunikation og én-til-én-dialog.
Teknologien muliggør en skalering af én-til-én-dialogen. Sociale medier sætter dig i centrum af dit eget univers – det samme gør en række af de nye teknologier med tilpassede og personlige løsninger.
Det er din hverdag, dit hjem og dine behov, som teknologien forstærker. Hver ny teknologi hviler på skuldrene af de eksisterende, og den ene teknologis udbredelse kan bane vej for den næste.
Isbjerget vidner om, at hvis man som leder og virksomhed finder det svært at håndtere sociale medier, så bliver det bestemt ikke nemmere at navigere i fremtidens digitale landskab. Det er ikke alle elementer i det digitale isbjerg, som påvirker jeres forretning i samme omfang.
Definér jeres eget isbjerg og overvej, hvad der gemmer sig under vandoverfladen.
Den frygtløse virksomhed er kendetegnet ved:
at I sælger ydelser og B2B-varer online og ser hele verden som jeres marked.
at I finder alternative samarbejder, fx med konkurrenter eller udenlandske virksomheder.
at I giver dele af jeres viden væk gratis og viser jeres bedste medarbejdere frem.
at I satser på den langsigtede effekt frem for hurtig profit.
at I dropper lukkede kontorer, også for ledelsen.
at I tør skabe jeres egen værste konkurrent, fx ved at skabe et nyt produkt, der er billigere end det eksisterende.
at I går i gang med at lave forandringer, før det er strengt nødvendigt.
at I tager et samfundsansvar for at få alle med, både i forhold til jeres medarbejdere og som branche.
at I gør efteruddannelse og læring til performance-mål – hvis det overhovedet er nødvendigt.
at I skaber fremtiden i stedet for at lade den forme jer.