Søren Christensen, partner i Robert/Boisen, og 'Bamsen' havde sat hinanden stævne, så sidstnævnte kunne anmelde bureauets frokostordning og førstnævnte kunne dele et par guldkorn omkring bureauets brug af det omsiggribende "eksperiment-format".
Lad os starte med maden. Robert/Boisen vinder mange reklamepriser, men er frokosten en del af de kreative vitaminer, der giver næring til de ofte højt besungne kampagner?
Da Bamsen kom på besøg en dag i april stod der kylling på menuen med diverse salater. Kyllingen var "Matay Chicken Satay": grillet kylling med peanut sauce og grøn chili, der blev serveret med Thai Jasmin rice tilsat aromatisk basilikum og hele tre slags salater: en med aubergine, en med bønner og peberfrugter og en mere frugtig type med meloner og græskar. Alle marinerede i delikate dressinger indholdende alt fra soya og lime til tamarin sauce og sød chili.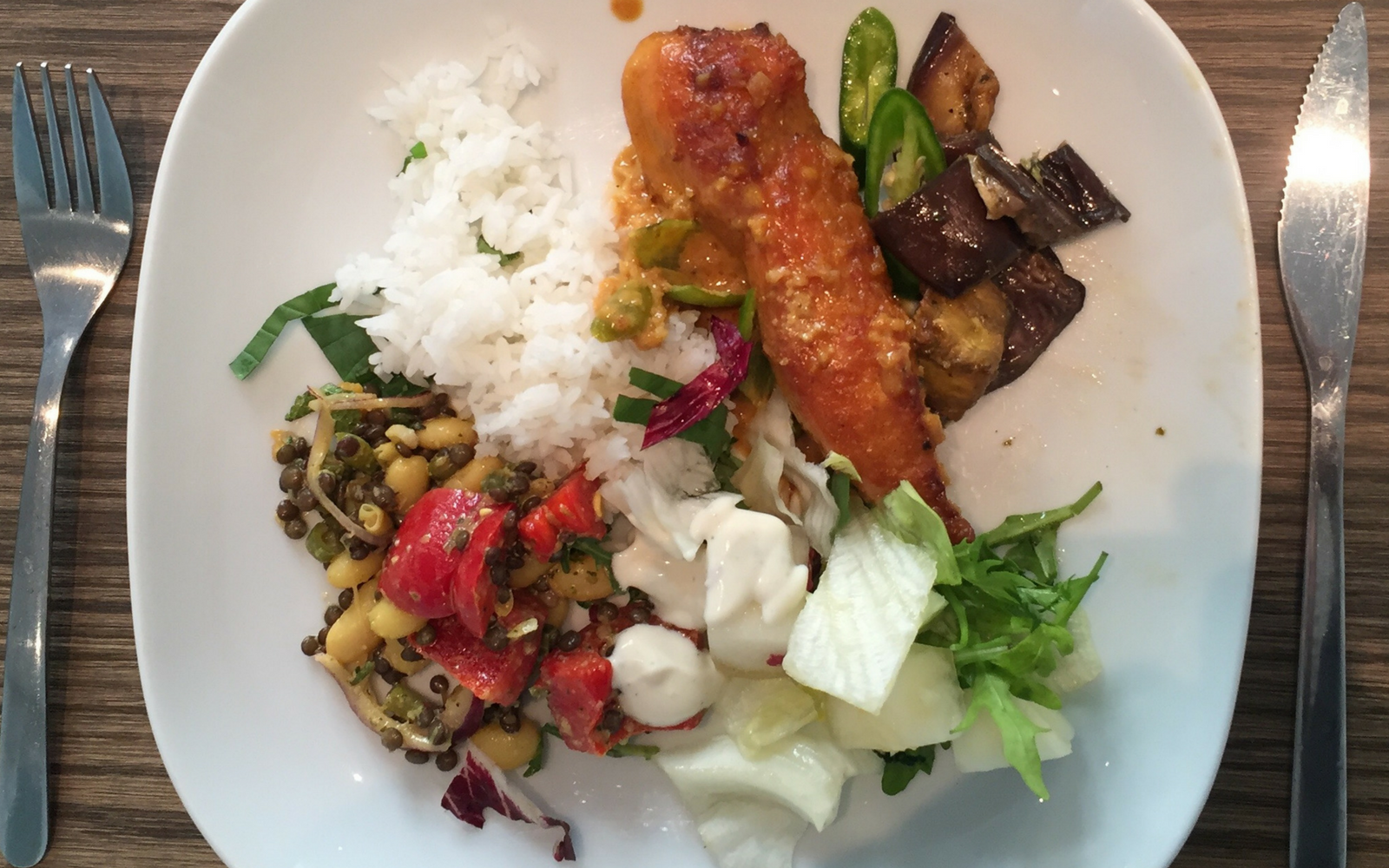 Man skulle næsten tro, at catering-firmaet var blevet forhåndsorienteret om, at der kom en Bamse på besøg givet den eklektiske omgang med det asiatiske køkken. Det var dog ikke tilfældet, idet Christensen allerede uger forinden havde meddelt den ellers forvænte madanmelder med, det "sgu' nok bare blev noget med en skamstegt thai kylling". Manden må jo nærmest have profetiske evner, eller så følger catetering-firmaet en helt fast cyklus.
Salaterne udmærkede sig ved rent faktisk at smage af de ingredienser, der var benyttet, og det gjorde kyllingen bestemt også, selvom den i sagens natur forudsatte en vis forkærlighed for jordnødder. Havde man haft allergier i den retning, kunne Søren godt have ringet 112 efter den første bid. Kylling i peanutbutter-sovs var nok en mere præcis betegnelse at dømme efter konsistensen. Det var også heldigt, at Bamsens tandsæt er vant til lidt af hvert, da grillningen nok mere var til den side, hvor kødets proteiner vælger at samle sig i en gordisk knude.
Vores samtale blev dog hurtigt sat i svingninger, da der bestemt ikke var sparet på de varme krydderier og chilien.
"Søren, nu har vi set nærmest alskens eksperimenter udført i diverse reklamevideoer. I har så sandelig også bidraget med jeres andel til genren. Får det nogensinde en ende?"
"Ikke så længe, det virker. Og vi må konstatere, at formatet eller genren, om du vil, har nogle indbyggede fordele, der virker rigtig godt på især sociale medier. Der er slet ikke tid til at fortælle en reklamefilm i et almindeligt format, fordi du kun har få sekunder til at få folks opmærksomhed. Det kræver en anden type konstruktion, hvis du skal have nogen til at bruge tid på dit budskab."
Inden samtalen fortsætter nedenfor kan du evt lige se det seneste eksempel på en eksperiment-film fra Robert Boisens hånd:
"OK – jeg køber, reklamefolk og reklamekøbere nok selv er dem, der bliver først trætte af sådan et format. Men hvad er det, der fungerer så godt, at vi ser det udbredt i det omfang, der er tilfældet i dag?"
"Jeg tror, at det er en kombination af flere ting. For det første virker det ægte – især hvis det er ægte, og reality-TV er jo også populært uanset, om det er iscenesat eller ej. Vi kan godt lide at kunne genkende os selv i situationen, og formatet pirrer nysgerrigheden, der gør at publikum hænger på: hvad bliver udfaldet på eksperimentet?"
"Men er et af problemerne ikke, at udfaldet altid ender i et eller andet forudsigeligt frelst budskab om at være bedre mod hinanden, dyrene, børnene, vores fællesskaber og miljøet"
"Det kan du sige. Men punkt et, så er det nu engang bevist, at de ting, der berører os emotionelt, også er de ting, vi reagerer mest på. Og punkt to, så taler præcis den type temaer op i de store tendenser, der præger og optager verden i dag. Her på bureauet har vi den hovedregel, at dét vi laver, skal være "clickable" multipliceret med "shareable", før det kan blive "spreadable".
"Den ligning er jeg sikker på, der er mange, der gerne vil abonnere på! Hvordan tror du så, at denne genre vil udvikle sig – eller tænker du, at der er nogle andre formater, der står og tripper for at komme til i stedet?"
"Mjah. Vi tænker ikke så meget over de forskellige genrer. Grundlæggende vil vi jo blot løse et problem ved hjælp af stærke indsigter, storytelling og en god idé. Men vi kan blive bedre til at udnytte formaterne på et mere håndværksmæssigt plan. Ved at bruge data kan vi jo se, at der er store forskelligheder, der skal tages hensyn til afhængig af, hvordan vi bruger den ene eller anden sociale eller digitale kanal. F.eks. skal video i dag nogle gange skydes kvadratisk for at blive set rigtigt, og vi kan ikke forudsætte, at lyden er tændt."
"Nu nævner du selv data. Robert/Boisen er et markant kreativt bureau. Hvordan opfatter du den igangværende debat om kreativitet kontra data?"
"Jeg ser ikke det store modsætningsforhold. Jeg plejer at sige, at et brand både skal være interessant og interesseret. For at være interessant nok har man stadig behov for de store, overgribende fortællinger. For at være tilpas interesseret i den enkelte forbruger, er brugen af data helt nødvendig."
"Det var sgu' da et af de bedste svar, jeg har hørt på den påståede konflikt, jeg har hørt længe. Tak for det!"
"Selv tak – jeg har jo altid haft den filosofi, at jo bedre vi alle sammen bliver til at dele vores guldkorn ud fra en "open source"-tilgang, jo mere er det med til at gøre os alle sammen dygtigere og dermed bedre stillet i dialogen med kunderne."
Og med disse vise ord sagde Bamsen således tak for frokost og en inspirerende samtale med en af branchens kæmper.
For frokosten denne tirsdag i maj giver Bamsen: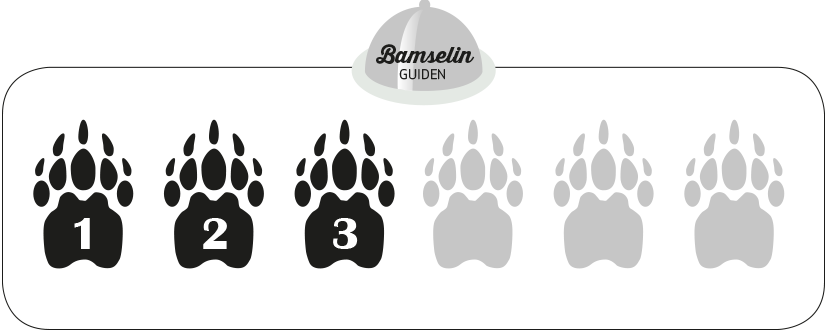 For udbyttet af samtalen får Søren: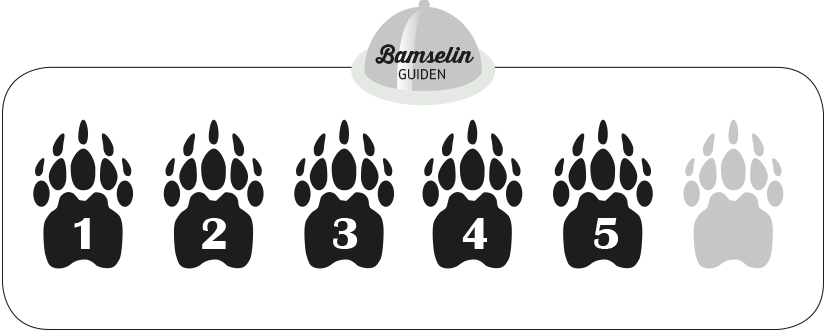 Det betaler sig at være gavmild med guldkornene!
Næste afsnit af Bamselin Guiden bliver en snak om kommunikation kontra marketing over et måltid med Ralf Lodberg, partner i Advice.
Hvis du selv har mod på at invitere Bamsen til at anmelde dit bureaus frokostordning, og blive udfordret på en branchesnak over en eventuel godbid, så skriv en invitation og et potentielt tema nedenfor.