Som bekendt er det Black Friday i dag. Måske har du læst gruopvækkende historier fra internationale medier, om hvordan folk med ild i øjnene og albuerne forrest hærger sig vej gennem supermarkeder for at få fingrene i fladskærme, kaffemaskiner og kuffertsæt med velcrolukning. "Dræb eller bliv dræbt … og få 40 procent rabat", som The Guardians sarkastiske slogan lød for et par år siden.
Moralen var klar: Black Friday, der nu foregår mere på nettet end ude i virkeligheden, er et slag i ansigtet på patriotisme og fællesskabsfølelse. Det er udemokratisk og flokadfærd på en klam facon.
Nej, så hellere spise en veganerburger og samle på sjældne grammofonplader.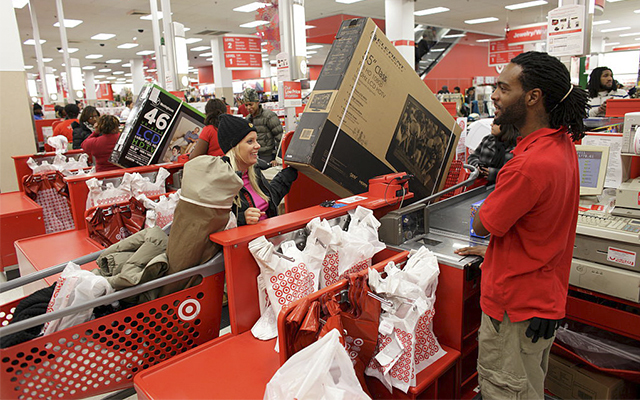 Alle kasser er åbne i USA, når klokken ringer ind til Black Friday. Foto: John Gress/Getty Images.
Og så er det amerikansk. Det er selvfølgelig et produkt af globaliseringen, og dén er vi alle børn af, men det klinger af det modsatte: Xenofobisk nationalisme, Trumpisme, mere Bush end Obama, mere blindt begær end kærlighed til velduftende cremer lavet af barken fra et truet træ i Ghana.
Black Friday og de andre mærkedage, som æder sig ind i vores nationale cyklus, er globalisering på den beskidte måde. Men vi glemmer noget.
Vi glemmer belejligt, at den økonomi, der skulle til for at skabe den kreative klasses opstød mod Black Fridays zombieagtige, miljøsvinske køb-og-smid-væk-kultur, netop var kagebunden i Wallmarts og Elgigantens appel til det tavse flertal.Så brugte de pengene på alle de forkerte produkter, mens de kreative kunne gå ned i den lokale Apple-butik – med skinnende computere samlet af selvmordstruede kinesere i kz-lignende superfabrikker – og let hovedrystende betragte jagten på bras på den anden side af gaden.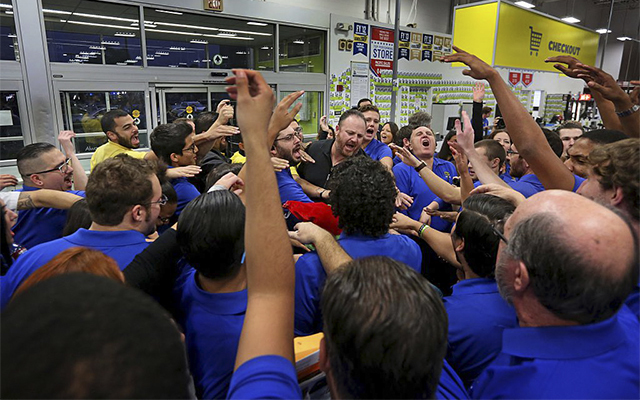 Medarbejdere gør sig klar til Black Friday i San Diego i 2015. Foto: Sandy Hufftaker/Getty Images.
Der er ikke et "udenfor" i konsumerismen. Hvis der var ét, ville det være den hjemløses ressort. Det ville tilhøre folk, der lever i skove og spiser afpillede hunde. Det ville være befolket af mennesker med grimme tænder, ubestemmelig alder og virrende hoveder råbende ud i luften eller ned i mælkekassen på knallerten.
Der er kun et indenfor. Men der er naturligvis niveauer, differentieringer. Der er for eksempel det niveau, hvor mennesker bruger ord som "differentiering".
Det er dem, der har behov for at statuere et retorisk eksempel, hvilket blot er et senkapitalistisk pip om tilvejebringelsen af immaterielle "varer" – uddannelse, gode manerer – som de andre ikke har og da slet ikke får, når de tæver sig gennem hoben af grimme vindjakker i elektronikbutikken på en sort fredag.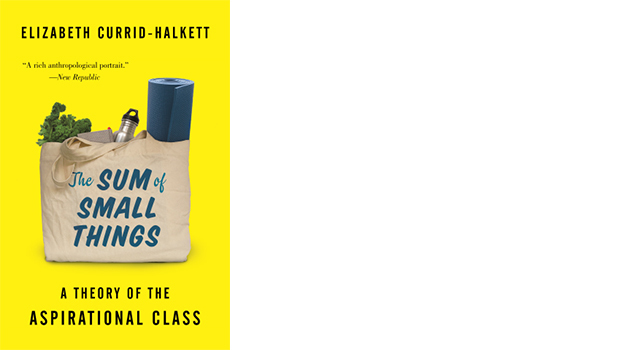 Elizabeth Currid-Halkett, professor ved University of Southern California, har skrevet en bog, hvor hun definerer "den nye overklasse", der selvfølgelig afskyer koncepter som Black Friday.
Den kreative klasse, skrev Benjamin Schwarz i en artikel i The American Conservative, september 2017, har travlt med at distancere sig fra enhver komatøs stammekultur.
Sådan én, der går amok i butikkerne og på nettet i dag. For generationen, der blev født i slut-70'erne og etablerede sig som ledende symbolanalytikere, kommunikationskonsulenter og universitetshoveder op gennem 90'erne og nullerne, er selvforglemmelse det store mantra. Vi – og jeg siger netop: vi – råber pointeret op om at bremse eller i det mindste sagtne farten på det brusende kapitalismetog.
Det ødelægger kloden og gør halvdelen af verden dumme i låget. Men dét råb bliver lige præcis nødt til at være højere end den spinkle stemme, som ville afsløre, at vi er lige så meget del af en kapitalboble, en flokkultur i et selvforherligende ekkokammer, nu blot med hang til specialimporterede kaffebønner, TED talks og cambodiansk streetfood.
Her er vi, og de andre er nogle lallende fjog.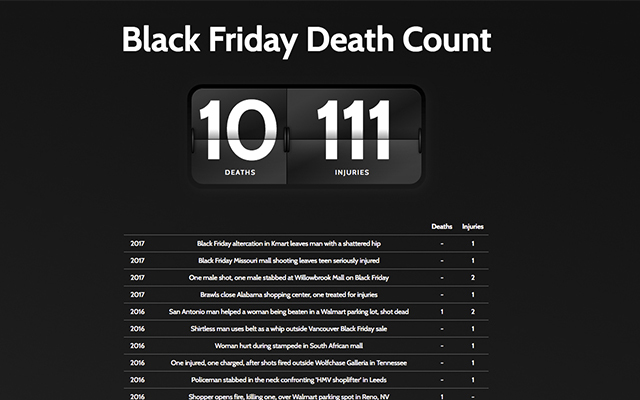 Her får du den nyeste opdatering på dødsfald i forbindelse med Black Friday. Følg med i udviklingen på blackfridaydeathcount.com. Screendump af hjemmeside.
Vi er børn og forældre af en progressiv idealisme. Men hvad er det for en idealisme? Det er, skriver Schwarz, den naturlige kulmination på senkapitalismens symbiose af selvrealisering og ekstrem produktbevidsthed. Penge er noget lort. At spare penge ved at købe noget ubrugeligt er både åndssvagt og samfundsskadeligt.
Men det er nemt nok at sige, når penge ikke er noget problem. Den kreative klasse har erstattet økonomisk med kulturel kapital. Men kultur er dyrt, og målt i den tid, som den kreative selvrealisering koster i kroner og ører, konsumerer "den nye overklasse" langt mere i blåstemplede produkter end fjolserne fra forstæderne med deres Senseo kapsel-kaffemaskine fra Skousen.
Black Friday blev opfundet, så de andre kunne gå shop-amok, og vi kunne tage afstand fra det.
Her er vi, og de andre er nogle lallende fjog.